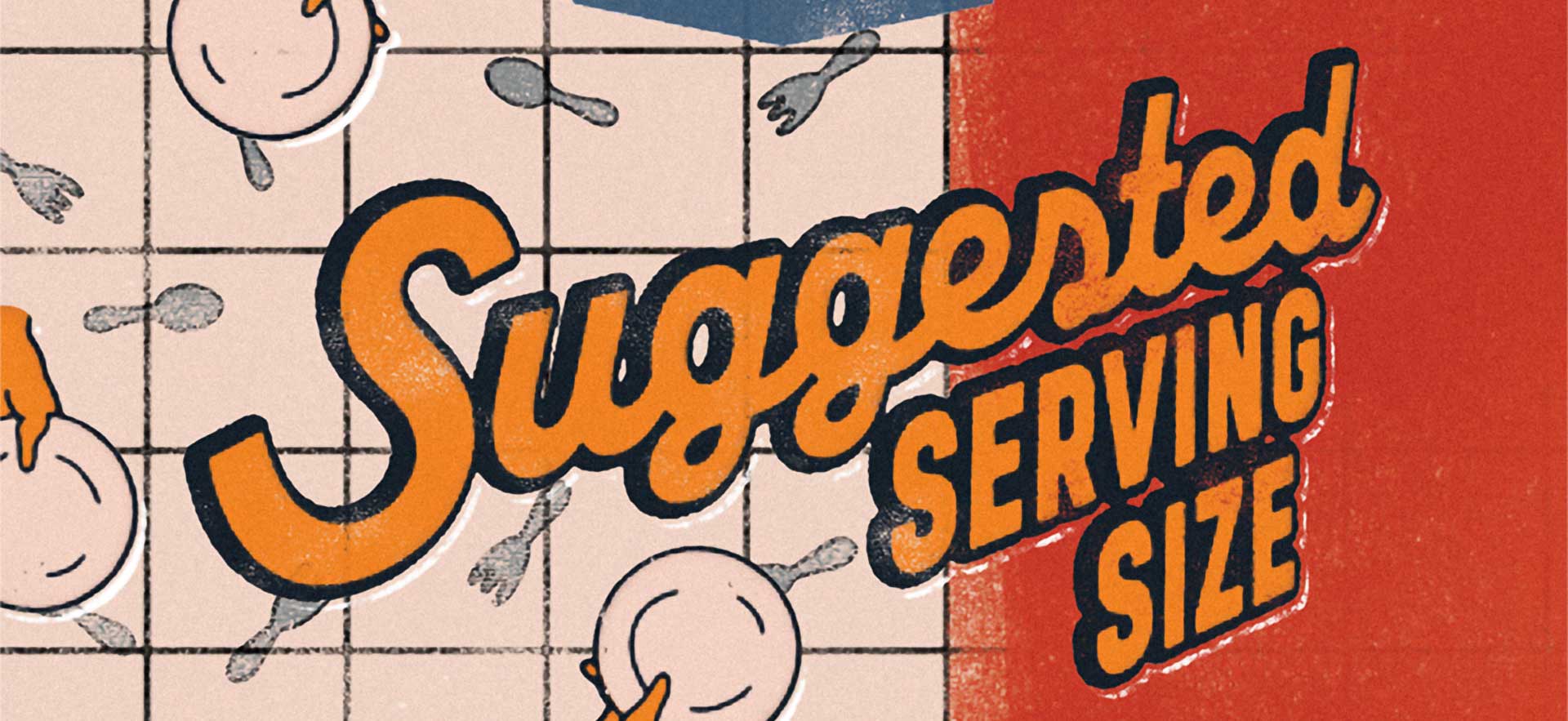 BFA exhibition shifts to an online catalogue
Normally, this week would see the opening of the annual Visual Arts BFA grad exhibition, one of the most highly anticipated events of the Fine Arts academic year—but, of course, there's nothing normal about the world these days. Instead of being able to come and enjoy the work of nearly 30 emerging artists in the exhibition Suggested Serving Size, however, we're pleased to still be able to present their work via this online catalogue.
Ranging from performance, animation, video and photography to installation, painting, drawing and sculpture, supervising faculty member Richard Leong describes the work planned for the BFA exhibition as "a dynamic exchange of ideas"—and, as an undergrad alum of the very department in which he now teaches, he should well know.
"In my experience leading this year's Art 401 Professional Practice and BFA Exhibition class, I came to see the next generation of artists come into their own," he says. "This was not only reflected in the quality of their work . . . but also in their demonstrated leadership and teamwork. Their collective drive and commitment to their disciplines and each other was inspiring, and gave me great hope for the future."
That's a sentiment echoed by BFA curator and graduating student Christian McGinty. "Looking at the work this group has made, I have found that there is a hope and solace about the future throughout the works, despite the anxious times we've found ourselves in," he writes in the catalogue foreword. "The artists in the 2020 graduating exhibition have worked extremely hard to showcase our works to you nonetheless . . . . Despite the uncertainty of what's to come, Suggested Serving Size shows that regardless of a tumultuous future, we will be able to weather it, even if it isn't always what was on the on menu."
And while this isn't the splashy grad exhibition and party everyone was expecting, Leong feels some good has come of it. "I believe we all bear a great disappointment in not being able to witness how their hard work and critical discourse was realized in unique and engaging ways," he concludes. "One of the remarkable things that they were able to accomplish this term was the development of their BFA exhibition catalogue, which highlights the culmination of each student's research over the last four years."
Please enjoy the exhibit in this digital format, and take the time to explore the extraordinary work and ideas of this year's graduating Visual Arts students.
A quick selection of graduating artists in the 2020 BFA exhibition—be sure to visit the online catalogue to see all the artists
This week's musical break
This week's musical break is brought to you courtesy of the UVic Wind Symphony, under the direction of School of Music professor Steven J. Capaldo. Back on February 7, 2020, the Wind Symphony presented what would unintentionally become their final concert of the season at The Farquhar: Sea and Song, a collaboration with the Naden Band of the Royal Canadian Navy, conducted by Lieutenant Catherine Norris.
For the past seven years, the Wind Symphony has developed a unique collaboration with the Naden Band, one of six regular force military bands of the Canadian Forces and the official musical unit of the Canadian Forces Maritime Forces Pacific Command. In operation since 1940, the Naden Band is comprised of 35 professional full-time musicians whose primary role within the Royal Canadian Navy is to support Naval Operations, ceremonial events and public outreach initiatives. Indeed, many School of Music alumni have gone on to perform with Canadian Military ensembles—including the Naden Band.
Sea and Song featured a range of pieces inspired by the ocean: Franco Cesarini's "Blue Horizons", David Bedford's "The Sun Paints Rainbows Over the Vast Waves", Alex Shapiro's electroacoustic work "Liquid Compass" and the classic Claude T. Smith fantasy "Eternal Father, Strong to Save", based on the traditional British mariner's hymn of the same name.
Also in this concert, you'll hear Music student Jesse Johnson—winner of the 2019 UVic Wind Symphony Concerto Competition—take centre stage for Ney Rosauro's "Concerto for Marimba and Wind Ensemble".
Proceeds from this concert benefited the Naden Band of Maritime Forces Pacific Scholarship in Music Performance, awarded annually to second- and third-year School of Music students who demonstrate excellence in brass, woodwind and percussion performance.
Students working with students
The second part of the Urban Regalia exhibit—Westshore Stories—opened at UVic's downtown Legacy Gallery in January 2020 and was scheduled to continue until April, but its run was cut short by the COVID-19 pandemic. Curated by the Art History & Visual Studies students of professor Carolyn Butler Palmer and featuring original button blanket designs by the Westshore Colwood Campus high school students of Yolonda Skelton (whose Sug-ii-t Lukxs Designs were featured in the first part of the Urban Regalia exhibit), the exhibit was a rare opportunity to pair student artists with student curators and share learning experiences and emerging connections between UVic and Westshore classrooms.  
Yet while the exhibit was forced to close early, they were still able to have an opening gala on February 4, where the Westshore students were able to mix with the Art History and Visual Studies student curators. Westshore Stories provided the high school students with the opportunity to tell stories from their lives by making connections to the land using ovoids, u-forms, s-forms, melton wool fabric and buttons. The design of each robe is based on the individual students' stories and connection to the Esquimalt and Songhees territories, where they live and learn. 
In the early stages on this curatorial project, AHVS students developed the exhibition's texts based on the oral histories collected from Westshore students; the UVic students worked collaboratively to write the introductory panel, object labels, exhibition layout and select objects for inclusion.
"Being part of this research project with professor Carolyn Butler Palmer and her students has been wonderful," says Skelton. "I enjoyed teaching both my students and her students the traditional art form of button blanket making [and] providing a safe, creative, respectful environment for reconciliation to be fostered and nurtured through art."
Parenting amidst a pandemic
While we may all be avoiding reading anything more about COVID-19, we would encourage you to check out Writing professor David Leach's column in the April/May issue of Island Parent magazine: the aptly titled "Love in the Time of COVID-19" (with a sly nod to Gabriel García Márquez).
"I'd planned to write this column about our family's new puppy," writes Leach. "I was going to confess how, against all good parenting advice, we gave in to our kids' lobbying efforts and adopted a mixed mutt a week before Christmas. I'd describe in comic detail how bringing home an eight-week-old pup felt like we'd become new parents again: the sleepless nights, the random poops and pees, the worry we were raising her wrong—and the sheer joy of watching this new life wiggle her way into our hearts. Then everything changed."
Leach has been chronicling his adventures in family life with Island Parent magazine for a while now, and his planned puppy column is yet another creative casualty of the pandemic. Instead, however, his latest piece finds him in a more philosophical mood, searching for a sense of peace in the crisis at hand. 
"I only hope that we all act on what we learn during our time in collective quarantine," he writes. "I hope our temporary loss of in-person contact reminds us to strengthen the true social networks—with our friends and neighbours, with local businesses and the strangers we've had to step away from—that make a community livable and help our kids to blossom. I hope that the resiliency we discover in our own families, in the face of global tragedy, can help us to rebuild our shared institutions to be twice as durable as before."
All pride, no prejudice
Looking for some online viewing that offers a bit of class with a dose of sass? Check out celebrated Theatre alum Charles Ross as he livestreams his acclaimed One-Man Pride and Prejudice at 7pm Pacific on Saturday, April 18, as part of the National Arts Centre's #CanadaPerforms series.
While known worldwide for his continuing series of One-Man shows (Star Wars, Batman, Lord of the Ring), Ross is still Victoria-based and will be performing his Pride and Prejudice live from the stage of the Roxy, home to Theatre professor Brian Richmond's Blue Bridge Repertory Theatre.  
While a one-hour, one-man rendition of this Jane Austen classic (yes, we did say one "man") may seem a bit more of a stretch than, say, something as crowd-pleasing as Star Wars or Batman, consider this five-star review ("an intelligent, funny and professionally delivered show") Ross received during his 2018 run at the Edinburgh Fringe:
"It takes real bravery to present an hour-long version of Jane Austen's classic Pride and Prejudice—condensing the numerous scenes and chapters into a cohesive highlights reel—yet even more to do so as a one-man show. Madness, perhaps? Fortunately, in this instance it's a stroke of genius . . . . As well as being a proficient dramaturg, Ross shows himself as an adept performer in taking on almost every character in the book without ever venturing into farce, or needing props and costume . . . . Overall, this production just oozes confidence in the base material and mastery in performance."
And if his April 18 Pride and Prejudice performance leaves you wanting more, take a minute to read this 2018 interview with Ross from UVic's Torch alumni magazine. 
You can also see a list of all upcoming #CanadaPerforms events here.
More to come weekly
We'll be posting more content from our faculty, students and alumni each week—be sure to check back!