Each year, our friends and colleagues at the Belfry Theatre present their SPARK Festival, which offers some of the best small theatrical touring productions in Canada, as well as workshops, staged readings and other events. Now in its 11th year, Fine Arts faculty, students and alumni are once again heavily involved with the SPARK Festival.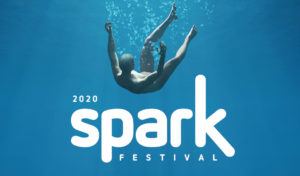 In addition to Between Breaths, Busted Up: A Yukon Story, and KISMET, things have changed, one of the featured plays this year is Destiny, USA by Theatre alumni Laura Anne Harris. Also on tap are workshops, staged readings and mini-plays by the likes of Theatre faculty Jan Wood, Michael Elliott and Michael Shamata, Mercedes Bátiz-Benét (Writing), Tobin Stokes (Music), Celine Stubel (Theatre), Erin Ormond (Theatre) and former student KP Dennis (formerly known as Writing/Theatre student Ann-Bernice Thomas), PhD Theatre candidate Taiwo Afolabi, and a collaborative reading night featuring current Writing & Theatre students.
Whatever your theatrical tastes, you're sure to find something to enjoy at SPARK Festival!
Here's the lineup of our contributions:
Insomniacs: The Far Side of the Accordion – 2pm March 7
Distinguished Alumni Mercedes Bátiz-Benét directs this staged reading by Romanian playwright Mimi Branescu. The Man and The Other Man meet in the middle of the night and go on a philosophical journey together to explore the nature of living. Nothing is what it seems; towards the end they meet The Wreck and realize the repetitive and inescapable nature of things.
Stick around for the talkback after the reading!
Same Old – 7:30pm March 9
Co-written & performed by Theatre professor Jan Wood & James Fagan Tait, this new two-person play-in-development focuses on an ageing married couple. Through a series of short vignettes, the play is equal parts celebration and lament of ageing and love.
Destiny, USA – March 10-14
Written & performed by Theatre alum Laura Anne Harris, Destiny, USA chronicles Laura's experience moving from Toronto to Syracuse, New York, at the dawn of Trump's America. Gaining her first job as a relay operator for the Deaf and Hard of Hearing causes her to question whether she can discover the hidden humanity of the American people. Destiny, USA weaves together three stories: Laura moving to the US for the first time and working as a relay operator for the Deaf and Hard of Hearing, romantically meeting her husband, and dealing with her mother's illness in Canada while she has to live in America. All are told through storytelling and poetry.
Destiny, USA was a hit at the 2019 Victoria Fringe Festival, where critics called it "funny, poignant, cleverly crafted and well-acted . . . tightly written, overall a fine show" (Times Colonist), with "vivid characterizations . . . a strong show" (Check the Program).
Mini plays – 7, 7:20, 7:40 Wed-Sat, March 11-14 + 18-21
Every year the SPARK Festival's mini plays push the envelope in new and intriguing ways: you might be seeing them in a staircase, office or hallway, with an audience of 2 or 10 or 15. You never what you'll get! This year you can see three 10-minute plays created by Tobin Stokes, K.P. Dennis, Krystal Cook and others.
Acting Shakespeare – 10am-5pm March 14 & 15
This two-day workshop will be taught by Theatre professor Michael Elliott and sessional instructor Michael Shamata (also the Belfry's Artistic Director), offering two different—yet complementary— approaches to acting Shakespeare. The two Michaels will work together and separately, providing the participants with practical tools that will open up and reveal the text in all its glory. Participants are requested to bring a Shakespeare monologue of their choice—written in verse—and preferably committed to memory. To register or learn more about the professional development workshops, call 250-385-6815. ($80/adults, $40/students for both days.)
Motswana: Africa, Dream Again – 2pm March 14
Theatre PhD candidate Taiwo Afolabi directs this piece by Botswana playwright Donald Molosi. Motswana simply means "citizen of Botswana." The Republic of Botswana is one of Africa's wealthiest countries. This intimate multilingual show satirically questions who exactly can claim to be a Motswana. What unexpected revelations come up once we acknowledge that African borders were drawn as a fiction fabricated to serve European greed? Is "Motswana" perhaps a misnomer given the migratory nature of African peoples before borders?
New Play Cabaret – 7:30pm March 15
This annual collaboration between the Belfry and UVic's Faculty of Fine Arts sees actors and directors from UVic's Theatre department bring to life scenes from plays-in-progress by graduate and undergraduate playwrights in UVic's Writing department. Hear work by emerging playwrights Amy Dechka, Jay Guo, Ira Adilman and Ariel Glidden, as performed by Paul Cridge, Tabatha Hamilton, Sivert Das and Madeleine el Baroudi, directed by Carter Gulseth (note: more names to come).
One of last year's new plays—Ellery Lamm's Summer Bucket List—went on to win multiple awards at the 2019 Victoria Fringe Festival, so come prepared to be impressed!
Women In Clothes – 7:30pm March 16
Based on the work by Sheila Heti, Heidi Julavits and Leanne Shapton, this reading is adapted by Michael Shamata and Paula Wing, and features Theatre alumni Erin Ormond and Celine Stubel, plus KP Dennis and Tennyjah Mckenna. Just as women use clothes to strengthen and express themselves, so too, this play uses clothes to address some of the larger issues of society and life—while celebrating daughters, mothers and the "sisterhood." 
The Belfry's SPARK Festival runs March 7 to 22 at 1291 Gladstone.