He's written in almost every genre imaginable and seen his work adapted for film. He's won multiple awards and inspired a new generation of writers. He's been a student and a teacher, and now internationally renowned storyteller and best-selling author Richard Van Camp can add the designation of Distinguished Alumni of the Faculty of Fine Arts to his list of accolades.
No stranger to UVic since his graduation with a BFA in 1997, the Edmonton-based Van Camp returns to campus during Alumni Week to offer the public talk "My Life As An Author", receive his Distinguished Alumni Award, visit undergraduate classes and have a frank conversation with current grad students. But before all that happens, he took time to chat with us about his life in words.
All are welcome to join Richard Van Camp at his public talk, from 2:30-4pm Monday, February 3, in room 159 of UVic's Fraser building. 
A near miss into politics
A proud member of the Dogrib (Tlicho) Nation from Fort Smith, NWT, Van Camp came to UVic's acclaimed Writing department as a graduate of the En'owkin International School of Writing in Penticton, before later getting a Master's in Creative Writing at UBC. But his original intention was not to become a writer, but to go into politics instead.
"I was studying land claims at Aurora College in Yellowknife but had started writing book and music reviews for the Yellowknife newspaper, The Prss Independent," he recalls. "I was also writing poems and short stories that my English instructor, Ron Klassen, was reading in his spare time. I owe Ron so much because he told me not to get into politics because I was a writer." (Ron, the Canadian literary scene owes you a debt!)
It was Klassen who encouraged him to attend the En'owkin Centre: not only has their program specialized in Indigenous writers and artists for the past 30 years, but En'owkin also has a vibrant partnership with UVic, which smoothed the path to Victoria for Van Camp.
Once here, he studied with some of the department's literary legends like WD Valgardson, Marilyn Bowering, Jack Hodgins and Stephen Hume, but was also inspired by his fellow students — many of whom went on to literary acclaim themselves, including Billeh Nickerson, Aislinn Hunter and Teresa McWhirter.
 A story for every genre
Given his vast — 24 books in 24 years — and diverse literary output — including two novels, five collections of short stories, two children's books, four baby books (the first of which, Welcome Song for Baby: A Lullaby for Newborns was given to every newborn baby in BC in 2008), six graphic novels and four seasons with CBC TV's North of 60, plus a feature film adaptation of his novel, The Lesser Blessed, which premiered at the Toronto International Film Festival — Van Camp seems to revel in taking on new challenges. Was that something he learned as a student?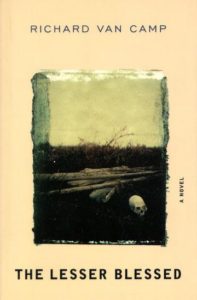 "It was the En'owkin Centre that encouraged all of us to work in every genre," says the award-winning writer. "I am continually surprised that so many creative writing institutions limit you when selecting the genres you wish to explore. The one thing I always mention when I teach is, 'The story is the boss.' It's up to you to help decide if the story that's chosen you is best relayed as a short story, novella, graphic novel, movie, poem, prose piece, mind blur, photo, video, etcetera."
Between writing contracts, Van Camp has taught creative writing at UBC, Emily Carr University and has held writer-in-residence positions at the University of Alberta and MacEwan University. He's also been quite diverse in the delivery of his works: all of his children's books are available in Braille for free, anywhere in the world, and his baby book, Little You, was published in Bush Cree, Dene and South Slavey.
Helping the next generation
As the 2020 Distinguished Alumni Award recipient, Van Camp now joins the ranks of previous Fine Arts DAA winners, including Banff Centre managing director of performing arts Nathan Medd (BFA '01), country music stars Twin Kennedy (BMus '08), visual artist Althea Thauberger (MFA '02) director Glynis Leyshon (BFA '73), author Esi Edugyan (BA '99), lighting designer Michael J. Whitfield (BA '67), filmmaker Mercedes Bátiz-Benét (BFA '02), poet Carla Funk (BFA '97), musician Paul Beauchesne (BMus '88), author Deborah Willis (BA '06), environmental designer Valerie Murray (BA '78), author Eden Robinson (BFA '92) and visual anthropologist Andrea Walsh (BA '91).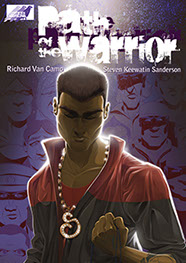 And while many of his works feature strong characters mentoring youth — notably his graphic novels, which have tackled issues ranging from gangs, sexual health, restorative justice, peace-making, mental health and suicide prevention — Van Camp also feels it's important to give back himself.
"Alumni should be looking out for and promoting other alumni," he says. "We're a family and we deserve to help new writers the same way I was helped while on campus. I'm also grateful for [UVic's Torch] alumni magazine that arrives to our home in Edmonton. I find I'm starving to see what everyone's up to."
With his latest short story collection, Moccasin Square Gardens, released in 2019 from Douglas & McIntyre, and his public DAA talk titled "My Life As A Writer", does Van Camp have any advice for current Writing students?
"With 24 books out these past 24 years and five books on the way, working with 12 different publishers and working with two different literary agencies, I feel I can share my experience of how to make a great living as an author today and, at the same time, talk about the challenges writers can face balancing family, touring, writing and deadlines," he chuckles. "I can't wait to share the story about how I was fired by one of my publishers . . . only to return years later with a book that changed all of our lives forever."
And what does it mean to him, personally and professionally, to be named a Distinguished Alumni?
"I wouldn't be the writer or human being that I am today had it not been for UVic," he admits. "I'm so grateful for the mentorship, the friendships and the guidance I received while there. I will always say yes when UVic calls me to return to help."