With Deparment of Theatre alum Sam Mullins now in his final week of the annual Spotlight on Alumni showcase, he takes a bit of time to talk about the magic of storytelling in Weaksauce & Other Stories, which continues to Oct 19 at UVic's Phoenix Theatre.
The show runs nightly at 8pm, plus a 2pm matinee on Saturday, Oct 19. Tickets are available at the box office or by phone at 250-721-8000.
"Weaksauce is my favourite thing I've ever written and I'm delighted to be back onstage where my theatre journey began," Mullins writes in his Phoenix programme notes. "Truly everything I know about theatre I learned inside the walls at the Phoenix. This is a very special place to me, and I couldn't be more pleased to be bringing my most special piece back here."
Weaksauce receives strong reviews
Local media has been enthusiastic about Weaksauce & Other Stories.
"Mullins' Weaksauce hits the mark, like a good hockey pass," says this review in Monday Magazine. "This soul-searching biographical collection of tales . . . left the audience and this reviewer grinning a lot and laughing out loud at times. His down-to-earth delivery and willingness to reflect on sometimes painful memories came across as refreshing and honest and kept the audience with him."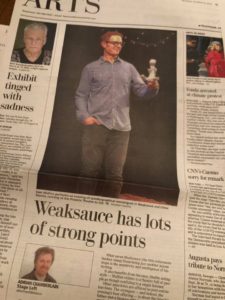 In addition to this Oct 10 preview about the show (("After doing all of this tried-and-tested material I've done everywhere, it's kind of fun to throw something in that makes me utterly terrified," he admits), this Times Colonist review highlighted Mullins' "sensitivity and intelligence of his writing. It also benefits from his easy, likable acting style — Mullins relates to a theatre full of people as though confiding to a single listener."
In their mini-review, local arts podcast Check the Program noted, "The feel-good vibes of Weaksauce are balanced nicely with an offbeat trio of short stories Mullins has chosen for his second half, perhaps an even stronger showcase of his gift as a writer . . . this particular set is a masterclass in pacing, story structure and comic timing that delivers sharp meditations on spontaneity, parenthood and chance encounters with Mullins' trademark charm and sincerity . . . If you love to be told a good story (or four), Weaksauce and Other Stories is well-worth the trip to campus."
And local television station CTV VI did this interview with Mullins on Oct 10 (scroll to the 29:10 mark).
Playing to memory
"Weaksauce is about a summer of firsts," Sam told The Charlebois Post.  "First job. First time away from home. First love. When I sat down to start writing my memories, I realized that all I had to go off of were just the vague residue of faded feelings. I don't remember the conversations I had with my first love. I don't remember how I dressed . . . I just remember the adrenaline, the nausea, and the excitement of falling in love for the first time. I remember the depression of having my heart broken when someone else won her affection. I remember the freedom of being away from home by myself for the first time. I remember how it felt when the wheels of the plane left the runway in Toronto to take me back home, and how I knew that things would never be the same."
"As a writer, I'm almost glad that my memory is so scatter-shot. It gives me the wiggle-room to get at larger truths," he continues. "I'll create the conversations that make me feel the way that I felt.  I'll fabricate the conversations so that when I'm before an audience, I can tell them the truth."
Also included as the "other stories" are 10-minute versions of two longer stories Mullins has previously performed—including his Fringe Festival hit Tinfoil Dinosaur—plus a brand new story currently in development.
Yet despite being a performance grad, Mullins admits he never really loved acting—it's writing and storytelling that are his passion. But what's the difference between acting and storytelling?
"Technically, if I'm in a 300-seat theatre with lighting and sound . . . the only gimmick I have is, be present, tell the truth. Make sure you look people in the eyes. Break the fourth wall," he said in this interview with the Edmonton Journal. "Being a storyteller, I am pretty much exclusively working off of my own personal experience."