Imagine a day when the barricades erected around the subjects of suicide and mental illness start to come down.
Imagine a day when hundreds of Canada's finest musicians across the country join together to offer music of healing and hope to those in jeopardy, and to those left behind.
Imagine a day when even one life might be saved as a result.
Imagine you, joining with us, to let everyone know their lives truly matter.
The School of Music is once again participating in the Mysterious Barricades Concert event, a series of 15 one-hour concerts performed in nine provinces across Canada from September 5 -14 to mark World Suicide Awareness Week.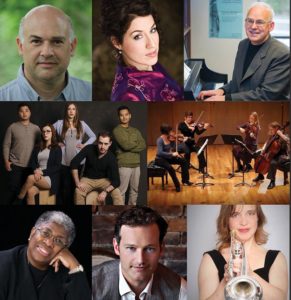 This concert series offers performances by some of Canada's finest musicians, ranging from classical and choral to jazz and vocal pop. It's all so people touched by suicide—mental health professionals, community figures, politicians and ordinary Canadians—can stand up and speak about mental health and suicide in hopes of reducing stigma and providing support.
Please join us at the free finale concert at 8pm Saturday, Sept 16, in UVic's Phillip T Young Recital Hall.
Local favourites—including tenor Ken Lavigne and pianist Louise Rose—will be joined onstage by a range of UVic talent.
Featured performers include School of Music's Benjamin Butterfield, Kinza Tyrrell, the Lafayette String Quartet, Harald and Sharon Krebs, Merrie Klazek and the Victoria Brass Ensemble, Jeanel Liang and alumni ensemble Fifth Street.
The entire concert series will also be streamed online on Saturday, and the three final BC concerts in Kelowna, Vancouver and UVic will all be live-streamed as well.