What better way to start the academic year with our annual Fine Arts Welcome (Back) Party?
All new & returning Fine Arts students are invited to enjoy free pizza, salads, drinks & cookies from 4 – 6pm Thursday, Sept 12, in the Fine Arts courtyard—please, be our guest and let our faculty and staff serve you.
This annual event is a great way to reconnect with friends, meet new colleagues from across the faculty, and just hang out with the Fine Arts community in our quad.

And while such annual back-to-campus activities as the Campus Kick-Off, Free Movie in the Quad, Bands on the Roof, Welcome Back DJ Party, Free Multicultural Lunch and the Blue & Gold Afterparty were all held during the first week of classes by the University of Victoria Students' Society, there are still some events happening that you can check out.
UVic also offers a Week of Welcome for new & returning self-identified Indigenous students, with various events running Sept 9-13. Explore the First Peoples House, a home-away-from-home for Indigenous students, or get involved with Indigenous student groups; meet the Elders-in-residence, participate in Indigenous cultural programming and learn about Indigenous student supports on campus.
Clubs & Course Union Days also runs 10am-4pm Sept 11-12 at the SUB, and offers you the chance to discover some of the amazing clubs and course unions the UVSS has to offer. Clubs and course unions are a great way to get involved in your campus community and, with over 175 clubs, there's something for everyone.
Nothing's sexier than consent, as you'll learn when Sexualized Violence Awareness Week runs Sept 16-20 on campus. Help prevent sexualized violence with this week of interactive tabling, activities and giveaways. There's even a night of burlesque with the saucy Velvet Unicorn and her EmPOWERment show (6-8pm Sept 19 in Vertigo), featuring a 30-minute interactive Contact Dance workshop, performances, free food and a Q&A session.
On a more serious note, the UVSS also invites you to participate in free Harm Reduction Training sessions on Sept 25, Oct 9 & Oct 23, where you will learn to administer naloxone to reverse an overdose. Fentanyl is a dangerously potent pain-killer that is being found in many different types of drugs. Naloxone training will help you be prepared and safer. Every participant will receive a naloxone kit and training certificate at the end of the session. This training is open to everyone: students, faculty, staff and community members, but there are a limited number of spots so please arrive on time.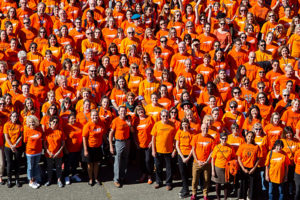 There's also the annual Orange Shirt Day on Sept 30, where you're invited to be a partner in the work of reconciliation by listening, learning and sharing in events and discussions throughout the day—including a free screening of the documentary Picking Up the Pieces: The Making of the Witness Blanket, followed by a discussion with Coast Salish/Kwagiulth filmmaker and artist Carey Newman, and Elder and residential school survivor Victor Newman.
Carey is also the Audain Professor of Contemporary Art Practice of the Pacific Northwest with our Department of Visual Arts, and the designer of the logo for UVic's orange shirt—which you can buy for $20 at the UVic Bookstore. Proceeds from T-shirt sales support the Elders Engagement Fund and the Witness Blanket Project. If you already have an orange shirt, please consider making a $20 donation directly to the Elders Engagement Fund.