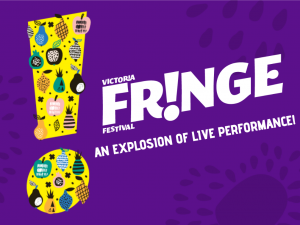 Like the cool evenings that herald a shift toward autumn, the arrival of the Victoria Fringe Festival always signals that summer is coming to an end. Running August 21 to Sept 1 at various downtown venues, this annual explosion of live performance features 47 shows from around the globe, plus outdoor events and late night programming in the Fringe Club. Pick up a program guide, get your $6 Fringe button (you'll need one in order to buy tickets) and get ready to Fringe!
While Fine Arts students and alumni regularly hit the Fringe circuit each summer—creating, performing, designing, directing and mounting shows in cities across North America—the Victoria Fringe Festival once again presents a wide range of shows feature students and alumni both onstage and off. And while most are from our acclaimed Department of Theatre, a couple of our Department of Writing students are also mounting shows this year.
Given that there are 47 shows to choose from, we'll keep a Fine Arts focus on our alphabetical list of participants—but be sure to check out the complete show list.
Travel Theatrics – One woman, 18 characters. Watch Theatre alum Keara Barnes bring to life six true travel stories from across the globe.
Pippin – This multiple Tony Award-winning Broadway musical tells the story of one young man's music-filled quest to find the extraordinary at war, in love and via other such conquests and adventures, only to discover that true happiness is found in those unextraordinary moments of life. This production celebrates the 20th anniversary of the SMU youth Musical Theatre company, and is directed by Theatre alum Cam Culham.
Antigones –  A movement adaptation of Sophocles' classic, Antigone, this piece turns to the other senses when words are not enough to express our truth. Former Theatre student Luciana Fernandes focuses on the experience of being Antigone; her truth and emotional journey as she defies the king to honour her fallen brother, knowing it may cost her life. Other Theatre alumni in this production include performers Shayla Pready, Hailey Fowler and Taryn Yoneda, plus current students Leah Anthony (stage manager), Aubrey McNair (lighting designer), Olivia Wheeler (sound designer & assistant director), and Logan Swain (sound designer on original production).
Money on the Table – How far would you go to get your money back? Probably a question you should ask before you find yourself staring at an unconscious stranger taped to a chair. One trio of kidnappers is about to find out why in this dark comedy of investment, revenge, and terrible people. This one is filled with current Theatre students and alumni, including Andrew Fraser (producer & playwright), Logan Swain (producer & sound designer), Annie Konstantinov (director & lighting designer), Lucien Lum (costume designer & fight choreographer), Christian Tervo (props), Ashley Richter (stage manager) and actors Landon Wong, Julie McGuire, Nicholas Atkinson and Nicholas Guerreiro.
Nevermore – Edgar Allan Poe lies unconscious in a gutter, dreaming of the women who shaped his life. But in the morning will he wake to dawn, or eternal darkness? Presented by Hapax Theatre — the creative team behind 2018 Pick-of-the-Fringe winner The Boy in the Chrysalis —Nevermore transforms the works of Poe into haunting melodies about love, loss and gothic longing. Stage managed by current Theatre student Taylor Guidotti.
how to pull your heart out through your throat –In a dark vat, three creatures steeped in tar struggle to create themselves. Does their need for validation keep them from being seen? A collision of theatre, dance, poetry and more, Impulse Theatre's magically visceral "how-to" guide will leave you asking, "What does my heart really want to say?" Impulse Theatre is the creation of Theatre alumni Andrew Barrett and Emily Piggford, who are joined in this production by Theatre alumni Chase Hiebert and Rachel Levy.
Falstaff – Veteran Theatre alum and longtime instructor Clayton Jevne takes us into battles, bedrooms and bars as he tackles a one-actor adaptation of Robert Nye's Guardian Prize-winning biographical novel. Nye's anti-hero "Jack" is a comical yet poignant combination of Shakespeare's self-absorbed buffoon and the actual historic figure of Sir John Fastolf (Shakespeare's original inspiration).
Summer Bucket List – Zoey and Grace find a discarded summer bucket list during two weeks of summer detention: "lemonade stand", "give 2 blowjobs". As they check off each item they uncover difficult truths about themselves and the women in their lives. From the creatives behind 2018 Victoria Fringe winner The Fitting Room comes a celebration of teenage girls and a validation of female rage. Written by current Writing MFA candidate Ellery Lamm, directed by Theatre alum Anna Marie Anderson, and featuring the talents of current Theatre students Aaron Smail (sound design), Hina Nishioka (lighting design), Devon Vecchio (stage manager) and actors Arielle Parsons, Emily Hay, Willa Hladun and Isaiah Adachi.
Destiny USA – Creator of hit Fringe show, Pitch Blonde!, the latest from Theatre alum Laura Anne Harris chronicles her move from Toronto to Syracuse, New York—but she wasn't expecting to be residing in Trump's America. Gaining her first job as a Relay operator for the Deaf and Hard of Hearing, causes her to question if she can discover the hidden humanity of the American people.
The Rage Trials – A random committee of teenagers must decide if anger is beneficial or if it should be stricken from human consciousness: their decision will last 100 years. Written by Writing/Theatre alum Emma Leck and presented by alumni company Theatre SKAM's Young Company, helmed by Theatre alum Matthew Payne. The Rage Trials is directed by Theatre alum Mikaela Haeusser with artistic support from alum Kathleen Greenfield, and features the talents of current Theatre student Logan Swain (production manager) and current Writing student Ariel Glidden (stage manager).
False Profits – Fringe veteran and Theatre alum Jeff Leard takes aim at the super rich in this brand new capitalist satire. "Woe to you, when all men speak well of you, for so their fathers did to the false prophets." (Luke 6:16) "I'm stanky rich. Imma die tryin' to spend this bitch." (50 Cent)
The Trophy Hunt – This rolling world premiere featuring Theatre alum Celine Stubel is being performed in five Canadian cities this summer. The Trophy Hunt is a dark comedy exploring who eats who in a world where everything is observed, everything a zoo. Three unique characters irrevocably affected by the business of Big Game Hunting share their stories in a hidden location in Fan Tan Alley. Come on a hunt to stalk something wild and dangerous . . . you just might find it!
This Man is an Island – A hot air balloon mishap leaves former Theatre student Evan Roberts stranded alone on a remote, uninhabited island with a terrifying companion…his own mind! His resourcefulness will be pushed to the limit as he struggles to survive thirst, hunger, sunburn, boredom and existential angst, all the while remaining fun to hang out with, just in case someone else shows up.
Lub Dub – Former Theatre/Writing student KP (the artist formerly known as Ann-Bernice Thomas) teams up with former Theatre student Monica Ogden to present this variety show for the marginalized, angry and unseen. LUB DUB is unapologetic, political, fiercely entertaining. Centering experiences of Black, Filipino, Queer, disabled, low income folks, LUB DUB invites you to celebrate, collaborate and smash white supremacy.
Also on deck at the Fringe Festival is the special Sunday Funday event with Atomic Vaudeville—one of Victoria's theatrical success stories, AV is run by alum Britt Small and former student Jacob Richmond—and alumni Tristan Bacon and Joanne James of Working Class Theatre will be running the nightly Fringe Club (at Kwench, 823 Fort St). And the always-popular FringeKids event on Saturday, August 24 features the talents of alum Tiffany Tjosvold & her Embrace Arts Foundation, as well as alumni company Story Theatre and DJ Britty Britt (aka Britt Small).
And filling out the roster as technicians, venue managers, volunteer coordinators and front of house staff are Barbara Clerihue, Sivert Das, Nathan Patterson, Jasmine Li, Grace Forderchuk, Mikaela Haeusser, Hina Nishioka, Glen Shafer, Ted McRae, Geri Weir, Hillary Williams and SJ Valiquette.
Clearly, Fine Arts is a huge part of the Victoria Fringe Festival—both this and every year. Have fun!
—with files from Adrienne Holierhoek