Great theatre always transcends a story's political, social and economic context to speak to the human condition — and this season, the Phoenix is exploring ageless plays that continue to speak to today's world. From lighthearted comedy to searing drama, the Department of Theatre's 2019/20 mainstage season has something for everyone.
Weaksauce
It all kicks off in the fall with the annual Spotlight on Alumni, this year featuring Sam Mullins (BFA '08) and his solo monologue Weaksauce and Other Stories (October 9-19). Written and performed by this two-time Canadian Comedy Award-winner, Mullins has been described as a "master storyteller" (Winnipeg Free Press) and the"Stuart McLean of the millennial generation" (Toronto Star).
Weaksauce is the story of the summer Mullins turned 16 and left home to work as a camp counselor . . . only to be blindsided by the first great romance of his life. This achingly angsty and tender coming-of-age story is a comedy of first times, second chances and third wheels. Now, half a lifetime (and an incalculable number of romances) later, Sam will also premiere a new story about the bleary-eyed joys of fatherhood. Like his other award-winning shows Tinfoil Dinosaur, Grandma's Dead and The Untitled Sam Mullins Project, Sam brings unflinching honesty, vulnerability and big laughs to his latest work. (Some coarse language: suitable for ages 16-plus.)
Othello
Following that is Shakespeare's classic Othello (November 7-23). Directed by Theatre professor Brian Richmond, although Othello was written over 400 years ago, its disturbing portrait of a world infused with racial politics, misogynist social structures and treacherous friendships makes it feel like it's been ripped from today's headlines.
"Although undoubtedly one of Shakespeare's greatest plays, Othello is fascinating to approach in an era where our theatre culture has become so intensely interested in the question of diversity," says Richmond. "As controversial as it is brilliant, my hope is that we will build a production that tackles the question of 'Is Othello a racist play?' with openness and integrity."
Othello and Desdemona are lovers from very different worlds: Othello a mighty General from a foreign land; Desdemona a beautiful Senator's daughter. They marry, undeterred by the prejudices that surround them. But no sooner are their vows sealed than their love is put to the test, as bigotry, envy and jealousy begin to pull them apart. Playing on Othello's insecurities as an outsider in a predominantly white society, the charming but envious Iago—an Ensign and a trusted advisor—stokes the flames of his commanding officer's jealous nature. In doing so, Iago brings both the lovers, and the world they live in, to the point of utter collapse. In its raw emotions and ruthless politics, Othello remains an ageless and poignant tragedy. (Scenes of violence and domestic abuse: suitable for ages 15-plus.)
Comic Potential
After the winter break, Phoenix is back with Comic Potential by Alan Ayckbourn (February 13-22), directed by Theatre professor Conrad Alexandrowicz. Considered one of the funniest and most inventive plays by Britain's grandmaster of comedy (perhaps best known for A Chorus of Disapproval, but also the author of a remarkable 79 full plays), this romantic sci-fi satire is set in the foreseeable future, when actors are replaced with convincingly lifelike robots known as "actoids."

"Like all of Ayckbourn's work, this is a finely crafted and very funny comedy," says Alexandrowicz. "To imagine a world where human actors have been replaced by robots is both a hilarious send-up of the way actors are perceived, but also an intriguing proposition: if what actors do is to reproduce behaviour, why not invent human-like equivalents to do it with programmable precision and predictability? The proposition is complicated by the fact that they work both better and worse than humans: they have all these hilarious glitches, but it's the malfunction of one of them that makes her both more interesting as an actor who can offer something original to performance."
Adam, an aspiring young writer, visits a TV studio to meet his idol, Chandler, the director of a never-ending hospital soap opera who was once a great movie director. On set, Adam discovers the charming android Jacie Tripplethree (serial number JCF 31333) and realizes that the programming glitch that makes her laugh hysterically also makes her more human. Adam and Chandler start developing a new TV show for Jacie to star in, but the studio executives aren't convinced. Will Adam lose his heart to a robot? Will his show get the green light? Will love prevail? Tune in to find out! In the age of today's virtual online assistants, this wickedly funny satire from 1998 reads like a cautionary tale of the rise of artificial intelligence. (Some coarse language: suitable for ages 14-plus.)
The Children's Hour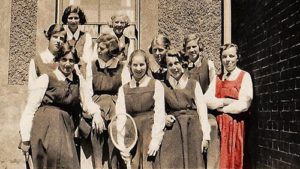 The final show of the season is Lillian Hellman's classic drama, The Children's Hour (March 12-21). Directed by Theatre professor Peter McGuire, The Children's Hour is set at a prestigious all-girls boarding school in a small New England town in the months preceding WWII. When a vengeful pupil whispers a rumour that the school's headmistresses—lifelong friends Karen and Martha—are having an affair, it triggers a devastating chain of consequences, entangling their entire school in this toxic story of deceit.
At the peril of destroying their careers, their relationships, and their lives, Karen and Martha courageously risk public shame and fight for the truth to be heard. Written in 1934, Hellman's potent exploration of the power of lies—and the culture of fear which allows them to thrive—remains startlingly relevant in our era of "fake news" and online deception. (Suitable for ages 13-plus.)
You can subscribe to all four shows for just $56 or 3 plays for $42. Tickets are available both online and via the box office at 250-721-8000.