Whether it's Queen recording their iconic title track in Bohemian Rhapsody or Will Ferrell's hilarious "More Cowbell" sketch on Saturday Night Live, what happens in the recording studio has long been mythologized in popular culture. It's also at the core of Kirk McNally's research.
The School of Music music technology professor is fusing his professional background as a recording engineer with a new archive of unexplored recordings to build a better understanding of the relationship between musicians, engineers and music producers.
A set of multi-track audio recordings donated to UVic in 2014 formed the basis for McNally's initial research into the intricate relationship between technical skills and musical output in the studio. By analyzing these recordings, McNally identified exactly what decisions were made in the studio, and how they affected the creative process of producing the final album—findings he now shares with students.
A temple and a laboratory
Revered as both a temple and laboratory by scholars, the recording studio is historically the place where the best musicians, producers and engineers create the soundtrack to our lives. But this activity has seen little critical evaluation.
"What I'm looking to better understand is the way those relationships—verbal, musical or technological—are communicated, and how the decisions made in the studio are played out to the listener," says McNally. It could be as simple as asking for another take, or as surprising as a recording error that creates a great sound.
"There's a long history around the exhibition of sketches that come before the creation of a recognized masterpiece, but that's never been done for music. By listening to the final album, we don't know what came before or what was thrown out, or if certain changes were made because of a marketing plan. That's where my interest lies."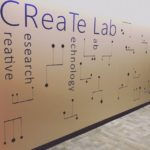 But hearing what happens is only half of the equation. The rest involves activating that knowledge in the School of Music's new Create Lab: a dedicated, state-of-the-art recording studio where McNally and his students explore the role of sound recording engineers and music producers.
Enter the new Create Lab
Completed in early 2019, the half-million-dollar Create (short for "Creative Research Technology") Lab is booked 15 hours a day by student composers, musicians, engineers and sound artists in the undergraduate Music and Computer Science program—unique in Canada—and with Master of Music Technology students.
"It all comes down to listening," says McNally. "Our job as engineers is to communicate something—either through technical or verbal means—in a way that's understood by the person on the other side of the glass. That's the importance of having a space where you can understand exactly what the sound is."
Victoria residents may also be familiar with one of McNally's projects outside of the studio: he consulted on the audio component of the spectacular cedar sculpture "Mind, Body and Spirit" by local artist and UVic Audain Professor Carey Newman, which fills the ceiling of Pacific Opera Victoria's Baumann Centre and serves to acoustically enhance the space for music-making.
Fusing professional experience with academic research
Working with a team of International collaborators, McNally will explore how "aha" moments during studio recordings are identified, critically evaluated and correlated to what we hear in the final mix. Prior to joining UVic's School of Music in 2004, McNally was a recording engineer at Vancouver's iconic Warehouse Studio. Over the years, he has worked with R.E.M., Bryan Adams, Foo Fighters, Sloan and many others.
"By listening to the final album, we don't know what came before or what was thrown out, or if certain changes were made because of a marketing plan. That's where my interest lies," says McNally, who recently received a research grant from the Social Sciences and Humanities Research Council to continue his research.
The research will also take him to the newly established EMI Music Canada Archive at the University of Calgary, where he will explore the multi-track recordings and support material for two albums by '80s Vancouver band The Grapes of Wrath: Now and Again and These Days.
McNally is interested in why those Grapes of Wrath albums have become Canadian classics. "From a Canadian perspective, what is a Canadian sound? Is that actually a thing or is just a sales pitch?" he wonders. "These Days was mixed at Abbey Road Studios in London, and it does have a referential Beatles sound—but why? Was that only because they were in that space, or was it always part of the plan?"
The EMI Music Canada Archive spans 63 years of the EMI label, including 40,000 recordings and two million documents by The Beatles, Elton John, Kate Bush, Anne Murray, Buffy Sainte Marie and thousands of others. "This archive includes important information never previously available to researchers," he says.
Back to the studio
Fusing research and application, his current project will culminate in two high-quality recording sessions at Leeds Beckett University in May—including one with legendary engineer/producer Ken Scott, who worked with the likes of The Beatles, David Bowie and Pink Floyd.
By revealing what happens in the recording studio, McNally believes future generations will be equipped to better understand the creative process and consumers' response to how music is promoted and marketed.
This story originally ran  in a slightly different form as one of UVic's KnowlEDGE research features in the Times Colonist on April 28.