It's definitely a time of change in UVic's celebrated Department of Writing, due in large part to this year's retirement of both award-winning novelist Bill Gaston and acclaimed playwright Joan MacLeod. But with change comes opportunity, as seen by the hiring of not one but two noted writers as incoming faculty members: new associate professor Gregory Scofield and new assistant professor Danielle Geller.
Scofield is a Red River Metis of Cree, Scottish and European descent whose ancestry can be traced to the fur trade and to Metis community of Kinosota, Manitoba. Geller is is a member of the Navajo Nation: born to the Tsi'naajinii, born for the bilagaana.
"Gregory and Danielle are transformational hires who will help the department build on nearly 50 years of literary excellence and lead the university into a future of new and diverse creative possibilities," says department chair David Leach. "Both will expand the national reputation of our creative writing program and establish the University of Victoria as an international centre of excellence for Indigenous writing and writers."
Meet Gregory Scofield
One of the most important poets and memoirists writing today, Scofield bridges several generations of Indigenous authors, with an extensive publishing history across multiple genres and years of mentoring and editing young writers—not to mention two new books coming out shortly: a re-release of his first memoir, Thunder Through My Veins (Doubeday Canada/Anchor Books) coming fall 2019, and his second memoir, Sitting with Charlotte: Stitching my History Bead by Bead (Doubleday Canada) due to be published in 2021.
"âcimowina. Stories. The power of stories. The spirit of stories. The bones of stories that need to be sung and invited to dance. I am so very excited to bring my stories and energy to the Writing department at the University of Victoria, to work with the students and the university community to Indigenize the creative writing curriculum," says Scofield. "I am deeply honoured to be welcomed in the territories of the Lkwungen peoples, and to listen to their stories while sharing my own. âcimowina. Stories. There will be such a good feast."
An award-winning poet with eight volumes published, Scofield has been an associate professor in the Department of English at Laurentian University for the past five years, and has taught creative writing and First Nations and Metis literature at Brandon University, Emily Carr University of Art + Design, and the Alberta University of the Arts. He has also served as writer-in residence at the universities of Manitoba and Winnipeg, and Newfoundland's Memorial University. He is the recipient of the Queen's Diamond Jubilee Medal (2012), and the Writers' Trust of Canada Latner Poetry Prize (2016); he is also a skilled bead-worker and creates in the medium of traditional Metis arts. He continues to assemble a collection of mid to late 19th century Cree-Metis artifacts, which are used as learning and teaching pieces.
"Gregory brings academic leadership, versatility as a literary artist and innovative ways of learning and teaching to our department," says Leach. "He will lead writing workshops and teach courses in Indigenous storytelling based on Cree traditions, and Indigenous women's resistance writing through the practice of Métis beadwork."
Introducing Danielle Geller
Danielle Geller is a writer of memoir and personal essays; her debut memoir, Dog Flowers, is forthcoming from One World/Random House in 2020. She received her MFA in creative writing (nonfiction) at the University of Arizona, and is a recipient of the 2016 Rona Jaffe Writers' Awards. Her work has appeared in The New Yorker, Brevity, and Arizona Highways Magazine and has been anthologized in This Is the Place (Seal Press, 2017).
"I am delighted to be joining the talented community of writers, storytellers, and artists in UVic's Writing Department," says Geller. "I hope to enhance Indigenous perspectives and voices in the curriculum and pedagogy . . . [and] I am looking forward to sharing my enthusiasm and commitment to the craft of writing and art-making with the students."
Geller writes and teaches across multiple genres with interests and expertise in contemporary forms such as slipstream fiction, Indigenous futurism and video games. Along with her MFA, she has an MS in Library and Information Science and experience as an archivist, which will deepen our students' research skills and the Writing department's connection to the many resources of UVic's library.
"We can't wait for Danielle to meet our students—and vice versa," says Leach. "When Random House releases her debut memoir about rediscovering the diaspora of her Navajo family, the rest of the world will also discover one of the most exciting new voices in literary prose."
Both positions will begin in July 2019.
A commitment to reconciliation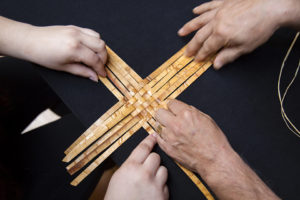 "UVic recognizes that colonization and associated attitudes, policies and institutions have significantly changed Indigenous peoples' relationship with this land. And for many years those same things served to exclude Indigenous students from higher education. We're committed to redressing those historical and continued barriers," says university president Jamie Cassels.
"As part of our commitment to reconciliation we're building better and meaningful partnerships with Indigenous communities, developing new programs, and working to bring our university into better harmony with Indigenous cultures, beliefs and ways of being. Indigenous people and communities are an important part of building our university for the future."
We acknowledge with respect the Lkwungen-speaking peoples on whose traditional territory the University of Victoria stands, and the Songhees, Esquimalt and WSÁNEĆ peoples whose historical relationships with the land continue to this day.