It's another busy weekend for the School of Music, with two headlining concerts filling their stages with talent.
First, the Naden Band of the Royal Canadian Navy joins the UVic Wind Symphony on Friday, February 8 for their sixth annual collaboration — a partnership unique in Canada!
The concert, Something Old, Something New, offers a modern twist on the traditional approach to concert programming of an overture, a symphony, a march and a concerto. Featuring new and classic works for wind ensemble, the program includes music by Copland, Persichetti, Jager and Bryant. In addition, UVic student Jason Gordon will be the lead soloist in Gillingham's Concerto for Euphonium, Winds & Percussion. 
The UVic Wind Symphony, conducted by Music professor Steven Capaldo, is recognized as one of the premier wind ensembles in the Pacific Northwest. This March they will go on tour as the featured ensemble at the Okanagan Music Festival, performing concerts to over 800 students, parents and teachers.
The Naden Band, in operation since 1940, is comprised of 35 professional full-time musicians whose primary role within the Royal Canadian Navy is to support Naval Operations, ceremonial events, and public outreach initiatives. Many UVic alumni are members of Canadian Military ensembles, including the Naden Band.
To find out more about the concert program, join for a pre-concert talk in Senate Chambers (University Centre) at 7pm with conductors Steven Capaldo and the Naden Band's Brayden Wise and Ben Van Slyke.
Something Old, Something New featuring the UVic Wind Symphony & the Naden Band starts at 8pm Friday, February 8 in The Farquhar at UVic's University Centre. Tickets are $10-$20 — but free for all UVic students!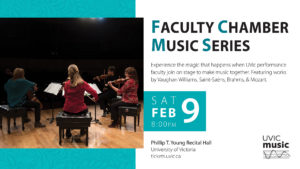 Second, the latest in the continuing Faculty Chamber Music Series takes to the stage this weekend, with a remarkable lineup of current Music faculty.
Experience the magic when UVic performance faculty join on stage Saturday night to make music together. This remarkable lineup of performers includes the Lafayette String Quartet, pianists Arthur Rowe and Bruce Vogt, tenor Benjamin Butterfield and Merrie Klazek (trumpet), Alex Olsen (bass), Jenny Gunter (bassoon), Alana Despins (horn), Shawn Earle (clarinet) and Russell Bajer (oboe).
This concert will feature works by Ralph Vaughan Williams, Camille Saint–Saëns, W. A. Mozart and Johannes Brahms. Learn more about the program with a special pre-concert talk at 7pm Saturday in the School of Music's room B037, in UVic's MacLaurin B-Wing.

The Faculty Chamber Music series runs from 8 – 10pm Saturday, February 9, in the School of Music's Phillip T. Young Recital Hall, in UVic's MacLaurin Building, B-Wing. Tickets are $10 – $25.