UVic celebrates graduates old and new with our annual Alumni Week, running Feb 1- 8 across campus. From film screenings and fascinating talks to concerts, a curling bonspiel, Vikes basketball and the annual Distinguished Alumni Awards night, there will be over a dozen special events to check out. Better still, most are free, although you may have to register in advance.
And Fine Arts is a big part of Alumni Week this year, as we participate in five different events showcasing the talents of a number of our alumni. Here's what's coming up:
Did you know that 1 in 3 UVic staff and faculty are UVic alumni? It's true, and you can meet many of them as we celebrate our campus alumni  and kick off Alumni Week at an exclusive event at Cinecenta. Join us at noon on Feb 1 for a screening of the short film, 'Til Death, by director and campus alumnus Connor Gaston.
About the film: After losing his soul mate in a fatal bicycle accident, 10-year-old Zachary sets out on a journey to bring Samantha back to life in this magical, modern fairy tale.
Gaston, who holds both a BFA and MFA from the Writing department, is an award-winning filmmaker whose work has screened at film festivals around the world, including the Toronto International Film Festival. Gaston's first feature film, 2015's The Devout, earned him five Leo Awards (including Best Picture), the BC Emerging Filmmaker Award at the Vancouver International Film Festival, and a Canadian Screen Award nomination for Best First Feature. He is also a current sessional instructor in UVic's Writing department.
Pizza, popcorn and soda will be provided at the screening for just $5, plus everyone will receive a free gift! (Tickets at the door.) Following the film screening, there will be a Q&A with the director.
This event runs noon to 1pm Friday, Feb 1, at Cinecenta in UVic's SUB. Film starts at 12:15pm, so come early to get your pizza!
Victoria-based vocal quintet Fifth Street combines the worlds of pop, jazz and R&B in perfect five-part harmony. The sublime voices of Natasha Penfield, Jilaine Orton, Ryan Narciso, Kenji Lee and Taylor Caswell found a groove together while students and as members of UVic's Vocal Jazz Ensemble. You'll enjoy their original a cappella arrangements of pop hits by the likes of Imogen Heap and Justin Timberlake as well as fresh takes on timeless classics.
UVic Music alumni are invited to an exclusive pre-concert reception with tasty hors d'oeuvres, door prizes, plus a special pre-concert appearance by Fifth Street. Hear them in action at 8pm Saturday, Feb 2, in the School of Music's Phillip T Young Recital Hall, in UVic's MacLaurin building B-wing. Entrance is by donation.
Distinguished Alumni Awards
Come join UVic's annual celebration recognizing and honouring Distinguished Alumni Award winners that have been chosen from the faculties, UVic Libraries and Continuing Studies. This year, Fine Arts is honouring Theatre alumnus Nathan Medd —a cultural non-profit leader whose work is devoted to developing the performing arts in Canada.
Now the managing director of performing arts for the Banff Centre for Arts and Creativity — the nation's largest arts training institution and incubator of new works — Medd was also the managing director of English Theatre at Canada's National Arts Centre, where his team successfully championed Canadian creators and initiated a new national stage for Indigenous performance.
Join us at 7:30pm Tuesday, Feb 5, in the Songhees Wellness Centre, 1100 Admirals Rd. Free, but registration is required.
Join 2019 Fine Arts Distinguished Alumni Award recipient Nathan Medd for this lively discussion about the ins and outs (and ups and downs) of creative placemaking. From development and gentrification to funding and accessibility for artists and audiences, get ready to "nerd out" about the business of the arts. Joining Medd on the panel will be long-time colleagues Kevin Kerr, Writing professor and co-founder of Vancouver's Electric Company, Janet Munsil, former Intrepid Theatre artistic director and Metro Studio co-founder (also a Phoenix alumna and current MFA candidate in Writing), and Ian Case, Theatre alumnus, director of The Farquhar at UVic and former general manager of Intrepid Theatre.
In addition to his current position at the Banff Centre for Arts and Creativity, Medd was previously the managing director of English Theatre at Canada's National Arts Centre. As managing producer of Electric Company, he produced original works for the Vancouver 2010 Cultural Olympiad and co-founded East Vancouver's Progress Lab performing arts creation studio in 2009. In Victoria, he worked for Intrepid Theatre, where he co-founded Metro Studio — a flagship venue for Vancouver Island — and held positions with both the Belfry Theatre and the BC Arts Council.
This free talk runs from 12:45-1:45pm Wed, Feb 6, in the Bishop Theatre at UVic's Phoenix Building.
Join UVic Chancellor and CBC Radio's The Next Chapter host Shelagh Rogers as she has a frank and fascinating live conversation with two-time Giller-prize winning novelist and Writing alumnus Esi Edugyan. The internationally acclaimed author of Washington Black, her latest novel, Edugyan is also the author of the Giller Prize-winning Half-Blood Blues and The Second Life of Samuel Tyne.
Join us at 7pm Thursday, Feb 7, in the Michelle Pujol Room at UVic's SUB. Copies of Washington Black will also be for sale, courtesy of UVic's Bookstore. Update: this event is now sold out, although a waiting list is being taken.
UVic is accessible by sustainable travel options including transit and cycling. For those arriving by car, pay parking is in effect. Evening parking is $3.
But wait, there's more!
While Alumni Week only runs Feb 1-8, our Fine Arts alumni are busy throughout the year with their own creative endeavours. Here's a quick rundown of some other alumni who are active around town in the next couple of weeks: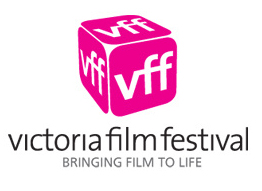 The 25th annual Victoria Film Festival features work by both Writing and Visual Arts alumni and students, running throughout the festival. Writing alum Connor Gaston is showing the short film Encore as part of the shorts program "Beautiful Obsessions" on Feb 4.  The Safe Space Panorama exhibition runs Feb 2-10 at the Atrium and features work & talks by Visual Arts MFA candidate Levi Glass (talk: 3pm Feb 3), undergrads Laura Gildner (3pm Feb 4),Jordan Hill (3pm Feb 6) and Jake Hrubizna (3pm Feb 8), plus MFA alumni Leah McInnis (3pm Feb 7) & sessional instructor Emily Geen (5pm Feb 5), as well as the 25th anniversary multimedia installation States of Play, curated by recent Visual Arts alumna Gina Luke.
Phoenix alumna & musical theatre teacher Kim Sholinder and the student cast & crew of Victoria High School will perform the Broadway musical Cry-Baby — based on the hit 1990 John Waters film of the same name, which starred a young Johnny Depp! This upbeat, campy musical provides a fun twist on 1950s star-crossed young lovers. Cry-Baby runs Feb 5-9 at Victoria High School, 1260 Grant. Tickets are $10-$12.
The Victoria Arts Council is pleased to be working with Visual Arts MFA alumnus Hjalmer Wenstob on a new solo exhibition. For Ground; Background is a culmination of selected sculptures from over the last four years, as well as new works and installations. For Ground; Background hosts works of question, concern and education, in regards to environment, urban relationships to the land, and treaties. Wenstob is an interdisciplinary artist who specializes in sculpture, installation, and carving; he speaks of three dialects of his work — contemporary, traditional, and community-based.
Through his contemporary dialect, he completed both an undergraduate and master's degree at UVic, exploring the relationships between cultures and art, and the balance between traditional and contemporary. His work is at times highly political and uses humour and irony to pose difficult questions of respect, reconciliation, and environmental issues. Nuu-Chah-Nulth from the Tla-O-Qui-Aht First Nations on his father's side, and Norwegian and English on his mother's side, Wenstob and his family recently opened Cedar House Gallery in Ucluelet, B.C. where he is exploring ways of weaving his contemporary/political work with more traditional materials and styles.
For Ground; Background runs until Feb 16 at the new Victoria Arts Council space at 1800 Store St. Open 11am-5pm Tues-Sat.
Visual Arts instructor & MFA alumnus Todd Lambeth presents Night Moves, a series of paintings that investigates the abstract relationship between space and colour. Influenced by Cubism, hard-edged Modernist painting, comic books and candy wrappers, the colours in these paintings reference the world of advertising and design. These visually stimulating works express the artist's interest in perceptions of pictorial space and are a direct response to the proliferation of digital imagery and imaging technology.
These paintings explore optical perceptions of space; emphasizing the formal properties of structure and design, Lambeth's images present the viewer with a sense of visual pleasure. With their bright, welcoming colours and forms the paintings in Night Moves foreground ideas of beauty and express Lambeth's desire to create optimistic works that distract the viewer from the difficult times in which we live.
Night Moves runs through to March 2 at Deluge Contemporary Art, 636 Yates. There will be an artist talk at 3pm Sat, Feb 16.
Writing alumnus and former longtime Malahat Review editor John Barton has been named the new Poet Laureate of Victoria. Barton has written 26 books and is currently working on his first book of prose; his appointment was reported in this Times Colonist article and this piece from Monday Magazine.
The Victoria Theatre Guild offers a lively version of this 2005 Tony-winning show — a clever, charming and sweet-natured musical comedy about six quirky tweens competing in the spelling bee of a lifetime. While candidly disclosing hilarious and touching stories from their home lives, they spell their way through a series of words, hoping never to hear the soul-crushing ding of the bell that signals a mistake. In the end, the youth learn that winning isn't everything, and that losing doesn't necessarily make you a loser.
Featuring a fantastic performance by Phoenix alumni Hailey Fowler and an outstanding set by Barbara Clerihue.
Spelling Bee runs until Feb 2 at Langham Court Theatre. Tickets are $25-$35 . . . if you can find one!