One of the world's great interpreters of the German art song tradition known as Lieder and one of the most frequently recorded lieder singers of modern times, Mitsuko Shirai is acclaimed worldwide for her extraordinary performances and recordings of songs by Franz Schubert, Robert Schumann, Hugo Wolf, and others.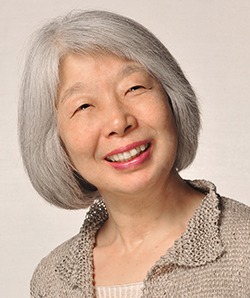 Now, Shirai will receive an honorary doctorate from UVic on November 14, as part of the Fall Convocation. During her visit to campus, she will also give two presentations at the School of Music as an Orion guest artist.
As part of a Lieder duo with her husband Hartmut Höll, the Japanese soprano and mezzo-soprano has set a high standard as an interpreter of German lied; the duo has given recitals in Europe, Scandinavia, Israel, Africa, Japan, South America, Russia, the USA and Canada, but they are especially well known in Germany and Japan. A committee of Japanese artists awarded Shirai the Great Idemitsu Music Award 1996 in appreciation of her artistic work. She has been praised by German publication Der Stern as "the first leading lady of Lieder singing".
But Shirai is not just limited to recital singing. A contralto, she has also found acclaim for her performances of Gustav Mahler's orchestral songs, appearing in concerts with the Berliner Philharmoniker, New Japan Philharmonic, Atlanta Symphony Orchestra, Nouvel Orchestre Philharmonique de Paris and the Wiener Symphoniker. Shirai has also appeared in operas ranging from Mozart to Wagner.
Shirai is also distinguished for her illustrious teaching career. She teaches at the Musikhochschule in Karlsruhe, one of the primary music schools in Germany, and has conducted numerous workshops in Germany, Austria, Finland, the United States and in her native Japan. Many of her students have gone on to become the bright lights of today's concert stages.
Shirai will speak about her career as a performer and teacher from 4–6pm Thursday, Nov 15, in MacLaurin B037. Don't miss this unparalleled opportunity to get to know one of the foremost performers of our time—one who has worked closely with other icons of song performance. And then from 3–5pm Saturday, Nov 17, in the Phillip T. Young Recital Hall, she will lead a masterclass on Lieder by Robert Schumann, working with graduate student vocalists Alana Hayes and Kyron Basu (with Music professor Harald Krebs on piano) on two Schumann song cycles (opp. 35 and 135). Both these events are free.