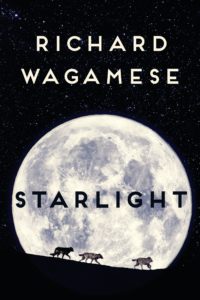 From telling stories that helped us understand what it meant to be Canadian to inspiring future generations of writers, Richard Wagamase was one of Canada's most beloved authors. His death in 2017 at just 61 was a profound loss for our country's literary culture, and now his final novel, Starlight, is being launched locally at a special event hosted by UVic Chancellor Shelagh Rogers who is also host of CBC Radio's The Next Chapter and a longtime friend of Wagamese.
The Starlight book launch runs from 7-8:30pm Tuesday, Dec 4, at UVic's First Peoples House. Admission is free, and all are welcome.
Starlight tells the story of an abused woman who discovers sanctuary on the farm of an Indigenous man, and is an apt conclusion to his literary legacy.
"This book is not only a last gift to his readers, it is a masterpiece," says Rogers. "It will be wonderful to be among friends to pay tribute to his life and his writing, and it's wonderful that this event takes place at UVic, as Richard loved the university and his time here."
Joining Rogers will be 2018 Governor General's Award winner Darrel J. McLeod (Mamaskatch), 2018 Bolen Book Prize winner Monique Gray Smith (Speaking Our Truth: A Journey of Reconciliation), current Writing MFA candidate Troy Sebastian and Writing professor emerita Lorna Crozier.
As one of the Harvey Southam Guest Lecturers in the Department of Writing, Wagamase had a lasting influence on UVic students and the local community by mentoring young writers and sharing his vision of the power of Indigenous storytelling.
"Richard Wagamase had a profound impact on our national culture through his novels, his essays, his memoirs and his memorable readings and talks," says Writing chair David Leach, moderator of this event.
"As our Southam Lecturer in 2011, he inspired and challenged our students to move out of their comfort zones as writers and explore the power of oral storytelling. It was such a great pleasure to hear Richard's big-hearted laugh in our hallways and talk with him about books or baseball or the blues. It's still a shock to realize we will never get another chance to hear him read aloud from his richly detailed and deeply humane novels and essays."
By drawing upon his work as a journalist and his experiences as a residential school survivor, Wagamese created memorable and award-winning novels such as Indian Horse and Medicine Walk, as well as compelling works of nonfiction, including as One Native Life and Embers.
Copies of Starlight will be available for sale at the event.
UVic is accessible by sustainable travel options including transit and cycling. For those arriving by car, pay parking is in effect. Evening parking is $3.