Department of Writing professor Bill Gaston has won the 2018 City of Victoria Butler Book Prize for his short-story collection The Mariner's Guide to Self Sabotage (Douglas & McIntyre).
Victoria Mayor Lisa Helps and co-sponsor Brian Butler presented Gaston with his $5,000 prize at a gala October 17 event at downtown's Union Club.
A set of 10 cautionary tales showcasing the author's range and narrative versatility, The Mariner's Guide to Self Sabotage effectively captures Gaston's gift for making ordinary moments feel transcendent. Judges praised his ability to move "seamlessly from the funny to the poignant to the surprising and absurd."
The author of seven novels, seven short-story collections, three plays, two nonfiction books and a poetry collection, Gaston also released the memoir Just Let Me Look At You: On Fatherhood (Penguin Random House) in 2018. He previously won the City of Victoria Butler Book Prize in 2007 for the short-story collection Gargoyles (House of Anansi), which was also shortlisted for the Governor General's Literary Award and the Ethel Wilson Fiction Prize, and won the ReLit Award. In 2002, Gaston was a finalist for the Giller Prize with Mount Appetite (Raincoast), as well as the inaugural recipient of the Timothy Findley Prize, awarded by the Writer's Trust of Canada.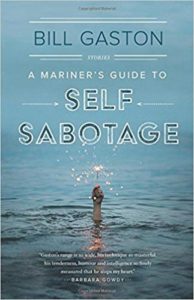 2018 was a strong year for the Writing department at the Victoria Book Prize, given that fellow nominees included professor emerita Lorna Crozier (What the Soul Doesn't Want), longtime instructor Patrick Friesen (Songen) and longtime Faculty of Fine Arts colleague Maria Tippett (Sculpture in Canada: A History).
Also winning that night was author Monique Gray Smith, who picked up the $5,000 Bolen Books Children's Book Prize for Speaking Our Truth: A Journey of Reconciliation (Orca).
"This is our 15th year awarding the City of Victoria Butler Book Prize and we are still going strong," says Victoria Book Prize President Alyssa Polinsky. "We couldn't do this without the support of our generous sponsors, an engaged community of readers and all the talented writers and illustrators we celebrate each year."
The awards gala was hosted by CBC Radio's Gregor Craigie, with Victoria's Poet Laureate Yvonne Blomer opening the evening with a reading from her recent works.
Established in 2004, the City of Victoria Butler Book Prize is a partnership between the City of Victoria and Brian Butler of Butler Brothers Supplies. The prize is named for UVic alumnus Brian H. Butler (BA, Philosophy), a generous and longtime contributor to the Greater Victoria arts community. Past president of the Victoria Symphony Society, he has served on numerous community boards and for United Way campaigns.