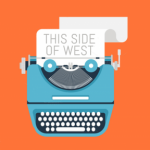 No question, UVic's Department of Writing has produced scores on notable alumni — see the current success of writers like the 2018 Man Booker finalist & Giller Prize shortlisted Esi Edugyan for one — but this week, current students will be in the spotlight when the Writing student anthology This Side of West hosts their annual Editors' Reading.
Starting at 6:30pm on Saturday, Oct 20, TSOW will be kicking off a new year at a special event at Hillside Coffee & Tea (details below). Come hear this year's staff read their work from across all genres, and get a taste for what they'll be interested in when it comes to new work.
Running since 2003, TSOW publishes an annual collection each spring featuring the best student work coming out of the Writing department.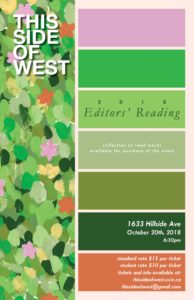 "This Side of West is a student-run service of the Writing department course union, which is the school-funded student organization that represents any student enrolled in one or more Writing class at UVic," explains editor-in-chief Riley Smith. "The course union has worked and will continue to work with the department to make the student experience the best it can be, but we make a point of keeping any decisions about pieces and publication independent of faculty involvement."
It's this sense of independence that helps Writing students cut their teeth with the editorial process.
"Student publications are important because they give students an opportunity to go through both sides of the publications process on a lower-stakes stage than when publications credits and national distribution are involved," says Smith, now on his second term as TSOW editor-in-chief.
Indeed, given the steady stream talent coming out of the Writing dept, it's no surprise that past TSOW issues have featured future published authors and editors, including the likes of poet Garth Martens (2011 Governor General's Award finalist, winner of the Bronwen Wallace Memorial Award), novelist Marjorie Celona (2012 Giller Prize nominee, winner of the prestigious Waterstones 11 literary prize, shortlisted for the Amazon.ca First Novel Award) and poet Emily McGiffin (finalist for the CBC Literary Awards in 2004 and 2005, winner of the 2008 Bronwen Wallace Award for Emerging Writers from the Writers' Trust of Canada).
This year's group of student editors — including Karine Hack & Jennifer Landrey (creative nonfiction), Marley Sterner & Emma de Blois (drama), Kim Dias & Hana Mason (fiction), and Kai Conradi & Naomi Duska (poetry) — is clearly keen to keep that winning streak going, and they're hoping this reading will generate interest among current Writing students.
"If anyone is interested in submitting to This Side of West, our submissions will open at 10pm on Saturday," says Smith. "We accept literary work in all four genres—creative nonfiction, drama, fiction, and poetry—and comics in any of those genres are great! I've yet to see a screenplay comic, but if anyone's made one work, we want it."
Submissions guidelines and the online submission form are available on their website.
At Saturday's Editors' Reading, expect to hear work by the current editorial team ranging from fiction and creative nonfiction to drama and poetry. A published anthology of the editors' work will also be available for purchase at the event.
This Side of West Editors' Reading, 6:30pm Saturday, Oct 20, at Hillside Coffee & Tea, 1633 Hillside (across from Hillside Centre). Admission is $10.