If it's late August, it must be time for the Victoria Fringe Festival. Running August 22 to September 2, this annual explosion of live performance returns with 47 shows from around the globe in 12 venues, plus outdoor events for the whole family and late night programming in the Fringe Club. Pick up a program guide, get your Fringe button (you'll need one in order to buy tickets) and get ready to Fringe!
Of course, Fine Arts is once again well-represented in the festival, with students, alumni and faculty from not only Theatre but also Music and Writing involved in creating, writing, designing, directing, performing and working behind the scenes in a number of shows. How many will you see?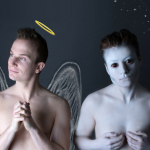 ANGELS & ALIENS  – Co-created and featuring second-generation Phoenix alumnus Jeff Leard (son of local theatrical legend Jim Leard), Angels & Aliens poses questions like, are we alone in the universe? Are we living in a computer simulation? What do two irresponsible roommates eat for breakfast the morning after awkward sex? In short. No. Yes. And eggs.
BEGINNING/MIDDLE/END – Featuring current Theatre student Douglas Peerless,  this eponymous production includes three short plays that are broken into a Beginning, a Middle and an End. The cast will then take those nine parts and mix them around, allowing chance and audience participation to decide their order of appearance — with no performance being the same.
CAREY, OK! VOLUME 1: TIMELESS TIMELY TUNES – Featuring Phoenix alumnus Carey Wass—who first came to the city's attention thanks to his notable role in the original mounting of the musical Ride the Cyclone—this show features a mash-up of monologues and music, that mixes beatboxing, rap-singing . . . and Sir Ian McKellen? It's described as a must-see musical experience, and with Wass, we'd believe that.
CORNELIUS & TITANIA OR, A TRAGEDY OF THE COMMONS (A COMEDY) – Written by Phoenix alumna playwright and director Pamela Bethel (whose After The Beep was a hit at the recent UNO Festival) and featuring current Theatre student Tallas Munro, this Shakespearean spin focuses on Cornelius who, having had barely one line in Hamlet, finds he usually gets cut and ends up here — with all the other inconsequential characters. Today Titania shows up. According to this fax that just came through, she's been replaced by a hologram. A comedy about power, privilege and the age old question — who's responsible for the dirty dishes in the shared kitchen?
DISASTER! – Directed by Phoenix alumnus Cam Culham, this recent Broadway hit musical lovingly parodies the 1970's disaster-film genre is presented by the St. Michaels University Music Theatre Intensive. Join a colourful group of New Yorkers at the grand opening of a floating casino and disco as they fall prey to all sorts of tragic disasters. This hilarious "jukebox musical" revives popular '70s songs performed by local teens. They'll have you grooving and in emergency preparation mode all at the same time!
ERNIE AND BETHY – First performed as a Phoenix SATCo show in early 2018, this comedy examines what happens when puppets grow tired of being controlled and decide to overthrow the human regime. Expect puppet revolution, a struggle to create "real art," and a healthy dose of existentialism as down-and-out Ernie and overachieving Bethy try to create a children's show while the foul-mouthed puppets attempt to take over. This show is filled with Theatre students and recent alumni: written, created & assistant directed by Sophie Underwood, directed by Molly McDowell Powlowski, set design by Conor Farrell, costume design by Hailee Jake with an assist by Mackenzie Monroe, lighting design by Tori Isaak, sound design by Aaron Smail, stage managed by Siena Shepard, assistant stage manager Danny Handford, production manager by Logan Swain, puppet engineers Sasha Lazin and Christian Tervo. Featuring Sheldon Graham, Emma Grabinsky with puppeteers Rachel Myers.
FADO – A tale of love and ghosts told through the saddest music in the world—Portuguese fado — this show features the talents of Phoenix alumni Cyllene Richmond, with designs by Patricia Reilly. Brought to you by the creators of the 2015 Fringe Favourite Lieutenant Nun – featuring live music by local fado singer Sara Marreiros.
THE FITTING ROOM – Written by Writing grad Ellery Lamm and original mounted by local Vino Buono theatre in 2017, this is a play about growing up, coming out, facing loss and finding faith. Four teens, a mom, a rabbi and one fitting room: six people all linked to the sudden death of thirteen-year-old Noah. This Phoenix-heavy production is directed by Anna Marie Anderson, with stage manager/sound designer Aaron Smail, set/costume designer Delaney Tesch, lighting designer Elizabeth Martin, and featuring actors Ciaran Volke, Emma Newton, Emma Grabinsky and Eva Hocking.
FOOL'S PARADISE – France, 1686. Mathilde is a young nun whose life radically changes when she meets Julie d'Aubigny, a notorious Parisian opera singer and swordsmaster. Together they plan a daring escape from the convent and elope across France, but it isn't long before Julie's colourful past catches up with them. Featuring Phoenixers Julie McGuire and Sophie Chappell, with designs by Annie Konstantinova.
KITT & JANE: AN INTERACTIVE SURVIVAL GUIDE TO THE NEAR-POST-APOCALYPTIC FUTURE – Co-created by Phoenix alumni Kathleen Greenfield and Ingrid Hansen, this encore presentation features Fringe favourite Hansen in the cast, with LX design by Michael Franzmann. Two 14-year-olds hijack their school assembly and train their classmates to survive the coming apocalypse. A poignant exploration of the world today's youth are inheriting, and how they're willing to fight for it. Last seen locally at Phoenix's 2013 Spotlight on Alumni.
LA PALABRA EN EL TIEMPO – With bold rhythm and improvisation, local company Palabra Flamenco presents this mix of fierce dance, live guitar, troubled song and English-language poetry – a grief and praise that soak their way to dark corners. How to confront what's buried? Hold death near, affirming life? This myth-inflected encounter honours what we've lost, what we're going to lose. Written by Writing MFA alumnus Garth Martens, winner of the Bronwen Wallace Award for Emerging Writers, shortlisted for the Governor General's Literary Award for Poetry and author of Prologue for the Age of Consequence (Anansi). With acclaimed guitarist Gareth Owen, singer Veronica Maguire (co-founder of Alma de España), and principal dancer Denise Yeo.
THE MEASURE OF LOVE – Phoenix alumnus director Wendy Merk presents this remount of an earlier Fringe hit. Love, betrayal, redemption . . . The Measure of Love is a dramatic exploration of the friendship between two women. "This story of Catholic obsession with guilt and sin is a charmer and devilish fun and in the hands of these veteran performers it's sensational. Powerful, moody and rewarding. Who said there are no good roles for women anymore?" – Times Colonist.
RATFISH COMEDY SHOW – Join musical director and School of Music professor Patrick Boyle and experience everything that's made Ratfish Victoria's favourite local comedy show for 7+ years, all jammed into less than an hour: amazing hosts, a great band, surprise guest performers, hilarious headliners, roast battles — even open mic spots where you can sign up at the show for a chance to grab a 3-minute spot to perform your own original comedy at the Fringe!
SHERLOCK HOLMES & THE CURSE OF MORIARTY– Sherlock Holmes is back in his deadliest adventure yet in this new show from Victoria's Triple Fringe Award-winners Outpost 31. This brand new re-imagining of Sir Arthur Conan Doyle's timeless classic by David Elendune (Leer, Winnie The Pooh, Casino Royale) features Phoenix alumni Trevor Hinton, Ian Simms, Ellen Law and Connie McConnell.
WAR OF 1812 – Phoenix alumnus Ian Case directs this hilarious historical romp, featuring a who's-who of the local comedy scene—including Wes Borg, Morgan Cranny, Rod Peter Jr and Mike Delamont. A young boy hates Canada until the ghost of Pierre Burton  takes him on a tour of Canadian History, from the tennis ball battle fields of York to a Laura Secord mega musical, all in a Birchbark time canoe. Get ready for the funniest history lesson of a lifetime!
WATER PEOPLE – Phoenix alumnus and instructor Clayton Jevne directs this drama about Beth, a middle-aged novelist, who begins caring for her disabled mother. It seemed the right thing to do at the time, but a sociopathic social worker, a diabolical sibling, a high maintenance cat, and the woman in the mirror confirming time is not standing still are now "writing" the story that is defining Beth's life.
THE WILDS – Co-created and featuring Kate Braidwood, this production by 12-time Best of Fest winners The Wonderheads (Loon, Grim & Fischer) features their iconic larger-than-life masks. Wendell's wife and their beloved tree have vanished, so he must venture into the Wilds to bring them home. Pixar meets Miyazaki in this extraordinary adventure. And watch for a special one-night-only presentation of Grim & Fischer on November 8 at the Metro Studio!
And we'd like to offer a special shout-out to our alumni and students working with Fringe organizers Intrepid Theatre to get this event up, including Jaxun Maron, Sienna Shepard, Emma Leck, Melissa Taylor, and Carolyn Moon with Ticket Rocket box office support by Kate Loomer.
—with files from Adrienne Holierhoek