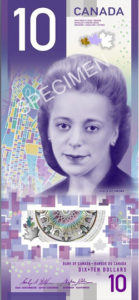 When Art History & Visual Studies professor Carolyn Butler-Palmer received an email from the Bank of Canada back in 2017, she didn't put much stock in it. "To be honest, I thought it was a scam email," she laughs, "but in fact they wanted to speak to me as an art historian."
While it's no secret now that Canada's new vertical $10 bill features Nova Scotia civil libertarian Viola Desmond, Butler-Palmer was under a strict confidentiality order for several months starting in summer 2017 while she was consulted by the Bank of Canada about the proposed design. One of a number of experts contacted, Butler-Palmer came to their attention due to the Globe and Mail coverage of her early 2017 exhibit Ellen Neel: The First Woman Totem Pole Carver at UVic's Legacy Gallery.
"They knew I had an interest in women and issues of diversity," she says. "And while they'd already determined Viola Desmond would be on the front side of the bill, they were trying to get different regional perspectives on options for the flip side—including what they ended up with, the Canadian Museum of Human Rights."
Often described as Canada's Rosa Parks, the 32-year-old Desmond refused to leave her seat in the "whites only" section at the Roseland Theatre in New Glasgow, Nova Scotia, back in 1946. As a result, she was dragged out of the theatre by police and then jailed; it wasn't until 1954 that segregation was legally ended in Nova Scotia, partly due to the publicity around Desmond's case.
While over 450 iconic Canadian women met the initial qualifying criteria, that list was then narrowed down to a dozen candidates by an independent advisory council for possible inclusion on the $10 bill; Desmond was eventually selected by the Minister of Finance and the Governor of the Bank of Canada from a shortlist of five (including poet E. Pauline Johnson (Tekahionwake), engineer Elsie MacGill, athlete Bobbie Rosenfeld and suffragette Idola Saint-Jean) in December 2016. "It was long overdue for a banknote to feature an iconic Canadian woman," said Stephen Poloz, Governor of the Bank of Canada, when the new bill was unveiled in March 2018. (Butler-Palmer says she "had, in fact, already voted for Viola.")
And while we now know the new $10 bill features the exterior of the Canadian Museum of Human Rights in Winnipeg, as well as an excerpt from the Charter of Rights and Freedoms and an eagle feather representing the continuing struggle for recognition of the rights of Canada's Indigenous people, the question of what was going to appear on the reverse of the bill was still up in the air during Butler-Palmer's consultation. But does she like the final design?
"To be honest, I'm not sure I would've gone with what they selected—without going into specifics, there were other objects I thought were more favourable," she says with a  chuckle. "But I understand why they went in that direction—it's a new museum and suits the broader issue of human rights. And the vertical design does have more impact."
All in all, it was a unique experience for Butler-Palmer, who also teaches an AHVS elective titled "Fakes, Forgeries and Fraud" (returning in January 2019), which deals specifically with art forgery and theft—both of which are popularly associated with money. "It certainly was interesting to be contacted by a federal agency and be asked your professional opinion," she says.
Now that's news you can take to the bank!