Thanks to all who came out for the Summertime Staff Challenge on June 20! It was a great day for a race and, despite some last-minute Nerf technology backfires, everyone seemed to have a great time. For those who like stats, here's a fun game-day breakdown:
20 teams
75 players
roughly 15 units represented
18 new employees participated
8 volunteers helped out
Maximum possible score: 103 points (plus new employee/clothing bonus)
The shortest slow bike ride was 1 minute
The longest slow bike ride was 5 minutes (a tie between Cycle Paths & Last Minute Charlies, so each team got 10 points)
7 teams got disqualified on the slow bike ride (or didn't have a bike)
11 teams successfully completed the admittedly challenging Finnerty Challenge
11 teams created a recycled hat (some were fantastic!)
3 teams had only 3 players — one of which (Edge-y Broads) made it into the top-3
Only 5 teams successfully answered their trivia question
Only 6 teams got points on the bocce challenge
Only 4 teams didn't do the Twitter tree challenge
Only 3 teams answered all 4 of their photo-based questions
Only 3 teams didn't find a rock
Only 3 teams didn't draw a S'YEWE Pole face
We'll be doing this again next summer as part of the Connect U staff conference, so be sure to sign up again!
Here's a selection of photos from the event:
And now the results!
FIRST PLACE TEAM: East of the Equator (Office of Research Services): Meghan Rountree, Michael Chin, Michael Kravec, Dean Rysstad     Final score:    75
This was the first time playing for East of the Equator. If you would like to congratulate the winning team, you can contact them here.
2nd PLACE TEAM: Devs Doughnuts (Systems)     Final score:     70
3rd PLACE TEAM: Edge-y Broads (Media Relations)     Final score:     65
 4th PLACE TEAM: Cycle Paths (Health Services)     Final score:     64
5th PLACE TEAM: Heal Racers (Health Services)     Final score:     62
6th PLACE TEAM: CERE4 (Ceremonies & Events)     Final score:     61
7th PLACE TEAM: Last Minute Charlies (Budget & Capital Planning)     Final score:     60
8th PLACE TEAM: Code Blue (Health Services)     Final score:     59
9th PLACE TEAM: Math R Us (Math & Stats)     Final score:     59
10th PLACE TEAM: The Service Providers (Student Services)     Final score:     56
11th PLACE TEAM: Team Corrina (Chemistry)     Final score:     54
12th PLACE TEAM: ROC Bottom Resurrected (Undergraduate Records)     Final score:     53
13th PLACE TEAM: Two is Better Than None (Co-op & Career)    Final score:     52
14th PLACE TEAM: The Cat's Pajamas (Fine Arts)     Final score:     51
15th PLACE TEAM: Adva Cadabra (Academic Advising)     Final score:     46
16th PLACE TEAM: The Deductions (unidentified unit)     Final score:     45
17th PLACE TEAM: Twisted Blister (Health Services)     Final score:     44
18th PLACE TEAM: The Heather Mooney (Business)     Final score:     40
19th PLACE TEAM: Brain Stormers (Continuing Studies, Marketing)     Final score:     36
20th PLACE TEAM: Team AJ (unidentified unit)     Final score:     3
---
Get Ready for the June 20 Summertime Staff Challenge
Can't wait for summer to start? Eager to bust loose with some lunchtime fun? Get ready for the fun & frantic Summertime Staff Challenge, running 12:10 to 12:40pm Wednesday, June 20, at the MacLaurin Pyramid.
Your four-person UVic team will compete against others in a series of on-campus zany challenges ranging from information- and image-gathering to tests of physical skills and accuracy.
Designed to be more of a team-building activity than anything seriously physically difficult, the whole point of this event is to have fun going up against other UVic teams while discovering more about the campus.
You'll also get bonus points for each new employee of 1 year or less on your team. (They don't have to be from your unit, so start poaching now!) Sign up either as a team or individually, and we'll connect you with other people looking for teammates.
What your team will need:
Four UVic staffers (or majority staff)
Running shoes or comfortable walking shoes
A smart phone, iPad or other similar device that can take photos & post to Twitter
Water shoes / flip flops & a towel (?!)
A bicycle
Keen eyes
Steady hands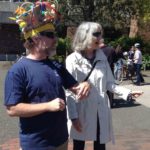 Deadline for team registration is Friday, June 15.
For more information or to sign up, please contact John Threlfall at johnt@uvic.ca. Yep, he's the same kooky guy who was behind the Connect U Scavenger Hunts.