Can't wait for summer to start? Eager to bust loose with some lunchtime fun? Get ready for the fun & frantic Summertime Staff Challenge, running 12:10 to 12:40pm Wednesday, June 20, at the MacLaurin Pyramid.
Your four-person UVic team will compete against others in a series of on-campus zany challenges ranging from information- and image-gathering to tests of physical skills and accuracy.
Designed to be more of a team-building activity than anything seriously physically difficult, the whole point of this event is to have fun going up against other UVic teams while discovering more about the campus.
You'll also get bonus points for each new employee of 1 year or less on your team. (They don't have to be from your unit, so start poaching now!) Sign up either as a team or individually, and we'll connect you with other people looking for teammates.
What your team will need:
Four UVic staffers (or majority staff)
Running shoes or comfortable walking shoes
A smart phone, iPad or other similar device that can take photos & post to Twitter
Water shoes / flip flops & a towel (?!)
A bicycle
Keen eyes
Steady hands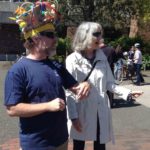 Deadline for team registration is Friday, June 15.
For more information or to sign up, please contact John Threlfall at johnt@uvic.ca. Yep, he's the same kooky guy who was behind the Connect U Scavenger Hunts.