It's a good time to be a trickster. Long an essential archetype in mythologies around the world, tricksters delight in using their special abilities to flout the rules of convention and undercut the efforts of gods and mortals alike. And, given our chaotic times, it's no surprise that tricksters are back in fashion—consider the popular representations of Loki in The Avengers, Maui in Moana, and Mr. Anansi in American Gods, to name just a few.
Trickster business
The trickster is also lighting up the Canadian bestseller list, thanks to the efforts of award-winning Haisla novelist, Creative Writing alumna and Faculty of Fine Arts Distinguished Alumni Award-winner Eden Robinson (BFA '92). Her latest novel, 2017's Son of a Trickster, quickly became one of last year's "it" books, landing on almost every Canadian "best-of" book list and shortlisted for the 2017 Scotiabank Giller Prize.
But it doesn't stop there: after receiving the $25,000 Writers Trust Engel/Findley Award in 2016 for her body of work (which at the time included two novels, a memoir and a book of short stories), Robinson also received the $50,000 Writers Trust Fellowship in 2017. This spring she was shortlisted for the Ethel Wilson Fiction Prize in the BC Book Prizes, the highly anticipated second book in her Trickster trilogy—Trickster Drift—is set for release in October of this year, and Son of a Trickster has just been optioned as a television series by Sienna Films, producers of the television show Cardinal and the film New Waterford Girl.
"It's all a little surreal," Robinson admits. "I mean, awards are essential to your profile, to feeling like you're part of the literary world, but having your peers spotlight your work is an incredible feeling, and that faith is important going for-ward. When you have a lot of self-doubt, it's important to reflect on the fact that people believe in you, and your work and your future work."
Back to Kitamaat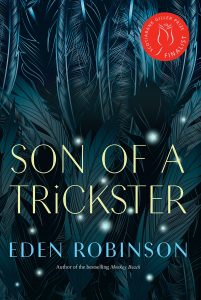 Robinson left Vancouver in 2003 to return to Kitamaat Village in Haisla territory on BC's central coast (not to be con-fused with the much larger nearby Kitimat), where she grew up. She came to University of Victoria in the late '80s on the recommendation of her cousins, who were already enrolled here. "And my dad really liked the fact that the Creative Writing department had an internship program, where you could work in the summer," she says, before pausing and breaking into her long, loud laugh that has become famous in CanLit. "But I was placed in government positions, so I just did a lot of photocopying."
When asked about writing professors who influenced her, Robinson rattles off a list that includes Mark Anthony Jarman, Dave Godfrey and W.D. Valgardson, but admits that she wasn't necessarily a big success right out of the gate. "I got a zero out of 10 on an assignment from one of my poetry professors, so it made me really question whether I was actually a writer—but, as the semester went on, I eventually crossed the five out of 10 threshold."
The prof? None other than iconic poet Robin Skelton, who founded the department. "But it all worked out: I ended up doing two more workshops with him, and he turned out to be highly influential in the way I use language," she says.
The last time Robinson spoke with the Torch was back in 2001, just after her debut novel Monkey Beach was shortlisted for both the Governor General's Literary Award and the Giller Prize. At the time, she mentioned that it was in her third-year writing class that she first discovered the joy of writing. Is that sense of joy still there, five books and nearly 20 years later?
"Right now?" she asks with a wry laugh. "I'm just getting into the first draft of the third novel, and it's a bit bumpy. Once you get hot and start powering through, though, there's nothing as much fun."
Unfolding a trilogy
"Jared is definitely a character for our times," Robinson says. "We're in a time of massive flux and chaos, and it's hard to process all the crazy things that are happening; tricksters thrive on that—they try to make jokes out of it. They're very big characters, and they're a lot of fun to write."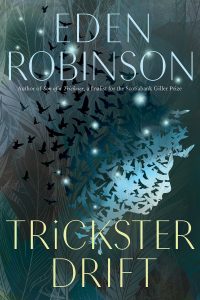 "Flux and chaos" is a good way to describe an era highlighted by protests over issues ranging from pipelines and reconciliation to murdered and missing Indigenous women. She is a strong advocate for the rights of Indigenous women and against the Northern Gateway project. Robinson also penned a widely read op-ed for the Globe and Mail about the Kinder Morgan Trans Mountain pipeline expansion—although she stops short of being seen as a voice for all causes.
"Kinder Morgan doesn't directly affect my territory, but I'm very sympathetic to people's concerns," she says. "I'm willing to lend my voice and my support to certain causes, but it's the peo-ple from the affected communities who should be the ones get-ting the spotlight. I find a lot of issues are like that—I'm willing to listen, I'm willing to learn, but I don't want to overstep my role."
Indigenous voices
She's similarly cautious about being seen as the leading Indigenous authorial voice. "The writers coming up now give me a lot of hope because they're very comfortable speaking their minds—politically, socially and personally—and a lot of the things they're talking about are longstanding issues. They're letting it all go, and if there's clapback, there's clapback."
Robinson's characters in Son of a Trickster similarly avoid one-size-fits-all activism: some are politically astute and ready to put themselves on the line for causes they believe in, while others sim-ply want to party. (They are small-town BC teenagers, after all.)
"I know from personal experience that a lot of people around here aren't tuned into anything that's going on, whether in the world or the Twitter-sphere," she says. "They're mostly concerned with their own lives, their families, their work. I'm just trying to reflect more of a spectrum than a specific point of view."
No spoilers!
When asked about her forthcoming novel, Trickster Drift, Robinson says. "I'm one of those people who spoil things—I like talking about Game of Thrones or The Walking Dead before anyone has seen it—but I don't want to spoil my own book. So let's just say Jared tries to escape magic by going to Vancouver but it becomes an increasing presence in his life: he becomes a trickster himself."
Trickster Drift also introduces a whole new character in Jared's aunt. "She's an eccentric writer who is also somewhat political, Not that she's based on anyone!" says Robinson, with one of her trademark laughs.