It's doubly fitting that the upcoming concert by UVic's Wind Symphony is titled "Finale" — not only is it the final Wind Symphony concert of the 2017/18 season, but it will also mark the final bow for beloved conductor and highly respected music educator Dr. Gerald King.
For the past 29 years, King has been the primary conductor of UVic's highly praised Wind Symphony, but the maestro will put down his baton after the March 23 concert as he prepares to retire from UVic's School of Music in June. And, fittingly enough, the program for this special concert includes pieces significant to both the Wind Symphony and to King himself.
"These are works which I consider to be cornerstone pieces," he says. "They are not necessarily all incredibly profound, but they have contributed to the growth of the Wind Symphony and have very personal meaning for me." This includes Fantasia on Klezmer Themes by Russian-Canadian composer Airat Ichmouratov, which he recalls "the audience went wild for when we performed it in 2013."
Clarinetist Patricia Kostek — who retired from the School of Music at the end of 2017 after 28 illustrious years at UVic — will return for this encore performance. As colleagues, the two have collaborated extensively (clarinet is also King's instrument), so it was fitting to bring the piece back to the stage in March with Kostek.
Other works on the program include Jack Stamp's Gavorkna Fanfare — a nonsense title that King conducted in his very first concert with the Wind Symphony — as well as Lux Aurumque by Eric Whitacre, LOL by Robert Buckley, A Movement for Rosa by Mark Camphouse and others.
An enviable legacy
The UVic Wind Symphony is recognized as one of the premiere performing wind ensembles in the Pacific Northwest and among the finest university wind ensembles in Canada — and much of that credit goes to King's expertise, commitment to the students, and his sometimes "tough-love" approach to teaching — as evidenced by the praises to Dr. King coming in on social media once word of his retirement got out.
"His seriousness encouraged us to put in maximum effort," recalls Shannon McCready (BMus '02). "He had very high expectations, which let us know that he believed in us, sometimes more than we believed in ourselves," agrees Cooper Reed (BMus '17), who feels especially grateful for all of his words of encouragement and support. "I have had so many wonderful performance opportunities since graduation because he gave me the confidence and tools I needed to be a successful musician."
See below for even more reaction to Dr. King's retirement.
But King's work with the Wind Symphony is but one of the many legacies he will leave behind. He started his teaching career at UVic 30 years ago in the Faculty of Education, and his appointment as conductor of the Wind Symphony in 1989 was the first of many stepping stones in his vision to see Music Education formally housed within the School of Music; this became a reality in 2014 following King's two terms as Director of the School of Music.
As Fine Arts Dean Susan Lewis notes, King leaves behind an enviable legacy. "Dr. King's service to the School, the province and Canada more broadly is significant — over the past 25 years he has worked with over 10,000 ensembles and soloists representing more than 500,000 musicians," she says. "His vision and leadership of the music education program has led to UVic alumni directing music programs in the K-12 sector across the province; his mentorship of new and continuing faculty and students, his leadership of Music Education, and his expertise as a band conductor are most appreciated and will be missed. As Dean, former Director of the School of Music and a colleague, I'd like to express my warm congratulations to Dr. Gerald King as he retires after 29 brilliant years in the School of Music."
Indeed, UVic's Music Education program is nationally recognized and many of the province's elementary and secondary school music educators were once students of his. "I owe Dr. King so much for helping shape me into the music educator I am today," says Cameron Kenis (BMus '15), band and musical theatre teacher at Abbotsford Traditional Secondary School. "He has influenced my teaching is so many ways and I thank him for it."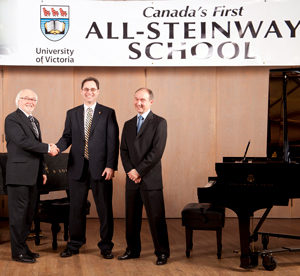 During his eight years as Director of the School of Music, King was also instrumental in UVic's 2008 designation as Canada's First and only All-Steinway School (a title which still stands today), leading the campaign to equip all Music classrooms, practice studios and concert halls with over 60 Steinway pianos. Given that Steinway pianos are known for their outstanding acoustical and performance properties, the opportunity to play on the best pianos in the world puts UVic students at a tremendous advantage.
New scholarship looks to the future
One final nod to the future is the establishment of the Dr. Gerald King Legacy Scholarship in Music Education. This new student award will see one or more scholarships awarded to academically outstanding undergraduate students in the Bachelor of Music (Music Education) program. Selection of the recipients will be made by the Senate Committee on Awards upon the recommendation of the School of Music. Please join us in contributing to this outstanding scholarship worthy of Dr. King's years of service to the students and the university community. Donation cards will also be distributed at the March 23 concert.
King describes his upcoming retirement as bittersweet. "I love the students and faculty that I've worked with over the years, but the new horizons are also very exciting," he says. (Already on his calendar are numerous engagements for guest conducting, adjudicating, keynote speaking and working with graduate students at other institutions.) "The biggest change will just be my office," he says with a chuckle.
Don't miss maestro King's Finale concert with the UVic Wind Symphony on March 23 in the University Centre Farquhar Auditorium — sure to be a memorable evening!
—by Kristy Farkas, with files from John Threlfall

School of Music alumni offer some thoughts on the legacy of Dr. Gerald King
"I thank my lucky stars to have been a student at the School of Music between 1998-2004," writes Mandart Chan. "One of my favourite memories was being the Ensemble Librarian for the Wind Symphony and Orchestra. Gerry taught me so much about repertoire, programming, conducting, teaching, cooking and life; I wouldn't be where I am right now if it wasn't for his mentorship over those years and now. He will be missed at UVic!"
"I'm thankful to Gerry for modeling that a teacher's job is to set a very high standard for our students while sharing our passion of music," notes Jenn McVie-Britton.
"I basically put UVic on my dream-school list because of the awesome experience of playing flute and piccolo in the MB provincial honour band with Dr. King," says Erin Bardua. "I didn't get to take Education classes and I think I only spent one term in Wind Symphony, but he continued to terrify and impress me in the halls."
"I am so honoured to have had the opportunity to work with Dr. King in my journey to become a music teacher," writes Emily McDermid. "I have very fond memories of instrumental techniques where he suggested I learn the 'most noble instrument' — the clarinet. At the end of the semester he joined us in a barely recognizable version of 'Jingle Bells.' Point is, I got to play clarinet with Gerry!"
"Gerry recruited me right from high school to come to UVic," recalls Ken Roberts. "I did four years of Wind Symphony on tuba and I also took his Music Ed classes. I have to say although my life took me in a different direction, I cherish the time I spent learning, laughing and playing. I'll always remember the many looks I received from over the top of his glasses. Enjoy your retirement, Gerry!"
"I did directed studies with Gerry and have corresponded at length with him about social action through music," says Jonathan Govias. "He is the kind of person you imagine will always be there . . . until he isn't."
"Gerry King jacked me up, military style, when I told him I wanted to quit the Wind Symphony," recalls Nadia Pona. "I left in tears, got my shit together, and now I'm in the Navy. The irony is not lost on me. That conversation in his office was a pivotal moment in my introduction to professionalism as a young adult and a very important memory. I learned a great deal under his baton as well. I hope he enjoys a well-deserved retirement."
"I had the pleasure of playing in Wind Symphony for one year with Dr. King," writes Heather Raines. "It was a difficult year for the French horns, as it was the year that Dick Ely, our beloved horn teacher died. Dr. King was sympathetic and understanding. I'm not sure if it was intentional but he found a piece of music that was exceptionally challenging for the French horn. Before introducing it to the orchestra, he showed it to the horn section and asked if we'd be able to play it. By involving us in this decision, he managed to engage us and have us interested in the music, while we were grieving."
"In my first or second rehearsal ever with Wind Symphony, Gerry tore me apart for not being able to play a tom solo," recalls Jay Schreiber. "I practiced hard for the next week and nailed it at the next rehearsal. He looked at me in his signature 'over the glasses' glare and sincerely remarked, 'percussion . . .good job.' Taught me a lot about playing in a section, and doing a service to the greater musical cause. Next semester I was section leader in Wind Symphony until the end of my tenure at UVic."
"I had never been in a band like the Wind Symphony before and I had never had a conductor like Gerry," writes Ethan Shoemaker. "I was terrified and inspired at the same time; I knew from the minute he stepped on the podium that I didn't want to let him down and that at the very root of it, all he wanted was for each and every one of us to succeed. From my very first rehearsal to my music education classes to our conducting classes, I was lucky enough to learn and grow from the careful and honest guidance of Dr. King. So much of how he taught, conducted, and carried himself off and on the podium impacted me personally and professionally. I can honestly say that a day does not go by where I don't have a 'What would Gerry do?' moment in my teaching and conducting life. I am privileged to have been taught by Dr. King and I am honoured to call him my friend: this is truly the end of an era. All the best with your retirement Gerry! Thanks for more than you will ever know!"
"I am very thankful for Gerry's guidance and support throughout my years at UVic," says Kristen Birley. "I remember being unsure about whether I wanted to go into music education and he was pretty determined to encourage and convince me that it was where I belonged. He was right! Thank you, Gerry!"