From embattled cities in Syria to intractable encounters in Israel, the writing of Deborah Campbell fuses journalism and travel writing with the kind of personal observations that can only come with being immersed in some of the most pressing international issues of our time.
Now, Canadian author and literary journalist Deborah Campbell will become the latest addition to UVic's celebrated Department of Writing. Starting July 1, 2018, Campbell will be the new assistant professor of creative nonfiction; she will also become Director of the Professional Writing program in January 2019.
"Deborah Campbell instantly makes UVic's Department of Writing the destination in Canada for aspiring nonfiction writers who want to learn how to fuse a distinct personal voice with a depth of research and a keen social conscience—just as Deborah has done for years," says Writing chair David Leach.
"Her on-the-ground experience as a writer and reporter for major international publications has prepared her to inspire a new generation of young journalists to investigate local and global issues amid a rapidly evolving publishing industry," he continues. "And her immense talents as a prose stylist make her a natural fit for a department long known for mentoring several generations of Canada's top creative writers."
Campbell's most recent book, A Disappearance in Damascus: A Story of Friendship and Survival in the Shadow of War (Knopf Canada 2016, Picador USA 2017), won both the Writers' Trust Hilary Weston Prize and the Hubert Evans BC Book Prize. Screen rights have been optioned by writer/director Terry George (In the Name of the Father, Hotel Rwanda). Her work has also been collected in seven separate anthologies.
"I hope to contribute my experience writing books and magazine articles from around the world, along with my knowledge of today's fast-changing publishing climate," says Campbell. "It's my goal to equip the next generation with the skills and confidence to tell stories that matter."
A world of experience
Deborah Campbell has written for Harper's, The Guardian, The Walrus, The Economist and many other publications. Winner of three National Magazine Awards, in 2017 she also received the Freedom to Read Award, presented annually by the Writers' Union of Canada in support of freedom of expression.
"There is so much to admire in the work of Deborah Campbell," Writers' Union Chair George Fetherling said at the time of her award. "Whether she is writing about war artists, international care-givers, the bafflingly complex politics of nuclear arms, or the ongoing refugee crisis in the Middle East, she does not shy from controversy, and is devoted to letting all voices find a place on her page."
Campbell holds both a BFA and MFA in Creative Writing from UBC, and did undergraduate studies at institutions ranging from University of Paris-La Sorbonne and Tel Aviv University in Israel to SFU. Her teaching experience includes positions with the Creative Writing Program and the Graduate School of Journalism at UBC, as well as Vancouver's Langara College. Interestingly, beyond being fluent in French, she also has a basic working understanding of Hebrew, Farsi, Arabic and Spanish.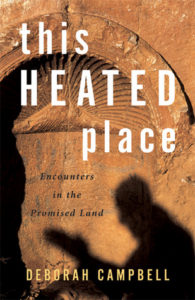 "Deborah's publications in such prominent magazines as Adbusters, Harper's and Foreign Affairs, as well as her two powerful books about the complexities and dangers of life in the Middle East, helped to set her apart from an incredibly deep and strong field of applicants for this position," says Leach. "She comes to the department with extensive experience as an instructor of nonfiction and journalism, and rave reviews from her past students and teaching peers."
The latest chapter
For her part, Campbell is excited to be the latest chapter in the ever-evolving legacy of UVic's Writing department. "I first heard about the department in the best possible way: from writers who got their start at UVic and are now writing books and winning awards," says Campbell. "I'm delighted to be joining such talented faculty and students."
Her work will compliment the current creative nonfiction and journalism classes taught by the likes of David Leach, Lee Henderson and the annual visiting Southam Lecturer in Journalism and Nonfiction, as well as sessional instructors like Frances Backhouse, Christin Geall, Annabel Howard, Kirstie Hudson, and John Threlfall.
"While it was founded by poet Robin Skelton, almost since its inception the Department of Writing has included courses and programs focused on nonfiction writing and publishing," notes Leach, "evolving from book publishing and newspaper reporting, through memoir, literary journalism and new digital forms of nonfiction."