When it comes to narrative filmmaking, it's hard to beat a good documentary. The form of visual storytelling most closely related to journalism, documentaries have unparalleled power to not only connect us with their subjects in remarkably personal ways, but to also cross time and place while staying firmly rooted in reality.
Such is the world in which Judith Pyke lives. An award-winning writer, director, executive producer and showrunner, Pyke collaborates with top creative professionals to make absorbing documentary and non-fiction television and films.
She has worked in diverse and challenging locations worldwide (the High Arctic, Liberia and rural Kenya, Japan, Europe) and has interviewed hundreds of people — from top scientists and international figures to village locals and renowned artists like Lou Reed, Philip Glass, Cecilia Bartoli and Stephen King. And her films have received accolades and aired on networks all over the world (CBC, History Television, CTVglobemedia, Bravo, TLC) — all of which combine to make her the ideal choice as the 2018 Southam Lecturer in Journalism and Nonfiction in UVic's celebrated Writing department.
Better still, she's a UVic alumna, having received her BA here back in 1994.
"As soon as I started at UVic, I knew I wanted to be a documentary filmmaker, but there were no filmmaking courses at that time," Pyke recalls. "But even though I'm a visual storyteller, I'm also in love with the written word—I'm a writer and a director, which use different parts of your storytelling brain."
"One thing I told my students in the first class—and it's really true—is that my experience with UVic's Creative Writing department was really formative for building up my creative confidence as I went forward in my career," she continues. "Some of those courses really set me up for having a creative life and career."
Pyke will offer a free public lecture titled "Discovering Documentary: A Filmmaker's Journey Through the Foundational Aspects of Documentary-Making" at 7pm on April 5 in room A240 of UVic's Human & Social Development building.
Teaching the doc life
As the 11th person to hold the Writing department's prestigious Southam Lectureship, Pyke now joins fellow Southam Lecturers like journalist Vivian Smith, Jo-Ann Roberts (CBC's All Points West), author Carl Wilson, late Indigenous author Richard Wagamese, immersive journalist Terry Glavin, sports writer Tom Hawthorn, satirist Mark Leiren-Young, editors Sandra Martin (Globe and Mail) and Charles Campbell (Georgia Straight) and experiential journalist Jody Paterson.
The annual Harvey Stevenson Southam Lectureship – named after UVic alumnus Harvey Southam – is made possible by a gift from one of the country's leading publishing families. The Southam Lectureship celebrated its 10th anniversary with a special event in November 2017, where an "all-star" panel of six former Southam Lecturers joined together to discuss the current state of journalism.
As the Southam Lecturer, Pyke is teaching a course on documentary film and television for the Writing department this semester (WRIT 321). "Basically, I'm teaching the course I would've loved to have taken when I was a student," she says with a chuckle. "It's really professionally focused, so I'm taking the students from beginning to end of the documentary process. We're also talking about some of the ethical and practical concerns and issues that arise during filmmaking."
With almost 50 students, Pyke's class emphasizes the realities and practicalities of documentary filmmaking (writing, directing, reviewing, pitching, teamwork) and examines different doc styles, the history of the form, and the creative process itself. "Part of my class is to really emphasize the role of the writer in filmmaking," she explains, noting that she feels filmmaking is similar to writing poetry: both involve "thinking in images" which, she says, help her formulate concepts as a writer.
An award-winning approach
Pyke's most recent work was Inseparable for CBC Docs, which she not only directed and wrote but also executive produced. The film had its world premiere in November 2017 and received an enormous amount of positive viewer feedback. Her company, Curious Features, is currently in development on a number of other projects, including another doc for the CBC.
Her other 2017 documentary — Cracking Cancer, which aired on CBC's The Nature of Things with David Suzuki — is currently nominated in the "Best Direction in a Documentary" category in the upcoming Canadian Screen Awards (winners to be announced March 11). Past work includes 2016's Cowboy Up, which received a Golden Sheaf Award nomination, and Twin Life: Sharing Mind and Body, which has since been broadcast around the world and was nominated for a 2015 Canadian Screen Award.
Pyke acknowledges how the landscape for documentaries has changed since her years at UVic, where she was inspired by the groundbreaking likes of Brother's Keeper by Joe Berlinger and Bruce Sinofsky.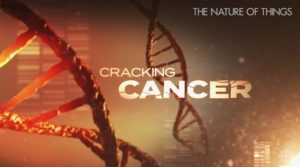 "So much amazing work was being done just as I was finishing my undergrad," she recalls. "Those early docs were really inspiring and I realized it was a great way to engage with the world and tell stories. It's been an amazing couple of decades for the documentary, and the public has really fallen in love with the form too."
When asked if it was easier for students to hop onto the doc bus today, Pyke pauses and considers. "Technology is definitely cheaper and more accessible — you can make things more on your own now — and our access to and knowledge of media in general has increased," she says. "And people are also crossing over into different worlds more often now—you can be a writer or a journalist and make a documentary too. But it's still hard to get something made."
The trick, she says, is to find the right subject. "Some stories are so unique they just can't help but draw you in . . . I usually think that if I find it interesting, other people will find it interesting too."
With her class now underway, Pyke is also preparing for her upcoming public Southam Lecture on April 5, as well as planning her new doc project.
"I've been really lucky in my career and have already covered a lot of interesting stories," she concludes. "I just hope I keep doing projects that are exciting and surprising and resonate with people."