It's only been 10 years since sister duo Twin Kennedy graduated from the School of Music, but during that short decade, the acclaimed country/roots duo already released two albums, toured across North America, moved to Nashville and  won the hearts of country radio and fans alike. Now, the sisters are headed back to UVic on February 5th to be honoured among UVic's 2018 Distinguished Alumni Award winners — an award that's doubly special this year, given the School of Music's 50th anniversary.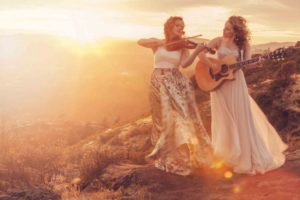 Know for their distinctly "Canadiana" country roots sound, seamless harmonies and heartfelt songwriting, Carli and Julie Kennedy (BMus '08) are the latest recipients of the Distinguished Alumni Award for the Faculty of Fine Arts.
Dubbed "the next big thing in country music" by the Nashville Music Examiner, Twin Kennedy's latest album — 2015's It's a Love Thing — was produced by Canadian country superstar George Canyon, and their 2017 winter single "Cold Weather" was chosen by Rolling Stone as one of the "10 new country and Americana Christmas songs to hear right now!"
Each year at Alumni Week, UVic's Alumni Association — in partnership with the universtiy's faculties and divisions — present Distinguished Alumni Awards to outstanding members of the alumni community. The recipients are selected by their respective faculties or divisions based on a number of criteria, including career accomplishments or service to their community.
Twin Kennedy now join the ranks of previous Fine Arts Distinguished Alumni Award winners, including visual artist Althea Thauberger (MFA '02) director Glynis Leyshon (BFA '73), author Esi Edugyan (BA '99), lighting designer Michael J. Whitfield (BA '67), filmmaker Mercedes Bátiz-Benét (BFA '02), poet Carla Funk (BFA '97), musician Paul Beauchesne (BMus '88), author Deborah Willis (BA '06), environmental designer Valerie Murray (BA '78), author Eden Robinson (BFA '92) and visual anthropologist Andrea Walsh (BA '91).
"We're very proud of years at UVic," says Carli. "Not everyone in the popular-music world has a degree, and it's an important part of our story. To be recognized for that side of our career is a huge honour; it means a lot to us."
"And we did it together!" laughs Julie.
Twin Kennedy will be performing a free, on-campus show as part of the Orion Series in Fine Arts during Alumni Week: their intimate, acoustic concert at Felicita's kicks off at 8pm on Wednesday, February 7, and is already almost sold out. Reserve your free tickets now. And you can read more about them in this Feb 1 Black Press article.
First, and best, choice
Originally hailing from Powell River, the twin sisters specifically chose UVic's School of Music to study for their Bachelors of Music, with Carli focusing on classical guitar performance and Julie on violin. "We didn't plan it, but guitar and violin go really well together," says Carli.
"UVic was definitely our first choice, because it's the best string program in Canada, hands down," says Julie. "We did go and do some lessons with teachers at other universities while we were deciding, but fell in love with the Lafayette String Quartet and [guitar professor] Alexander Dunn."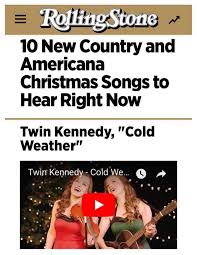 "I distinctly remember Carli's audition at UVic," says Dunn. "After a few moments, it was apparent there was a true musical mind at work — innate musicianship, ease of execution, effortless focus. I was made aware that her sister was auditioning as well. I nervously contacted the strings instructor to make sure she was aware of the Kennedys. Naturally, they both sailed through and, in the course of their studies, evolved into mature musicians and a wonderful duo."
Lafayette String Quartet violinist Ann Elliott-Goldschmid similarly recalls her time working with Julie. "Innately talented, Julie had the disposition of a performer from the moment she auditioned," says Elliott-Goldschmid. "She had a beautiful, singing tone and a will to constantly improve. I remember her captivating Franck Sonata and excellent Saint-Saens concerto to this day!"
Beyond focusing on their individual instruments, the Kennedys were also instrumental in the development of UVic's Vocal Jazz Ensemble, which is still very active today, under the guidance of Wendell Clanton. "He created a directed study for us, and helped to build the whole vocal jazz program—we were the first year of that," says Carli. "He really encouraged us to try some really out-of-the-box stuff, which is a big part of what we do now," agrees Julie.
Victoria had an impact on the Kennedys beyond their studies, however, resulting in their family moving to "this beautiful city" and their sister Katelyn choosing UVic for her Education degree. "Where you go to school can really change your life in ways you never even realize," says Julie.
"We found this out later, but we were both asked the same question at our entrance interview: 'What are you going to do if your sister quits music?' And I just couldn't conceive of that," she admits. "We've always known from the beginning that our path would be together, so I said, 'That's not a possibility.' And they were like, 'Sure, sure.'" Both sisters pause, look at each other, and burst out laughing. "Look at us now!"
For his part, Dunn isn't surprised by their success. "I know their dedication and hard work have afforded an unshakable musical foundation," he says. "I am proud of their accomplishments and will always regard the Kennedys with great fondness and admiration.
Perhaps because they are twins, there's a clear connection between the two sisters that goes beyond both the personal and professional. ("And we are actually twins—which we got asked recently—although it's pretty obvious," laughs Julie.) They frequently finish each other's sentences, and never hesitate to chime in with additional details.
"Lots of family groups break up, but we work really hard at our professional and personal relationships," says Carli. "And because we're legitimately best friends, we're also pretty lucky. You have this built-in best friend who agrees with you musically 99% of the time."
"It's only with Carli that I could do this, and I couldn't do this without her," Julie admits with a smile.
Achieving, and inspiring, excellence
With a steadily growing amount of industry recognition — including multiple nominations from the Canadian Country Music Association (three) and the BC Country Music Association (12) — Twin Kennedy have also already won two John Lennon Songwriting awards for their song "Secondhand Gold," which picked up the Grand Prize (Country) in 2015 and Best Country Song in 2016, as well as a pair of Vancouver Island Music Awards (Country Album of the Year).
"I'm really delighted that Julie and Carli have succeeded so brilliantly in this business," says the LSQ's Elliott-Goldschmid, "but I never doubted for a moment that they would go far with their many talents and incredible generosity of spirit."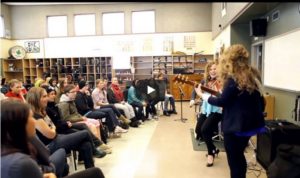 But it's their roots in classical music that continue to set Twin Kennedy apart. Combining classical training with country roots allowed them to not only establish their signature sound and unique live show, but also develop their unique "Classical to Country Workshop" geared towards young musicians. By visiting elementary schools, high schools, and community music programs, Carli and Julie help music students craft their skills and find their confidence on stage.
"It's really fun to bring both styles into classrooms," says Julie. "We bridge the two worlds, which are totally different worlds. My favourite thing is when people come up and say, 'You know, I don't really like classical music but I really like what you did.' You give them a taste and hopefully they'll go to the symphony next."
"But music is music," Carli interjects. "Being in Nashville, we're surrounded by more people who do what we do, but we're also exposed to more audiences and more styles of music. The world is getting more genre-less."
As part of Alumni Week, Twin Kennedy will also be visiting the School of Music and sharing their experiences as recording and touring artists with the likes of the "Business of Music" class. Now based in Nashville, the sisters feel they're getting "a Master's degree in songwriting" just by living there.
"All the publishing houses, record labels, writers, artists . . . they're all there — and not just doing country," says Julie. "In the music industry, there's LA, New York City, Toronto and Nashville. And for Americana — or Canadiana — Nashville is the place to be. You've gotta go where your music is the thing."
"Every country song you hear on the radio, 99% of the writers live in Nashville, so we just go to their houses to write," says Carli. "It's really elevated our songwriting, once we started working with these hit writers; you can't help but grow. It's like coming to UVic—you get to work with the best professors."
"This is your best possible foundation"
When asked for advice for current students, the Kennedy's stress the importance of what students are actually doing right now.
"This is the best possible foundation ever: developing your technique and discipline, honing your abilities, dealing with performance pressures," says Julie. "The study seems incredibly intense, but it really pays off."
"There's a lot of people in Nashville who can't do what we can, because they never went to school," agrees Carli. "We can do country and classical, but we can also do workshops and recording sessions and write songs . . .  that's the way to make it nowadays. We're so grateful to have had the time to study and learn before we got out there."
Beyond an academic background, however, the Kennedys stress the importance of keeping it real. "As an artist, the biggest thing is staying true to who you are," says Carli. "Maybe it changes, maybe you don't figure it out right away, but in the world of popular music, it's all about getting on the road, touring, making an album, putting it out there, booking the gigs, getting a deal, losing a deal, finding an agent . . . you learn by riding the wave."
"That's true of any business, but with music it feels so much more personal," says Julie. "It's essential to stay genuine to yourself and follow your path, however it may change."
"People ask what we do for fun, and . . . we do this," laughs Carli.
And really, how much better can it get than that? "Oh, a world tour, Madison Square Gardens, the Grand Ol Opry, the Grammys, a JUNO Award," laughs Julie. "How much space do you have?"
"If we get to keep writing songs, making music, building fans — and that's our career? I'm so grateful for it every day," concludes Carli. "This award just proves that — we're so lucky."
"We really are," Julie agrees.
And if the School of Music can keep producing talents like Twin Kennedy, then so are we.
Following their homecoming in February, Twin Kennedy will be hitting the road once again for a US tour in March. Keep a close eye on their social pages for further updates.