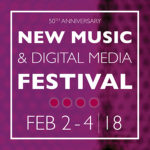 The landscape of new and experimental music in Canada has been greatly influenced by the creative individuals who have taught and studied at the UVic School of Music. From February 2-4, this dynamic community spanning five decades — from former faculty to current students — will converge for a New Music & Digital Media Festival as part of the School's ongoing 50th anniversary season. 
Music composition has been a vital part of the program at the School of Music since the early days. In 1971 Rudolf Komorous was named Head of Composition and the School's first analogue electronic music studio was established. "New and experimental music has always been central to what we do," explains School of Music Director, composition instructor and alumnus Christopher Butterfield. "Many of Canada's leading composers and interpreters of contemporary music had their training here . . . and our Music and Computer Science program, a major draw for the School, is the only one of its kind in the country."
As a direct result of our program, where contemporary music study, creation and practice are at the core, Victoria itself is recognized world-wide as a hub for new music. Faculty and alumni initiatives — including the Aventa Ensemble, A Place to Listen, the Victoria Composers Collective, and collaborations with organizations such as the Victoria Symphony, Pacific Opera Victoria, and Open Space — continue to produce and perform some of the most exciting music of our time, all on the tip of this island off Canada's west coast. "Show me any place in the country with that kind of activity," says Butterfield.
The festival will be a great opportunity to hear music by many of the School's alumni. On February 2, the UVic Orchestra will perform Cassandra Miller's Round, a new commission from the Toronto Symphony; Miller has twice received the Jules-Léger Prize for New Chamber Music, Canada's highest honour for composition. 
In a UVic Minute on February 3, features clarinetist Heather Roche and pianist Tzenka Dianova — two leading interpreters of new music — with the Chroma String Quartet performing a smorgasbord of miniature compositions (some written especially for this occasion) by 20 Music alumni. Along with works by Linda Catlin Smith, Anna Hostman, and Nicholas Fairbank, you'll hear festina lente by Rodney Sharman. Sharman was recently awarded the prestigious $50,000 Walter Carsen Prize for Excellence in the Performing Arts, which recognizes the highest level of artistic excellence and distinguished career achievements by a Canadian professional artist in music, theatre or dance. The Faculty Chamber Music concert on February 3 offers a program of music by the School's current and former composition faculty as well as Kristy Farkas and Liova Bueno.
Many UVic School of Music faculty and alumni can be seen and heard during the screening on February 3 of five short films from the Canadian Music Centre BC's Legacy Composer Film Series. Produced and directed by award-winning filmmaker John Bolton, each film features a performance of a signature work by the composer juxtaposed against a storyline unique to that piece. 
A highlight of the festival is sure to be the lecture-recital with electronic music pioneer and Buchla synthesizer specialist, Suzanne Ciani, on February 4. While the School of Music has a vintage Buchla 200 Series from the 1970s, Ciani will perform on her own Buchla 200e, a modern model of the instrument. 
Of course, our current student body is central to the festival. Find out what the School's composition students are up to at the Fridaymusic  concert on February 2. UVic's experimental music ensemble, Sonic Lab, as well as the UVic Percussion Ensemble, will each also give performances on February 4. 
—Kristy Farkas