It's said nothing succeeds like success, which is an aphorism well-appreciated in the offices of The Malahat Review. Currently celebrating both its 50th anniversary and 200th issue, UVic's venerable and revered literary journal has served as a springboard for some of the most recognizable names in Canadian publishing over its lifetime.
For instance, the Malahat was the first magazine to publish a short story by Yann Martel — 14 years before he went on to win the Booker Prize for the international bestseller Life of Pi. In 1977, the journal dedicated an entire issue to Margaret Atwood's work, before she became internationally known. Poets such as Michael Ondaatje, Dionne Brand, Patricia Young and beloved Department of Writing professor Lorna Crozier have frequently graced its pages.
"Publishing in The Malahat is a rite of passage for many writers, who feel that they have 'arrived,'" says outgoing editor, poet and Writing alumnus John Barton, who has nurtured the journal for more than a decade. "Writers who have won our contests have gone on to win National Magazine Awards, the Journey Prize and to get book contracts."
Hear Barton discuss the Malahat legacy on this January 9 CFAX Radio interview, or in this January 4 Times Colonist article. He was also interviewed on CBC Radio's All Points West recently (link not available).
One of the world's best literary mags, right here at UVic
Established in 1967 by fabled Writing professor Robin Skelton and English professor John Peter, The Malahat Review has showcased works by established writers, discovered promising new talent and presented perceptive critical comment on other pieces including essays on both literature and the visual arts.
"Without The Malahat Review, I wouldn't be the writer I am now," admits Martel, whose short story "Mister Ali and the Barrelmaker" was published in 1988. The journal has won more National Magazine Awards than any other literary journal in the country and has had six editors over its lifetime, including Writing professor emeritus Derk Wynand, Constance Rooke, Marlene Cookshaw, Barton, and Skelton and Peter.
"The magazine has been an inspiration to generations of writers and students at UVic, in Victoria and across the country — as a place to read some of the best writing from around the world and as a high-profile publication to dream of seeing your own work in one day," says Writing chair and alumna David Leach. "As a student at UVic, I remember reading one of Yann Martel's early stories in the Malahat and being blown away by its originality . . . . To have one of the best literary magazines in the world located right here on campus has helped to establish UVic and Victoria as important centres of Canadian literary culture."
And while the Malahat may have gotten its start back in the days when Writing was part of UVic's Faculty of Humanities, it has long ties to us here in Fine Arts. "The Malahat Review has a long history with the Faculty of Fine Arts that spans decades," says Dean Susan Lewis.
"Colleagues in the Department of Writing play key roles on editorial and advisory boards, and our students have learned about the literary publishing industry through the Department of Writing Internship program, established in 2004. The Malahat's status as one of Canada's leading literary journals makes it a desirable place for our faculty to publish. The journal enjoys an impressive list of accolades — including 12 times as either winner or finalist of the Western Magazine Award's 'Magazine of the Year' and 14 Malahat authors in the National Magazine Foundation's roster of finalists, with five gold and four silver awards."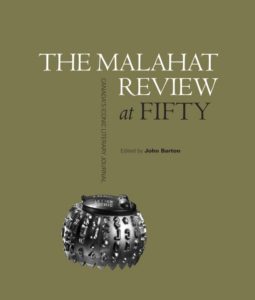 It's already been a busy anniversary for the Malahat, given last November's 200th issue launch party, which paid tribute to the Victoria literary scene and artists — past, present and future — with two previously unpublished poems from the late P.K. Page and creative nonfiction from painter Emily Carr. The issue also offers work by Writing professors (current and past), including Tim Lilburn, Patrick Lane, Lorna Croizer, Shane Book and Patrick Friesen, plus alumni Kyeren Regehr, Danielle Janess, Leah Callen, Philip Kevin Paul, Arlene Pare, Jason Jobin and Annabel Howard, as well as former Writing instructors like Madeline Sonik and Alisa Gordaneer.

200 issues, one fantastic special edition
To better mark the occasion, UVic Libraries is releasing a limited-edition monograph on January 25, edited by Barton: The Malahat Review at Fifty: Canada's Iconic Literary Magazine is richly illustrated with archival material from UVic Special Collections and University Archives. Contributing authors include broadcaster and UVic Chancellor Shelagh Rogers, as well as Martel, Paul, Wynand, Young, Eve Joseph, Jay Ruzesky, Nicholas Bradley, Heather Dean, Jonathan Bengtson, Jan Zwicky and rising alumna literary star Eliza Robertson, among others.
"The Malahat Review at Fifty features extraordinary stories and memoirs from a range of celebrated contributors, recognizing the vital culture impact of The Malahat Review on the Canadian and international literary scene," says UVic librarian and local poet Christine Walde,  who, as general editor of the series, led the commemorative project.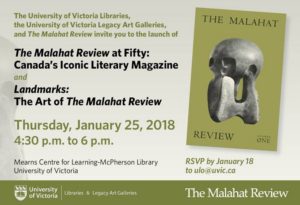 There will also be a special art exhibition, Landmarks: The Art of The Malahat Review. Curated by Caroline Riedel of UVic Legacy Art Galleries, Landmarks opens January 25 in UVic's Legacy Maltwood gallery, located in the lower level of the UVic library. Running until May 13, it highlights the role of art in the journal and includes 200 selected cover images. Canadian artists have dominated the visual identity of The Malahat Review and the synergy between art and literature is particularly evident in the cover art and essays of the journal's first decade, which featured new work by internationally acclaimed artists such as Henry Moore, Andy Warhol, Mel Ramos and Joan Miró.
Indeed, it would be hard to beat Dean Susan Lewis for a more simple, heartfelt acknowledgement of the magazine's accomplishments. "My congratulations to The Malahat Review on its 50th anniversary and best wishes for continued excellence in the decades to come."