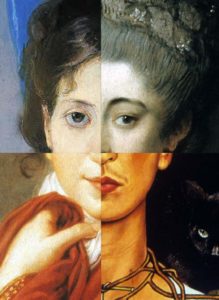 Like art? What about quizzes? How about art quizzes with a word-play twist? If you answered yes to any of these, then you're in for a real treat: the return of the Art History Christmas Quiz!
Designed by Art History & Visual Studies professor Marcus Milwright, the Art History Christmas Quiz was first mounted back in 2013. Like so many of us, the idea of spending the holidays doing a challenging quiz comes naturally to Milwright.
"Our family was always keen on quizzes, from crosswords to tests of general knowledge," he says. "There used to be a quiz in a newspaper that asked readers to identify a painting from a little section. This provided the inspiration for the AHVS Christmas Quiz, although I wanted to add some new elements."
On each of the eight slides in the quiz, you'll see a composite picture. Identify each image, then follow the instructions to find certain letters drawn from the name of the artist, the subject, the name of the object, and so on. (For example, take the "g" from Van Gogh and add it to the "v" from da Vinci to reconstruct a series of words.) Click here for full contest rules and details.
"It was fun to assemble faces from different paintings, drawings, photographs, and sculptures, but the challenge was to make the words and names from them," says Milwright. "There should be some teasing images mixed in with some familiar ones."
To take part in the quiz, write the completed words (or as many as you have been able to complete) on a postcard with your name and contact email. Hand this postcard into the main office of the Art History & Visual Studies department — that's room 151 of the Fine Arts building — by January 5, 2018. Or if you're on campus, you can send it by interoffice mail, or go really old-school and mail it in: AHVS Christmas Quiz, PO Box 1700, University of Victoria, Victoria, B.C., V8W 2Y2.
Looking for some visual assistance for the quiz? If you're an AHVS student, you can access our DIDO image database; if you're outside the faculty, try one of the public access sites like ARTstor, the Metropolitan Museum of Art or the website for London's National Gallery.
This quiz is open to all UVic students, and you may compete as teams (but only one postcard submission per team). There will be a main prize and two also for runners up. The winners will be announced on January 12. Remember, partial submissions will be accepted.
And while the top three winners of the original AHVS Christmas Quiz were all AHVS students, don't let that dissuade you from playing along. "It was really funny and exciting," said winner Atri Hatef at the time.
"I had some answers right away within each question, but often had to really search for the complete answer," said previous winner Terry Rodgers.
Good luck!
Update on the winners!
Congratulations go out to the two winning teams of the 2017 AHVS Christmas Quiz: Atri Hatef & Hamed Yeganehfarzand, and India Cornell & Kirsten Matulewicz (not pictured).
Not surprisingly, all are AHVS students—Hatef and Yeganehfarzand are PhD candidates, while Matulewicz and Cornell are Masters students. Both teams worked together to get the correct answers to as many questions as possible, and came closest to completing the entire quiz. In addition to gift certificates for a local bookstore, they also received some art-based Canadiana: a puzzle and a calendar!