When Maestro Timothy Vernon raises his baton at the School of Music's 50th Anniversary Gala concert on December 2, it won't simply be in recognition of the Honorary Doctor of Music he received at spring convocation. Instead, his performance with the UVic Chorus and Orchestra can be seen as the culmination of five decades of academic expansion, faculty excellence, alumni achievement and dedicated community outreach by the School itself.
"I heard a funny story when I was in Berlin," says School of Music director Christopher Butterfield. "People were talking about where the interesting musical centres are on the west coast of North America and somebody said, 'Well, there's Los Angeles . . . and Victoria.'"
An alumnus himself, Butterfield began his studies back in 1971 at what was then simply the music department. "It was very small," he recalls. "We had three classrooms in the MacLaurin A-wing and all of our concerts were held in the David Lam, as the Farquhar Auditorium wasn't built until 1978."
Music courses were first offered back in 1964 as part of UVic's fledgling arts & humanities department, before evolving into the division of music in 1967 and earning full department status in 1969. But it wasn't until the construction of the purpose-built MacLaurin B Wing—complete with the 220-seat Phillip T. Young Recital Hall—that the School was formally established in 1979.
Since then, the School of Music has continued to expand, adding new faculty (including Butterfield himself in 1993), new programs (such as jazz in 1990), permanent artists-in-residence (the Lafayette String Quartet in 1991) and prestigious designations, like being Canada's only All-Steinway School (2008) and offering the country's only Music & Computer Science degree (2011) and Masters in String Quartet (2016).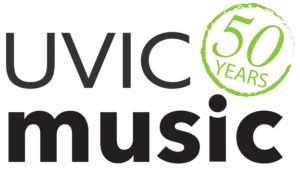 Join the School of Music in celebrating their 50th anniversary at their reunion weekend, running Friday-Sunday, Dec 1-3 at UVic. Events include an A Day in the Life at the School of Music Open House (noon-5pm Dec 1), Reunion Social & Dinner (5:30-11pm Dec 1), Music in Motion Workshop with Music professor Adam Con (11am-noon Dec 2), a Campus Tour for returning alumni & guests (12:45-2pm Dec 2), a special alumni concert From 1917 in 2017 with Kerry DuWors, violin, and Stephen Runge, piano, (2:30pm Dec 2), a fun participatory singalong with the Victoria Beer Choir lead by Adam Con at UVic's Felicita's Pub (4-7pm Dec 2), the UVic Chorus & Orchestra Gala Concert (8pm Saturday Dec 2), a Farewell Brunch (10am-noon Dec 3), and an Open Mic on stage at the Phillip T Young Recital Hall (11am-1pm Dec 3).
Find out more about all the 50th anniversary events here.
While focus and demand have changed and grown, Butterfield says one essential aspect remains the same. "You have to give people the confidence to think like artists. There's no manual . . . they need to find their own voice and interests, find out what sustains and feeds them. The payoff comes when you see them making lives for themselves as artists."
"Bringing Timothy in is a way of recognizing our commitment to the community, as well his honorary degree," says Butterfield of the concert, which will also feature faculty pianist Arthur Rowe and trumpeter Merrie Klazek as soloists. "We wanted to make him part of this experience by having him choose the music and work with our students."
Indeed, Butterfield feels it's this connection between city, faculty and creative practice that sets the School of Music apart. "We're never going to be the place for everybody, but the people who do come here soon realize we're punching way above our weight."
The UVic Chorus & Orchestra Gala Concert featuring guest conductor Timothy Vernon runs 8-10 p.m. Saturday, December 2, in the University Centre's Farquhar Auditorium. Tickets are $10-$25 and are available at the UVic Ticket Centre, online or by phone at 250-721-8480. Can't make the show? You can always tune in on the School of Music's Listen! Live page.