The reviews are in for Phoenix Theatre's mainstage production of The Madwoman of Chaillot, and audiences are enjoying its "visual delights and thought-provoking observations," as local arts writer Janis La Couvée writes in this review, which also highlighted the work of director and Theatre professor Conrad Alexandrowicz and his design team.

Describing the production as "a meta-theatrical spectacle of tremendous proportions, serving up visual delights and thought-provoking observations that will leave the audience questioning their role in the scheme of things," La Couvée notes that "once again, Victoria is fortunate to have a theatre department where foundational work of this scale can be staged."
Running until November 25 — with a special performance with sign language interpretation at 2pm on Saturday, Nov 18 — Madwoman is creating some wonderful dialogue and interesting feedback from critics and audiences alike.
You can also now hear this online recording of the opening week lecture by Alexandrowicz, in which he talks about the background of the Madwoman as Jean Giraudoux's response to the Nazi occupation of France.
In the Times Colonist review, Sarah Petrescu felt "the large cast of colourful characters and absurd plot are a rare malleable clay for interesting staging and direction," and noted how "Alexandrowicz specializes in physical theatre and makes excellent use of movement . . . a table of bad men plots to destroy the city out of greed, rolling on chairs as they choreograph their scheme."
Petrescu also highlighted the work of cast member Chase Hiebert, a Phoenix graduate and current writing student, as well as the set by Theatre professor and alumnus Patrick Du Wors as "a fantastic version of a café in Paris, built with massive black and white illustrated backdrops."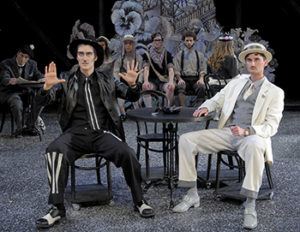 This review from the Showbill Victoria online arts mag felt Madwoman still "proves its relevance almost 75 years after being written. "The play is loaded with enticing wit and is brought to 'justice' by the studious cast, who don't stumble through impressive vocal projection and fluid movement across the stage – so well-rehearsed that it's not all that noticeable that some actors catch chairs being tossed to them by the crew until you realize an extra seat had appeared," writes Shayli Robinson. "Being performed in 2017, though – especially in Victoria – it is a great allusion to the energy and oil projects proposed to pass through our province that are oft-viewed as evil and disastrous, particularly by our elderly, quirky, and whimsical fellow citizens . . . . The Madwoman of Chaillot is an entertaining, thoughtful show that will leave you seriously pondering the persecution of evil and the fate of British Columbia."
This Monday Magazine review also singled out the work of Du Wors and graduate student costume designer Michelle Ning Lo, as well as undergraduate cast members Sarah Jean Valiquette and Nicholas Guerreiro, noting the "productions at UVic are . . . extremely professional and well-executed. One always has to admire the skill with which the drama department manages the challenging plays they choose."
Writing for UVic's student newspaper The Martlet, Jakelene Plan felt that "the theatrical design to come out of the Phoenix Theatre is often the most innovative and engaging work I've seen. It continually pushes the boundaries of what I expect and what I think is achievable, and the work done by Patrick Du Wors on set, Michelle Ning Lo on costumes, and Matthew Wilkerson on lighting design exceeds all my expectations." Plan noted that "their unified vision of a colourful, cheerful Paris becoming infected by greed (represented by grey scale) is cohesive and complementary. …colour is an easy and striking way to draw attention to themes, but it's the creative application that raises the technique from commonplace to spectacular."
Over at Camosun College's Nexus student newspaper, Leslie Do felt, "The Madwoman of Chaillot [was] a great performance . . .  the action was perfect . . . . [and it] registers on a deeply human level." She was also "especially impressed by the outstanding performance by Nicholas Guerreiro . . . his voice, his attitude, and his acting were absolutely incredible," and concluded that director Alexandrowicz "brings a great performance to the audience with this play . . . [which is] definitely worth two hours of your attention."
The Madwoman of Chaillot runs at UVic's Phoenix Theatre, 8pm Monday – Thursday until November 25, with 2pm Saturday matinees. Tickets range from $15 – $26 and can be booked by phone at 250-721-8000, or in person at the Phoenix Box Office. Recommended for ages 13+.
—with files by Adrienne Holierhoek