Art is often quite prescient. Be it science fiction or political satire, a tasty analogy or handy metaphor can be a welcome tool for many artists in an effort to comment on current happenings. But what happens when, 70 years later, a far-fetched idea becomes closer to reality than the original event?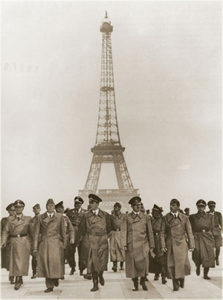 French playwright Jean Giraudoux wrote La Folle de Chaillot during WWII when Paris was under siege by Nazi forces. Unable to address the political situation directly, he used metaphor as a way to protest the violent incursion of his beloved city; unfortunately, Giraudoux was in ill health when he wrote the play and did not live to see either its premiere or success after the war.
It was understood by audiences at the time that the evil and corrupt businessmen who were trying to profit from supposed oil underneath Paris — as portrayed in The Madwoman of Chaillot, which opens November 9 at UVic's Phoenix Theatre — were stand-ins for the Nazis, whose occupation of the City of Light and much of France caused humiliation, hardship, and tragedy for the French Resistance, French-born Jewish people and those who had fled to France prior to the outbreak of war.
Giraudoux offers us a protagonist to work against these representatives of evil: Countess Aurelia, an eccentric holdover from a less cynical time. When she learns that her cherished neighbourhood of Chaillot is in peril because of the businessmen's plans, she bands together with a rag-tag group of artists, vagabonds and dreamers to fight back. Fast-track to 2017, when oil pipelines are being driven through our communities jeopardizing wildlife and our environment, and suddenly Giraudoux's artistic metaphors no longer seem like a far-fetched threat.
Department of Theatre professor and Madwoman director Conrad Alexandrowicz remains fascinated by how this play's context has become so literal for today's audiences.
"We live in the era of climate crisis — something even Giraudoux may not have been able to even imagine," he says. "With the Kinder Morgan pipeline expansion set to begin, we are forced to take the figures of evil in the play — bent on profit-making regardless of the costs — at their face value; for us their status as metaphor has disappeared."
You can read more about The Madwoman of Chaillot and director Conrad Alexandrowicz in this Times Colonist interview and this Black Press interview. And CHEK TV brought their cameras in for this piece showcasing the work of Master's student and costumer designer Michelle Ning Lo.
An essayist and dramatist who wrote 15 plays, Giraudoux also served France as a diplomat, government official, and a soldier in World War I. His writings often tempered tragic themes with rueful comedy, using allusive prose, allegory, fantasy, and political and psychological perceptions. The 1947 English translation of Madwoman by Maurice Valency holds to this day, and the play has seen a resurgence of interest in the last few years.
The sets in the current Phoenix production — designed by recent Theatre professor and alumnus Patrick Du Wors — allude to the nostalgic café-lined streets of Paris, even though they are only flat, massive representations of 19th century engravings.
Costumes, designed by MFA student Michelle Ning Lo, have WWII-era references for the businessmen, and vibrant and flamboyant Edwardian-era frills for the "madwomen." Lighting design by fourth-year student Matthew Wilkerson captures the streets of Chaillot and helps heighten the moments of comedic absurdity, as does the sound design by third-year student Logan Swain, featuring classic Parisian music that is slightly off-kilter.
"The designers and I have taken a meta-theatrical approach to the production, eschewing realism completely for a play that operates in the realm of the fantastic, in the genre of post-modern performance as much as in comedy," says Alexandrowicz.
Indeed, anyone who has seen past Phoenix productions by Alexandrowicz — including 2015's Lion in the Streets and 2012's Good Person of Setzuan — will recall his dynamic blend of imagery, movement and text.
Keep your eyes open for intentional elements of creative anachronism that will help to make comparisons to 2017 even more apparent.
—with files by Adrienne Holierhoek
The Madwoman of Chaillot runs at UVic's Phoenix Theatre, 8pm Monday – Thursday from November 9 – 25, with 2pm Saturday matinees. Tickets range from $15 – $26 and can be booked by phone at 250-721-8000, or in person at the Phoenix Box Office. Recommended for ages 13+.