Two 2017 Visual Arts BFA graduates are gaining some national attention this month, thanks to their selection as prize winners in the annual BMO 1st Art invitational competition.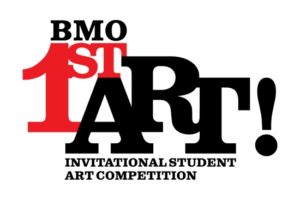 As was previously announced this past summer, recent graduates Xiao Xue and James Fermor have been selected as the national and BC provincial winners (respectively) in the Bank of Montreal Financial Group's 15th annual BMO 1st Art! competition.
As the national prize winner, Xue wins $15,000 for her sculpture, "Something to Ponder On: A Walking Camper," while Fermor earns $7,500 as the BC provincial winner for his digital piece, "The Collection No. 3."
Their work was selected from 303 entries submitted from across the country, and both will have their work displayed as part of a special exhibition at the University of Toronto's Justina M. Barnicke Gallery, running from November 16 to December 16, 2017. And both will be featured in a special spread in the upcoming Winter 2017 issue of Canadian Art magazine.
As was earlier reported, Xue won the top prize in the Rainhouse Technology Challenge in June 2017, with her camper beating out other prototype entries including a drone, satellite and submarine. And, during her studies, she was also awarded the Dr. Milada Horakova Scholarship and the Martlet Chapter IODE Prize for Scholarship in History in Art.
The $15,000 prize is "an amazing financial support for future projects," says Xue, who is now pursuing her MFA at the University of Guelph and is using some of the proceeds for a "chemical-based project" on which she is currently working. "It certainly helped me move to Ontario as well," she adds.
Xue also assisted Visual Arts professor emeritus Sandra Meigs on her complex solo exhibit, Room for Mystics, on view throughout fall 2017 at the Art Gallery of Ontario. "It was very fun to figure out the technical issues — including electrical, coding and woodworking — and I am very glad it all worked out," she says. "Sandra is an excellent role model and I am extremely glad to have the chance of working with her."
Local Times Colonist art columnist Robert Amos featured Xue's walking camper project in this April 30 article, and while he wrote about both artists in in this October 8 article, he mostly focused on Fermor's video art projects, which show the human cost of first-person shooter video games. And while the BMO exhibition will feature a colour photograph of Fermor's "The Collection No. 3,"  the overall work is in fact an 18-minute video.
Fermor describes being named the BC winner as "really affirming. It tells me that what I am exploring in my art practice is not just something that only I find interesting."
Indeed, Fermor says the inspiration behind his winning piece came from a fascination with "what we embrace, generate within ourselves and ignore" when we interact with specifically narrative-driven video games.
"This piece came about from working with the game Dishonored 2 and thinking about what was going on between the fictional environment that I was enticed by the game to buy into and what was actually there," he says.
While he's unsure of what kind of long-term impact this prize may have ("none of my work has had this much exposure before and so I am not sure what to expect"), in the short term, he feels the award "really enables me to pursue my art practice beyond what I did in school."
As for the prize money, he plans on putting it toward future projects. "Things like getting more equipment for developing content or purchasing a game that I want to explore and experiment with."
It's not the first time Visual Arts students have won a BMO 1st Art prize. In 2011, the winner of the BC provincial prize was undergraduate maegan rose mehler. "I had picked up a copy of Canadian Art magazine a couple of years ago and put a tab beside the BMO 1st Art! award and thought, 'I should apply for this' — then totally forgot about it," mehler said at the time. "I just found it again recently, because I save all my art magazines, and realized that's exactly what I did. It was a pretty focused two years, so it's pretty cool that that happened."
Celebrating its 15th anniversary in 2017, the annual BMO 1st Art! competition recognizes visual arts excellence amongst post-secondary school students from across Canada. Deans and instructors of undergraduate certificate, diploma, and degree arts programs from colleges and universities across the country were invited to select three outstanding graduating students from each of their studio specialties to make submissions to the competition.
"Since this competition's inaugural year, we have been privileged to celebrate and share the works of 198 promising young artists from across the country," said Dawn Cain, Curator of the BMO Corporate Art Collection. "Over the past 15 editions of the competition, we have been captivated by the creative range and artistic vision represented in the submissions we receive each year. We look forward to providing this unique opportunity to students for years to come."
This year's judges include Hugues Charbonneau, Director of Montreal's Galerie Hugues Charbonneau; Naomi Potter, Director/Curator of Calgary's Esker Foundation; Pan Wendt, Curator of Charlottetown's Confederation Centre Art Gallery; Kim Simon, Curator of Toronto's Gallery TPW; and Dawn Cain, Curator fo BMO Corporate Art Collection.
The exhibit continues until December 16, 2017. Click here to see the winning entries by all the provincial winners.