Fall is traditionally book prize season and, as with most years, our Department of Writing has a fresh crop of alumni and faculty currently up for prizes.
Alumna Eden Robinson is a Giller Prize finalist for her latest novel, Son of A Trickster (Penguin Random House). This is Robinson's second Giller nomination, following her debut Monkey Beach back in 2000. Robinson is one of five finalists chosen from a longlist of 12 books — which also included alumna Deborah Willis for her story collection The Dark and Other Love Stories (Hamish Hamilton) — and the winner will be announced on November 20.

Robinson was also announced on November 7 as the recipient of the 2017 Writers' Trust Fellowship, which comes with a $50,000 award. "I'm a little stunned," Robinson told the Globe & Mail in reaction to the news.
Writing professor emeritus and beloved poet Lorna Crozier is a finalist — again — for the Governor General's Literary Awards, this time for her poetry collection, What the Soul Doesn't Want (Broadview Press). Crozier won her first Governor-General's Award back in 1992, and we'll find out on November 1 if she wins again.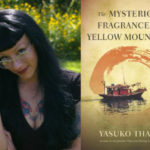 MFA alumna Yasuko Thanh took home the 2017 City of Victoria Butler Book Prize on October 11. She was awarded the $5,000 cash prize for her first novel, Mysterious Fragrance of the Yellow Mountains (Hamish Hamilton Canada), which was reported in both this Times Colonist article and this CHEK news broadcast, while Thanh spoke about the writing life in this CFAX 1070 Radio interview.
Jurors described Yellow Mountains as "a haunting book that explores the harsh impact of colonialism, the blind, random damage it drags in its wake, and the puny nature of ill-thought out resistance versus the well-oiled wheels of imperialism. Thanh's book is a sensory treat, a complex collage of images and themes. Original sharp and spiky language brings the reader fully into the narrative moment."
Also nominated for the 2017 Victoria Book Prize were fellow alumni Patricia Young for her poetry collection Short Takes on the Apocalypse (Biblioasis) and Steven Price for his novel By Gaslight (McClelland & Stewart).
Theatre alumna Carleigh Baker was announced as the winner of the 2017 Vancouver Book Award on October 13 for her short story collection Bad Endings (Anvil Press), which explores a range of human experiences, from the death of a relationship to struggles with mental health. The $3,000 prize recognizes authors of any genre, who evoke an appreciation and understanding of Vancouver's history and people. Bad Endings is also nominated for the $50,000 Rogers' Writers' Trust Fiction Prize, and Baker was named one of CBC Books' writers to watch in 2017.
Congratulations also go out to current Writing undergrad Kade Bound, who was recently announced as the winner of the Lambda Foundation's annual Candis Graham Writing Scholarship.
Finally, Writing professor Tim Lilburn was named the first Canadian recipient of the prestigious European Medal of Poetry & Art on October 10. Commonly referred to as the "Homer Medal," Lilburn was presented the award by visiting Chinese poet and editor Zhao Si at a small reception on campus.