It's a busy season for our Visual Arts professors, a number of whom have exhibits of new work on view, both locally, nationally and internationally.
Visual Arts professor and alumnus Robert Youds presents City Cut Flowers, a solo exhibit of new works, until Sept 30 at Winchester Galleries Downtown (665 Fort). Featuring three related painting projects and two light-based works, City Cut Flowers explores picture/objects as imagined and remembered fragments drawn from our urban world. Each piece explores the core perceptual conditions of light, shadow, colour, surface, and their communicative relationship to our aesthetic, cultural, and ideological values.
"I have been thinking about consciousness in our time, and that age-old question: how do we as individuals shape it?" says Youds. "For example, is a home a home without personal choices evidenced through the careful spatial choreography of pictures, colours, surfaces, and light? Where do our aesthetic dispositions evolve from? Can the growing digital and AI realms alter our future understanding of the physical world or will they simply reinforce the same elements through a different means?"
Youds also has another solo exhibit coming up this winter: For Everyone A Fountain runs Nov 17 – Jan 2, 2018, at Open Space. He'll be hosting an artist's talk at 2pm Saturday, Nov 18.
Visual Arts professor and sculptor Daniel Laskarin presents his latest solo exhibit, ruins and reclamation, which continues until Oct 7 at Deluge Contemporary (636 Yates). His work combines industrial forms with elements of minimalist sculpture, material exploration and the lyrical sensibility of visual metaphor. He describes his work as means for thinking through the world, a process by which he might give sensory experience to consciousness.
Objects and materials, combined and manipulated, form things that find their own order in a condition of disorder and yet refuse that which orders everything. Independent materials congeal to create an interdependent network, resulting in unique forms that generate a complex and shifting subjective experience. His diverse media incorporates photography and video, optics, robotics systems, installation and sound. He has been involved with set design, public image projections and large-scale public commissions in Vancouver and Seattle, and has exhibited in Canada and internationally.
New Visual Arts professor Kelly Richardson is in the midst of a very busy few months, with work in a variety of exhibitions. Her hyper-real digital films of rich and complex landscapes that have been manipulated using CGI, animation and sound, have caught the eye of galleries around the world. Her latest solo exhibit, Kelly Richardson: The Weather Makers, runs at Dundee Contemporary Arts in Scotland from Sept 23 to Nov 26. Weather Makers was previewed in this article from The Herald newspaper, which describes her "thought-provoking, post-apocalyptic art in its spectacular large-scale form" as both "visceral and provoking" and "a wonderful fictional and imaginary element tied in to stark scientific fact and research."
Weather Makers features three of Richardson's video works and a series of chromogenic prints, Pillars of Dawn, which posits a desertscape of environmental desiccation in which trees and plants have been physically crystallized by some unknown environmental event. "The questions that she's asking about the way we're mistreating the world around us, about global warming, the constant consumption of resources and how we're going to manage after mismanaging it for so long are so incredibly pertinent and urgent right now," says DCA curator Eoin Dara of Richardson's show. "Magnificent and complex, Richardson's work asks us to consider what our future might be like if we continue on our current trajectory of planetary pillaging and consumption, and why we have allowed ourselves to arrive at such a moment of global environmental crisis."
Richardson also has work at the following group exhibits this fall:
Visual Arts professor Cedric Bomford and department LTA Verena Kaminiarz are working together on "Embassy, 2017" an outdoor project for the Calculating Upon the Unforseen portion of Toronto's upcoming Nuit Blanche on Sept 30. "Embassy, 2017" is described as a large-scale structure "designed to adapt to the site where it is located; which can be seen as opportunistic, parasitic and political . . . Given the current trend of hardening nationalism around the world, it seems fitting to reflect on notions of national identity. Forever in progress, Embassy requires visitors to complete the structure in their minds." The piece was featured as a highlight of the Toronto Star's Nuit Blanche preview article.
Professor Emeritus Sandra Meigs opens her latest solo exhibit this fall. Room for Mystics will run at the prestigious Art Gallery of Ontario starting October 18. A recipient of the Governor General's Award in 2015, and the 2015 Gershon Iskowitz Prize, Meigs was also recently named a Fellow of the Royal Society of Canada. Her new installation, Room for Mystics (which includes work by School of Music Director Christopher Butterfield), emerges from her Iskowitz Prize.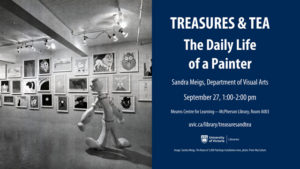 For over 35 years Meigs has created vivid, immersive, and enigmatic paintings that combine complex narratives with comic elements. She derives the content of her work from her own personal experiences, and develops these to create visual metaphors related to the psyche. Meigs will provide an overview of her work and speak about her new installation, Room for Mystics, at an AGO public talk on Oct 18—but more locally, she'll also be speaking as part of the "Treasures & Tea" series at UVic's LIbraries from 1-2pm Wednesday, Sept 27 in room A003 of the McPherson Library.
Meigs will talk about what it was like to be a painter in the '70s and '80s, and why the donation of her archive from that period to UVic's Special Collections might be of interest to researchers. She will also show a brand new artist flap book project she collaborated on with poet Ron Padgett.
Sessional instructor and noted local artist Charles Campbell is involved in a pair of international exhibitions this fall: Relational Undercurrents: Contemporary Art of the Caribbean Archipelago at Los Angeles' Museum of Latin American Art (running Sept 16, 2017 – February 25, 2018) and En Mas: Carnival and Performance Art of the Caribbean at San Francisco's Museum of the African Diaspora (Sept 20, 2017 – March 4, 2018).
And busy MFA alumni Lindsay Delaronde, and Hjalmer Wenstob were both involved in the One Wave Gathering on September 16. As Victoria's Indigenous Artist in Residence, Delaronde had a featured performance, while Wenstob worked with local Indigenous youth to create four longhouses on the lawns of the BC Legislature. Wenstob's involvement was mentioned in this Victoria News article.
Finally, the department's acclaimed Visiting Artist program is in full swing again, with a number of guests coming in this fall:
Amie Siegel (Sept 20) – Ranging from photographs, video, film installations and feature films for the cinema, American artist Amie Siegel's work has been exhibited in solo and group exhibitions across the US and around the world.
Léuli Eshrāghi (Sept 27) – The work of this Sāmoan / Persian artist centres on ceremonial-political renewal, languages, embodied futures, diasporic and local indigeneities.

Valérie Blass (Oct 4) – This Montreal-based sculptor contrasts notions of visibility and invisibility, as well as the boundaries between volume and surface.

Kimberly Phillips (Oct 25) – This writer and curator spent the past four years as the Director / Curator of Access Gallery, a Vancouver artist-run centre committed to emergent and experimental practices. She recently joined Vancouver's Contemporary Art Gallery as curator.
Dominique Pétrin (Nov 1) – A multidisciplinary artist living and working in Montreal, Dominique Pétrin was recently longlisted for the prestigious Sobey Award, and has exhibited across Canada, France, the US, Belgium and the UK.
Patrick Howlett (Nov 22) – Abstract painter Patrick Howlett is a UVic MFA alumnus and has exhibited nationally and internationally, and is currently based in London, Ontario.
All Visiting Artists talks happen at 7:30pm in room A150 of UVic's Visual Arts building, and all are free and open to the public. Please join us!