If you're new to Fine Arts, we'd just like to offer you a big welcome — as well as a hearty "welcome back" to all our returning students! We/re happy to have you join our vibrant student community here in Fine Arts.
But we appreciate that first year can be a difficult time for any student, so here's a quick round-up of orientation activities that will help you feel more grounded in your life as a Fine Arts student.
• Theatre Course Union Meet and Greet: 4-6pm Monday Sept 4 in the Theatre department's Barbara McIntyre Studio
This is a great chance for first year and transferring Theatre students to meet returning Phoenix students before classes begin. We'll all introduce ourselves, play some games, and get to know each other. Towards the end of the event, you will be paired up with a Phoenix buddy (an upper-year student) who will give you a tour of the Phoenix building and insider information on studying here. You can ask your buddy any questions you have about being a Phoenix student!
• New Student Welcome: all day Tuesday, Sept 5, all across campus.
The New Student Welcome is the main program for approximately 3,000 first-year and short-term UVic students. After check-in and late registration on the quad lawn west of Petch Fountain, students will be officially welcomed with the opening invocation ceremony by the Elders in Residence, UVic president Jamie Cassels and celebrated grad Craig Kielburger of Me to We and Free the Children. Students will then move through a variety of components in the afternoon including a services tour of campus, academic presentations with the faculty deans, a barbeque lunch with the president, library tours, a welcome by the Campus Cousins to the First Peoples House, and an information fair at the end of the day.
As part of this, Fine Arts will be hosting our annual welcome and orientation from 1-3pm in the Bishop Theatre, with departmental tours and orientation sessions to follow.
• UVSS Campus Kick Off: Sept 6 to Sept 8, various locations
Let the UVSS welcome you back in style with three days of free food, events, music, and excitement at The Student Union Building!
Wednesday is a big day with a free pancake breakfast (8:30-11am), the SUB local market (10am-4pm), Bands on the Roof and a free hot dog BBQ at the SUB (noon-4pm), a 19+ Welcome Back DJ Party (4pm-midnight) plus a free outdoor movie in the Quad (The Breakfast Club, 9-11pm), you may just forget to attend classes.
Thursday offers a Farmer's Market (10am-4pm), more Bands on the Roof (noon-4pm), and the 19+ Felicita's Karaoke (7pm-midnight), and Friday offers the Vikes Thunderfest (noon-4pm), plus even more Bands on the Roof (noon-4pm), Days of Thunder Soccer at Centennial Stadium (6:30-8:30pm) followed by the 19+ Blue & Gold After Party (9pm-12:30am) and the all-ages Back in Black Light Party (8:30pm-midnight).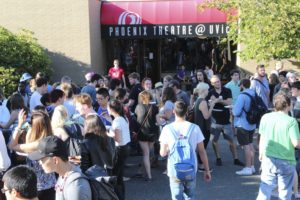 • The School of Music Welcome Assembly: 12:30-1:15pm Friday, Sept 8, in the Phillip T. Young Recital Hall
All School of Music students are welcome at this annual event, which will be immediately followed by cake in the courtyard. Cake!
• Theatre Department Welcome & Photo: 12:30 – 1:45pm Monday, Sept 11 in the Roger Bishop Theatre
If you're a Theatre student and haven't felt welcomed enough, you've still got one more chance. All Theatre students are encouraged to join us for the Department Welcome and learn about what's new, who's new and important upcoming events in the building, then you'll move outside for the annual group mug shot. Show off your smile and jazz hands and officially become part of Phoenix's historic and ever-growing photo wall!
• Week of Welcome for Indigenous Students: September 11-14, First Peoples House
If you're a new or returning Indigenous student, connect with the Indigenous community on campus during this week of celebration. Meet our Elders-in-residence, LE,NONET Campus Cousins and Office of Indigenous Academic and Community Engagement staff, learn about Indigenous student groups and be introduced to student supports on campus. All sorts of activities are happening throughout the week, including an Indigenous Student Support Open House, Totem Pole Rededication, Brunch with the Elders, Indigenous Co-op Information Session, Salmon Barbecue, Native Students' Union Open House, Evening with LE,NONET Campus Cousins and UVic's Indigenous Plan Launch.
• UVic Co-op & Career Info Day: 10am-3pm Tuesday, Sept 12, at in the SUB's Michele Pujol Room
Student life is great, but what comes next? Co-op and Career Info Day is the place to discover our career services and programs, learn about the co-op program and how you can gain paid work experience that's relevant to your degree, find out about our flexible work experience program and check out entries in our annual photo contest!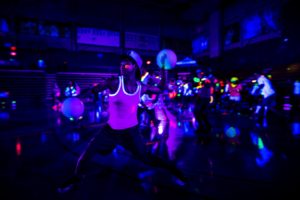 • Dodge in the Dark: 6:30pm Wednesday, Sept 13 in CARSA
Ready? Set? GLOW! The free, annual Vikes glow in the dark dodgeball event returns. Get in on a night of mayhem! Make sure you wear your brightest clothes, as there will be black lights everywhere to make you pop. Then, we'll start throwing down with some intense dodgeball.
• UVSS Clubs & Course Union Days: 10am-4pm Sept 13 & 14 at the SUB
There are over 200 clubs on campus dedicated to environmental, cultural, political, religious, and recreational causes. Clubs are funded through student fees and receive a stipend from the UVSS every semester. They are free to join and are open to students and community members. From swing dance to game development to the Western Canada Wilderness Committee, there is something for everyone. Come see what strikes your fancy!
• Fine Arts Welcome Party: 4:30-6pm Thursday, Sept 14 in the Fine Arts Courtyard
We've saved the best (well, maybe the best tasting) for last. All new and returning Fine Arts students are invited for free pizza, salads, drinks and prize draws at our annual welcome back celebration. Meet the faculty and staff in this fun and relaxed social environment.
Did we mention the free pizza?