No question, the annual Fringe Fest is one of Victoria's best-loved festivals of any kind. Now in its 31st year, the Victoria Fringe Festival offers 330 performances of 58 shows by 350 artists in nearly a dozen venues around town — as well as a number of free community events — over 12 dynamic days, from August 23 to Sept 3. From spoken word, drama and musicals to dance, comedy, magic, theatre for young audiences and more, you just can't beat the Fringe when it comes to a tasty smorgasbord of theatrical delights!
Once again, Fine Arts alumni and current students are all over the fest; while most are (logically) associated with our Theatre department, you'll also find participation by alumni and majors in our Writing department as well. But whether they're acting, writing, directing, designing or working backstage, our alumni and students have been an integral part of the Victoria Fringe as long as it has existed. And we send a special shout-out this year to our alum and students working behind-the-scenes with organizers Intrepid Theatre to get this event up and running, including Technical Assistants Simon Farrow and Carolyn Moon, and Ticket Rocket box office support with Kristen Iversen and Kate Loomer.
Below you'll find a listing of this year's Fringe shows involving Fine Arts alumni and students; but whether you only see one show or pick up a multi-show pass, you're guaranteed to see something you've never seen before. Happy Fringing!

A WOMAN'S GUIDE TO PEEING OUTSIDE & OTHER ADVENTURES
Directed by Andrew Barrett (BFA '12)
Ever wondered how to perform the "Assisted Pee Over Water"? Ever struggled with a sense of self? Still grieving the death of Jack Dawson? Written and performed by storyteller Holly Brinkman, who promises that you'll laugh, you'll cry . . . you'll try not to pee your pants.
AFTER THE BEEP
Created by Pamela Bethel (BFA '99), design consultation by Erin Macklem (BFA '98).
Pamela found cassettes from her very own answering machine she had as a teenager during the early 1990's. Despite the obvious risk of death by embarrassment, she's sharing this archive of adolescence with live audiences. Part confessional, part show-and-tell, it's an exploration of awkward times revealed by the recorded voices of BFs, BFFs, a frenemy and wrong numbers. After The Beep had a sold-out run at UNO Fest 2017, and is once again presented here under the auspices of Theatre SKAM, which features the work of alumni Matthew Payne (BFA '93), Andrew Barrett (BFA'12), Kathleen Greenfield (BFA'05) and current students Bridget Roberts, Brendan Agnew and Emma Leck.
ALL THESE PEOPLE WATCHING
Featuring Matt Lees (BFA '90), Krista Wallace (BFA '89), and current student Maggie Lees (their daughter), (also joined by their son David Lees), with stage manager Molly McDowell-Powlowski (current student), and script advisor Nicole "Coco" Roberge (BFA '98).
A family of actors on stage together for the first time: Mom, Dad, Son and Daughter explore themes of family, friendship, life and death. How does a tight-knit family stay that way amidst life's challenges? (Pie and beer may be mentioned!)
BEAVER DREAMS
Featuring Mika Laulainen (BFA '12)
Here's a schtick you can to sink your teeth into! Winner of two (and nominated for five) Montreal Fringe Awards, this show focuses on one family, generation after generation . . . and beavers. Sharing the same land, the same lake, and the same nightmare depicting commercial development threatening their corner of paradise in the Laurentians, Quebec. The best dam show! ("Nothing less than brilliant"– Savage Clown Montréal)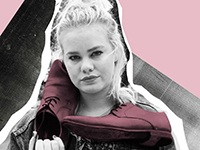 DADDY ISSUES
Directed and created by Colette Habel (BFA '16), with Grace Le (BFA '17), and current students SJ Valiquette and Arielle Parsons. Performed by Colette Habel, Grace Le, SJ Valiquette and Arielle Parsons. Design by Delaney Tesch (BFA '17), with stage management by current students Molly McDowell-Powlowski and Siena Shephard, and marketing by Victoria Simpson (BFA '17).
Devised from true stories and memories, Daddy Issues is a collage of vintage denim and classic rock that explores the relationships between daughters and their fathers. This is for the dads that were always there and never there; the dads we chose and those we didn't; the dads we wanted gone, and the dads who left us too soon.
THE DROWSY CHAPERONE
Directed by Cam Culham (MFA '03)
In the spirit of Canada 150, St. Michael's University School presents the Canadian-grown, Broadway smash hit musical The Drowsy Chaperone — winner of five Tony Awards. New York Magazine has called it "the perfect Broadway musical," as it gently pokes fun at the myriad tropes that characterize the musical theatre genre. Meet Man in Chair, an eccentric and engaging music theatre enthusiastic, as he introduces us to a fictitious 1928 musical. It is an affectionate send up of the Jazz Age musical, full of toe-tapping songs and colourful characters, from pastry chef gangsters to starlets.
GEORGE AND GRACIE: A LOVE STORY
Created by David MacPherson (BFA '91)
Local actors Melissa Blank and David MacPherson present this loving tribute to George Burns and Gracie Allen. "George: Do you like to kiss? Gracie: No. George: What do you like? Gracie: Lambchops. George: (to himself) Lambchops. Could you eat two big lamb chops alone? Gracie: Alone? Oh no, not alone . . . with potatoes I could. George: You could. Gracie: Yep."
GRUFF
Featuring Trevor Hinton (BFA '07), created by Mercedes Bátiz-Benét (BFA '07)
A rollicking puppet musical about what happens when the grass really is greener on the other side, performed outdoors in a beautiful little park by the sea — created by 2015 Fine Arts Distinguished Alumni recipient Mercedes Bátiz-Benét (Puente Theatre), Judd Palmer (the Old Trout Puppet Workshop) and Brooke Maxwell (composer of Ride the Cyclone). Singing goats! What more do you want?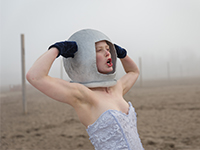 INTERSTELLAR ELDER
A SNAFU Dance Theatre production by co-creators by Kathleen Greenfield (BFA'05), Ingrid Hansen (BFA '09) and Britt Small (MFA '04). Featuring Ingrid Hansen, with puppetry coach Mike Petersen (previous student 1980-82). SNAFU began at the Phoenix back in 2006!
From the creators of sold-out shows Little Orange Man and Kitt & Jane. Meet Kitt, fierce lone geriatric astronaut adrift in a spaceship carrying cryogenically frozen human cargo. Her mission: protect the last of humankind. "Amazingly versatile physical comedian with the best ending in the history of fringe." – Montreal Gazette.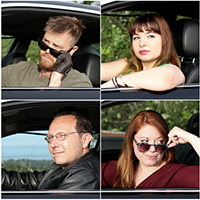 JUKEBOX DRIVE
Featuring current student Natasha Guerra and Amy Culliford (BFA '14), with current student Emily Bamletter as co-director and technical lead.
With Bon Jovi, they speed away from the scene of a crime; with Sinatra, they share their first kiss; with Adele, they spread the ashes of their dead friend. With music providing the backdrop, the actors of Jukebox Drive take a different improvised road trip each night, with a soundtrack influenced by the audience.
LEER
Featuring current student Ellen Law.
With this world premiere, Wendy Magahay (Old Lady's Guide) stars as Satan in this originally sinful, all-female, horrifyingly humorous, re-imagining of Shakespeare's King Lear — now a twisted tale of the mother-and-daughter fight from Hell. Adapted by award-winning local playwright David Elendune (Casino Royale / Winnie The Pooh).
LOLCOW
Created by Robbie Huebner (Writing BFA '14, MFA'16), directed by current student Karin Saari, featuring Pascal Lamothe-Kipnes (BFA '17) and current students Annie Konstantinova, Taryn Roo Yoneda and Caitlin Holm. With film director Max Johnson (BFA '14), and music/sound design by Graham Roebuck (BFA '11).
"lolcow: (lol-kaʊ), n. person whose foolish behavior can be 'milked' for amusement." Sheena's boyfriend, Stan, is a lolcow. As an e-celebrity Stan is successful, but Sheena finds herself targeted by online trolls, the topic of an invasive podcast. A dark comedy that explores isolation, longing, identity, and the thinning line between public and private life in an increasingly digitized world.
MONICA VS. THE INTERNET (TALES OF A SOCIAL JUSTICE WARRIOR)
Created by previous student Monica Ogden and current student Ann-Bernice Thomas.
Monica vs. The Internet is an honest account of a Filipina feminist on YouTube. Blending storytelling, videos and comments from her own channel, Monica explores the implications of words through humor. Created by Monica Ogden (Fistful of Feminism) from award-winning Paper Street Theatre, and Ann-Bernice Thomas, the 2016 Youth Poet Laureate of Victoria.
O COME ALL YE FAITHFUL
Written by current student Nicholas Guerreiro, directed by current student Elizabeth Martin, featuring students Brett Hay and Anna Watts, with design by Delaney Tesch (BFA '17), Victoria Simpson (BFA'17) and current student Matthew Wilkerson, stage managed by current student Siena Shepard.
We promise it's not about Christmas. Well, it's a little bit about Christmas. It's also about a mysterious circular painting, a security guard with an angry streak, a foul-mouthed art aficionado with a fake name, and a Slovenian nihilist on a secret crusade. It's about family, faith, and non-representational art, and the weird bonds that hold people together. Originally produced as a SATCo show here on campus!
SIX FINE LINES
Created and performed by Mack Gordon (BFA '08)
Part game show, part memoir, part house party, this is a living collage that combines fun and prizes with a story about losing the people closest to you. A rolling, heaving memoir, Six Fine Lines is pop rocks for your head and heart.
As always, we've only listed the shows involving Fine Arts students and alumni — be sure to check out the many, many other shows on view during the Fringe!
—With files by Adrienne Holierhoek