The end of the academic year also means the start of the annual Visual Arts BFA show—which, for the current crop of graduating students, means Another Year.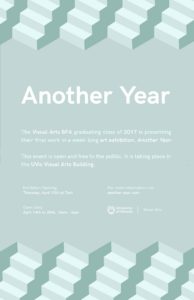 The BFA grad show is always one of the highlights of the year here in Fine Arts, and the current exhibition is no exception. Featuring the work of 40 artists, the pieces on display will include mediums ranging from sculpture and painting to drawing, photography, performance, video and digital media.
Another Year opens 7pm Thursday, April 13, and runs 10am – 6pm daily until April 20 throughout the Visual Arts building.
Much like School of Music students with their final concerts and Theatre students with their mainstage performances, the BFA show is an important milestone in the training of Visual Arts students. And this year, the exhibition itself is actually a for-credit course unto itself: Art 401 is a fourth-year, 3-unit course offering hands-on engagement in the professional practices of organizing a large, high-profile public exhibition.
As well as learning practical skills like art documentation, art handling, exhibition space preparation and the professional installation and lighting of artworks, the graduating students are also responsible for organizing and funding the exhibit catalogue, event planning, promotion, graphic design, and publicity.
The intention, says supervising Visual Arts professor Megan Dickie, was to both create more ownership and involvement from all of the graduation students, and to be able to offer the students more instruction on professional art practices.
"This change has been remarkable," says Dickie. "The students have shown much more responsibility for all the steps that need to be done to accomplish such a large group exhibition. They have also been in dialogue for the entire year and that time has helped immensely in terms of the quality and ambition of the work. There are, of course, kinks to be worked out with any sort of curricular change but this course seems to be on the right track."
While the show is free, catalogues are $10 and there will be a cash-only bar at the opening event. Don't miss this fantastic example of the kind of experiential learning in which Fine Arts specializes!