A new play written by Department of Theatre professor Jennifer Wise and performed by Theatre students celebrates a little-known event in Victoria's gay history.
Wise's A Queer Trial tells the real-life story of John Butt, an openly gay Victoria man who, in 1860, was acquitted of sodomy charges by two successive juries — the first of which chose to spend a night in jail rather than convict him.
Wise first ran across Butt's story in an article written by Terry Glavin — a former Southam Lecturer for the Department of Writing — while researching her 2013 play, The Girl Rabbi of the Golden West. She immersed herself in archival documents and the 1860 police-court transcripts, which have been used verbatim in her new play.
Better still, however, A Queer Trial will be performed in Victoria's Bastion Square, the very site where the actual trial took place. "I realized that this story would serve as an ideal project for students to learn about site-specific theatre," says Wise.
Learn more about the story behind the play by listening to Wise's March 30 interview with CBC Radio's All Points West. And you can read some of the coverage the play received in this online CBC News story, as well as the Times Colonist, Monday Magazine, the Oak Bay News, UVic's Martlet student newspaper, and Camosun College's Nexus student newspaper. A Queer Trial was also the subject of this feature article in Focus Magazine.
A Queer Trial will be performed at 2pm and 4pm on Friday, April 14, in downtown's Bastion Square, where it will use the heritage façades, doorways and wrought-iron architectural features to its advantage in celebrating this historic event. The performance is free.
With funding from UVic's Office of Community-University Engagement, Wise developed a new course for Theatre students that began in January 2017. In 2016, Wise applied for and received a Community-Engaged Learning Grant from the Office of Community-University Engagement, which allowed her to redevelop THEA 311, with funding from the CEL Grant, to foster student engagement with the local community through the course curriculum.
The production of A Queer Trial is the culmination of the student's work and incorporates the research and knowledge of members of BC's Indigenous, LGBTQ2, Jewish, Black and legal communities. Students in the class are excited to present their months of work with this musical tribute to Victoria's minority and marginalized communities, as A Queer Trial satirizes bigotry in all its forms.
"We're taking this beautiful message of tolerance and humanity right into the heart of the community," says Wise, who acknowledges that recent political events have emboldened attacks on these communities at home and abroad. "As we celebrate Canada's 150th anniversary, this play reminds us about how essential this message of tolerance is in our world today."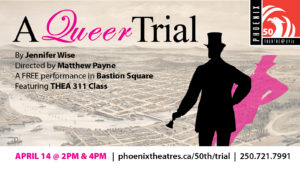 The students in Wise's class have taken on key roles, from acting and singing to dramaturgy and historical research, from musical direction and choreography to costume design. A Queer Trial is directed by Theatre alumnus Matthew Payne, currently the Artistic Producer of Theatre SKAM — a company acclaimed across Canada for its site-specific productions under bridges, in cars, at local destinations like Heritage Acres and Macaulay Point, and, most recently, in a carpentry warehouse.
Wise's last site-specific play also dramatized a surprising event in Victoria's history. The Girl Rabbi of the Golden West, performed for Congregation Emanu-El's 150th anniversary, told the story of Ray Frank, who served as the synagogue's first female rabbi — in 1895. Her translation of Brecht's The Resistible Rise of Arturo Ui (Methuen, 2013), created for the Phoenix in 2002 and now produced internationally, will be staged at the Shaw Festival and at Carnegie Mellon in 2017/18. Other plays include a version of Aristophanes' Frogs (Phoenix, 2000), and Orbit, a drama about Galileo's children written for the International Year of Astronomy (2009).
Wise's textbook The Broadview Anthology of Drama is adopted at universities across Canada and beyond. Her book Dionysus Writes (Cornell, 1998), about the invention of theatre in ancient Athens, is read around the world, and her research is published in such journals as Theatre Research International, Theatre Survey, Reader's Digest, and Arethusa.
—Adrienne Holierhoek