Politics is a difficult game: there's pressure to appease voters and deal with multitudes of issues and complaints, all while being sandwiched between different levels of government regulations. But while this all may sound terribly current, the latest Phoenix Theatre's production shows little has chanced since the 1800s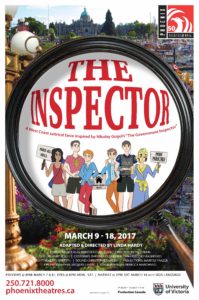 With The Inspector — running March 9 –18 at UVic — Theatre professor Linda Hardy brings Russian playwright Nikolay Gogol's political farce The Government Inspector into the 21th century. Her new adaptation leaves the plot of the 1836 original intact, but The Inspector places her characters in the fictional west coast town of Paradise.
Gogol's original Russian play, Revizor, was allegedly inspired by a letter from the Russian poet and novelist, Alexander Pushkin; he suggested the basic plot that later appeared in Gogol's final play: a tale about a town whose officials hear a government inspector is coming incognito. When they mistake a cunning civil servant for "the inspector," their schemes to cover up their "little failings" are turned against them. His play was such a success that it has been adapted and interpreted many times, including the famous 1949 Danny Kaye film, The Inspector General.
Hardy's inspiration also came from letters, but this time in the form of letters to the editor in the local newspapers. "Every day brought new gifts in the Times Colonist," says Hardy about the process of adapting the play. "I was especially grateful to the passion of [our] citizens."
Over five months, local ideas were woven into the new play: the fictional Paradise has to deal with a sewage treatment debacle, concerns about homelessness and a tent city, controversies over new bike lanes . . . audiences should watch for such familiar sights as bike cops, real estate developers, yoga instructors, and plenty of protestors.
Gogol's town had a garbage problem; Paradise has a problem with untreated sewage. Where characters in Gogol's play complained of the smell of alcohol, Hardy's West Coast version pokes fun at the plethora of marijuana dispensaries; the officials in the original play are trying to keep "transient characters" from giving the town a bad reputation and appearance, while Hardy's version raises important questions about the impact of the high costs of living in Paradise.
"Why do comedy?" asks Hardy. "It provides release in these uncertain times . . . it has always been the responsibility of the artist to function as a catalyst, a provocateur—and, yes, a 'shit disturber.' Gogol understood this in spades and was applauded as a realist in the Russia of his day."
And while there are a lot of serious issues being addressed in The Inspector, Hardy addresses them with the same hilarious manner of Gogol's farcical satire. While things spin out of control in the play, the cast of 19 theatre students ride bicycles, skateboards, shopping carts and other modes of transportation across iconic Victoria landscapes, dotted with flower-basketed lamp posts, ivy-walled buildings, upscale hotels, and bamboo-fenced gardens — all set in front of a sunset mountain background. Additionally Hardy helps all 35 characters to stand out by incorporating the use of masks, created especially for the play.
A long-time professor at the Department of Theatre, Linda Hardy is a master teacher of acting and voice who has trained professional actors and singers for stage and film, nationally and internationally. She sees The Inspector as an inspired finale to the department's 50th season, as well as a gift to the current students. It is only fitting that as we look back over these past 50 years of Phoenix history, The Inspector is inspired by both the past and presents current politics.
"For me, the greatest joy is the chance to write roles for my actors, knowing their needs as young artists and the needs of the play," says Hardy. "To tailor-make something that we all bring together makes for a rare collaboration."
—Written by Theatre student Georgia Duff
The Inspector runs March 9 –18 at UVic's Phoenix Theatre. Tickets range from $15-$26 and are available by phone at 250-721-8000 or in person at the Phoenix box office. There is a 2pm matinee on March 18, which will also feature sign-language interpretation.