Ideafest — UVic's week-long free festival of world-changing ideas — is once again ready to welcome thinkers, innovators, artists and audiences to a fascinating range of events across campus. This year's festival features hundreds of speakers, presenting on topics ranging from the creative economy and ocean sustainability to cybernetic innovations and Indigenous resurgence. Fine Arts is once again a major participant in Ideafest, with our faculty or students participating in eight different events.
For the Faculty of Fine Arts, Ideafest starts off with the student exhibit Sensitive chaos: The Creation of Flowing Forms in Water and Air. Organized by instructor David Gifford, the exhibit showcases the work of his Drawing 300 class and expands the concept of what it means to illustrate an idea. The exhibit is inspired by Theodor Schwenk's 1965 book of the same title, an exploration of fluid dynamics in relation to our ability to read patterns revealed in nature and art. As Jacques Cousteau says in the book's forward, "All that life around us was really water, modeled according to its own laws, vitalized by each fresh venture, striving to rise into consciousness." 9am – 5pm daily March 6-11 in the Visual Arts courtyard and Audain Gallery.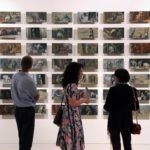 Our signature Fine Arts panel discussion this year is focused on Rethinking the Creative Economy, an important and timely discussion about the economic impact of creativity and creative production. Indeed, when it comes to the creative economy, myths often trump facts: while some believe the arts have no significant financial impact, the cultural sector boasts 700,000-plus jobs and contributes more than $60 billion annually to the Canadian economy—10 times more than sports, and that's not even factoring in the value of art. This lively panel discussion will blow the lid off outdated arts myths, consider culture's lasting impact and explore our key investment: our students. Moderator and Dean of Fine Arts Susan Lewis will be joined by panelists including Kirk McNally (School of Music), Maureen Bradley (Writing), Tony Vickery (Theatre), Cedric Bomford (Visual Arts) and Melissa Berry (Art History & Visual Studies), plus special guest David Dunne from the Gustavson School of Business. 4 – 6pm Tuesday, March 7, in Turpin A110.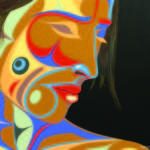 That same night, Rande Cook — the current Audain Chair in Contemporary Art Practice of the Pacific Northwest for the Visual Arts department — will join university chancellor and celebrated broadcast journalist Shelagh Rogers for Reconciliation and Resurgence: How Indigenous Artists are Re-imagining the Story of Canada. Rogers, an honorary witness to the Truth and Reconciliation Commission of Canada, offers an intimate conversation with Indigenous visual artists Cook, Carey Newman and visual anthropologist and Art History and Visual Studies alumna Andrea Walsh. Across Canada, contemporary Indigenous artists are using images to explore place, truth and identity and challenging us to transform our perspectives, conversations and ideas. Collectively, this great imagining is playing a unique and pivotal role in understanding our past and determining our shared future. This event will be hosted by UVic's Vice-President Research, David Castle. 7 – 9pm Tuesday, March 7 at Alix Goolden Hall, 907 Pandora. Note: registration is required for this free event. 
Interested in what Fine Arts students are creating and researching? Don't miss the always-fascinating Jamie Cassels Undergraduate Research Awards (JCURA) Fair, which offers exceptional undergraduate students the opportunity to carry out research in their field of study. The annual JCURA Fair will feature over 100 of these inspiring projects, with Fine Arts student projects ranging from Saskatchewan folklore and 19th century social behaviour here in Victoria to the use of brass instruments in Chinese music and intergenerational theatre for educational sexual health projects. Click on the links to read about JCURA projects by Writing students Leone Brander and Holly Lam, Visual Arts students Artemis Feldman and Brandon Poole, Music students Ian VanGils, Alex Klassen and Jordan Shier, Art History & Visual Studies students McKaila Ferguson, Lorinda Fraser and Baylee Woodley, and Theatre students Mary Barbara Clerihue and Leah Tidey. 11:30am – 3pm Wednesday, March 8, in the Student Union Building (SUB) Michele Pujol room and Upper Lounge.
From the Russian Revolution to the Arab Spring uprising, from Palestine's West Bank to the gates of the White House — wherever there is political unrest, there is art. And at a time when (sadly) xenophobia, ethnocentrism, political tensions and censorship are on the rise, art and the visual — from the meme to the masterpiece — have more to offer society than ever before in human history. Don't miss the lively panel Why Art Matters in Dangerous Times featuring Art History & Visual Studies professors Victoria Wyatt, Astri Wright, Melia Belli, Evanthia Baboula and Lianne McLarty. This panel event accompanies the exhibition Learning through looking: Celebrating the 50th anniversary of the Department of Art History & Visual Studies. 5 – 7pm Wednesday, March 8, in room 025 of the McPherson Library.
Meet the next generation of Canadian literature at The Write Stuff, where MFA students from UVic's legendary Department of Writing read (and perform) ground-breaking graduating manuscripts in fiction, poetry, screenwriting and playwriting and creative nonfiction at this lively (and licensed) literary cabaret. Presenters include Claire Mulligan (screenwriting), Alexa Eldred (fiction), Melissa Taylor (playwriting), Kelsey Lauder (fiction) and Nicola MacWilliam (poetry). 6:30pm Thursday, March 9, at the Copper Owl, 1900 Douglas. While admission is free, please note there are no minors allowed in this licensed venue.
How do artists of colour experience race and identity? That's the question behind Re-imagining Race, Art and Landscape. Hooked to the current Legacy Gallery exhibit The Mystery of Grafton Tyler Brown, three contemporary Victoria artists of colour — Victoria's 2016 youth poet laureate Ann-Bernice Thomas, also a Writing/Theatre undergrad — plus painter and performance artist Charles Campbell and filmmaker Kemi Craig — will perform new work relating to racial identity. Grafton Tyler Brown was one of the first professional landscape artists in BC, and the story of his racial identity shifted throughout his career to where he eventually passed for white. 7 – 9pm Friday, March 10, at the Legacy Gallery Downtown, 630 Yates.
Borrow a book, discover a person: that's the whole focus of the Phoenix Theatre Human Library, a fascinating project that pairs  Phoenix pioneers, current educators and local industry professionals with visitors. At the "circulation desk," you'll get your own Human Library card and the chance to check out one of a dozen possible human books ranging from titles like "Actor", "Playwright" or "Producer."  A one-on-one informal conversation will begin and the rest is up to you. Following a theme of "Theatre then and in the future," participants include the likes of former faculty member John Krich, alumnus playwright/author Mark Leiren-Young, Intrepid Theatre director Heather Lindsay, theatre historian James Hoffman, and local actor Kirsten Van Ritzen, with more to be announced.
"Books" are available on a rotating schedule and are subject to availability, so please be aware that not every book will be available during all hours the Human Library is open. If you've never participated in a Human Library before, don't miss this chance to participate in this culture phenomenon that began in Denmark in 2000; since then, over 65 countries have connected tens of thousands of "readers" with "books" from all walks of life at thousands of these events! Please arrive earlier than before you expect to "read" your book — books are checked out on a first-come, first-served basis starting at 9:30am, 30 minutes before the Phoenix Theatre Human Library opens. This is another signature event in the Department of Theatre's ongoing 50th anniversary celebrations. 10am – 4pm Saturday, March 11, in the Phoenix Theatre lobby.
While these are what we'll have on view for Fine Arts, be sure to see the complete schedule of all Ideafest events. Let your curiosity guide you and be inspired by ideas that really can change everything!