2017 is shaping up to be a busy year for Fine Arts faculty and alumni in the media. A number of stories have run in various media outlets in the last weeks of 2016 and early 2017, featuring representatives in all of our departments. Here's a quick roundup of who's been saying what to whom.
School of Music alumnus & instructor Paul Beauchesne was interviewed on TV's CHEK6 news on December 10 (skip to the 8:14 mark), speaking as leader of the annual TubaChristmas concert in Market Square. The popular School of Music event has raised over $50,000 for local charities over the past 38 years.
In this op-ed for the Times Colonist, 2016 Writing Southam Lecturer Vivian Smith explains the impact of fake news and how it can undermines democracy—a notable concern particularly during the recent US elections.
Back on December 16, Art History & Visual Studies PhD candidate Brian Pollick was quoted in this Times Colonist story about nearly two dozen rare medieval and early modern manuscripts that are available until May 1 in Victoria — thanks to an innovative new collaboration between UVic Libraries and Les Enluminures, a firm based in New York, Chicago and Paris which has the largest inventory of text manuscripts and miniatures from the Middle Ages and the Renaissance. "People of the medieval time would see a whole multiplicity of different messages, and part of what fascinates me is their visual depth," Pollick said. UVic is the first Canadian institution to partner with Les Enluminures. Pollick donated the initial funds to create the Medieval Manuscript Fund at the UVic Libraries.
Also at the end of 2016, the annual Critics' Choice Theatre Awards were announced on CBC Radio's On The Island  and there were plenty of Fine Arts alumni among the 2016 nominees and winners. February's Phoenix production of Wild Honey was singled out as an outstanding overall production, with Theatre professor Peter McGuire winning Best Director (community production). "It was one of those shows where you had to ask yourself if you were actually watching students or professional theatre," says CBC reviewer David Lennam. See the full list of winners and nominees here.
Art History & Visual Studies PhD candidate and local Star Wars expert David Christopher spoke to Vancouver's CKNW radio on Dec 16 about the release of Rogue One, calling it "the greatest spin-off yet." An authority on all things Force-related, Christopher was also married in full Star Wars regalia.
School of Music professor Benjamin Butterfield talked to the Times Colonist for this story about both his January 2 Victoria Symphony concert "A Viennese New Year's" and his decade-long teaching role here at UVic. "For some, the holidays couldn't be long enough," wrote Mike Devlin. "Butterfield, on the other hand, loves his career on campus. 'There's lots on my mind about what the future holds there,' Butterfield, 52, said of UVic. 'I could see myself doing at least another 10 years.'"
Visual Arts MFA alumna Rachel Vanderzwet's recent Plastic Bangles exhibit at Deluge Contemporary was written up in the Art Openings cultural blog, written by Art History & Visual Studies alumna Kate Cino. "I have a desire for each piece of the puzzle to be unique," says Vanderzwet, "but harmonize in a composition . . . . I like the challenge of working with unusual colour combinations," she says, "playing with pigment to create a visual push and pull within the work." While the exhibit is now closed, Vanderzwet will be teaching a course titled "Conversations in Abstraction" from January 10 – April 4 at the Vancouver Island School of Art, which is run by another Visual Arts alum, Wendy Welch.

Significant Art History & Visual Studies donor Jeffrey Rubinoff was featured in this Globe and Mail article which ran on Dec 30. Globe arts columnist Marsha Lederman visited Rubinoff's Hornby Island sculpture park, spoke to him about his theories about art, and mentioned his 2016 donation to AHVS.
Visual Art chair Paul Walde's installation "Requiem for a Glacier" received a positive mention in the December 2016 issue of Canadian Art magazine as part of the group exhibit "The Edge of the Earth" at Ryerson's Image Centre in Toronto; it is now featured in a solo exhibition at the WKP Kennedy Gallery in North Bay, Ontario until February 10. And from January 14 until February 28, the Nordnorsk Kunstmuseum in Tromsø, Norway, presents Walde's "Alaska Variations" as part of a touring version of The View from Here: The Arctic At The Centre of the World.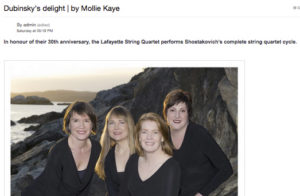 UVic's longtime Artists-in-Residence, the Lafayette String Quartet, were featured in the Jan/Feb issue of Focus magazine, highlighting their history together and previewing their upcoming Feb 3-9 performance of the complete Shostakovich Cycle of 15 String Quartets. Now entering their fourth decade of performing and teaching together, the LSQ continue to be a highlight of the School of Music. "UVic has allowed us to take on these kinds of research-based projects—delving into 15 quartets of one composer is a great opportunity," says violinist Sharon Stanis.
Music professor Patrick Boyle January 21 "Deep in the Groove" faculty concert was featured in the Dec/Jan issue of Boulevard magazine. The concert also features Music alumni Tony Genge and Kelby MacNayr. "If you like to swing deep in the groove, you should definitely be at this concert," says Boyle. There's no direct link, but you can click here and navigate to pages 116 & 118.
Art History & Visual Studies professor Victoria Wyatt has once again been asked to participate in the Edge.org 2017 Annual Question.  This year's question is, "What Scientific Term or Concept Ought to be More Widely Known?" Wyatt's response is  "Evolve," is a pitch for more integrated education that synthesizes sciences with humanities, social sciences and fine arts. "Evolved means better, as if natural law normally dictates constant improvement over time. In translating progress from species evolution to the metaphor of evolve, the significance of dynamic relationship to a specific environment gets lost. Through natural selection, species become more equipped to survive in their distinct environment. In a different environment, they may find themselves vulnerable. Divorced from context, their measure of progress breaks down. The popular metaphor of evolve misses this crucial point. Evolve often connotes progress without reference to context."
A number of School of Music performances—including the January 7 Emerging Alumni concert featuring Jiten Beairsto, Sydney Tetarenko and Emily Burton, and the January 8 "Brass Menagerie" faculty concert by Music instructors Paul Beachesne and Scott MacInnes — were highlighted in a round-up of music events in this Times Colonist article.
Visual Arts professor Megan Dickie's new exhibit at Open Space, "One Way or Another", was previewed in this Times Colonist article on January 12. Described as "her biggest and most ambitious art project to date."  "Part of this is inspired by reality television shows where they'd doing activities and failing, like running through courses and stuff," Dickie said. "There is pleasure in seeing somebody — not fall and hurt themselves — but to go to those limits and not succeed. That's all in there." The exhibit runs through to February 18.