The sound world of Czech-Canadian composer and former School of Music director Rudolf Komorous is elusive: it is strange yet familiar, unexpected but deliberate, his peculiar orchestrations skew the senses yet land—even if for a brief moment—in a place the ear recognizes. This influence came from his native Czechoslovakia where, during the '50s and '60s Komorous, was associated with a circle of visual artists known as the "Smidra Group." Their motto was the "aesthetics of the wonderful" through which everyday materials could be transformed into something mysterious or even magical.
Komorous' music and legacy is being celebrated with a special concert at 8pm Thursday, December 8— Komorous's 85th birthday, in fact—in the UVic's Phillip T. Young Recital Hall. Tickets ($10-$20) are available from the UVic Ticket Centre and at the door.
If you can't make the concert, you can still hear it streamed online as part of UVic's Listen! Live series. The concert is co-sponsored by the Canadian Music Centre, which opened a branch at the Victoria Conservatory of Music in August that includes a library named for Komorous.
The Times Colonist previewed the concert in two separate articles, one a preview of the program and the other an interview with former Komorous student and now Music professor Christopher Butterfield and alumna Cathy Fern Lewis. Once a leading figure in the avant-garde music scene of the Czech Republic, the Victoria composer is largely forgotten in his eastern European homeland. In Canada, Komorous is far from a household name — although he is known within the rarefied confines of the new-music community. "Here [in Canada] they know about him by rumour," Butterfield told the TC. "They know about him by rumour, they know about him by reputation."
While his music may seem ambiguous, one thing is for certain: Rudolf Komorous has made a major imprint on new music in Canada and beyond through his teachings and his body of work, which comprises electroacoustic, orchestral, solo, chamber and vocal music, including two operas. Some of the School of Music's most distinguished alumni will come from near and far to perform music by the legendary composer, bassoonist and teacher, in salute to his contribution to Canadian music and to advanced music education.
Komorous took a position at UVic shortly after arriving in Canada in 1969. From 1971–1989 he taught composition and theory and later served as the School of Music's Director. So many of his students went on to become successful composers that Eastern Canadian composers began to refer to their country's avant-garde scene as "The Victoria Mafia."
Composition professor Christopher Butterfield was one those students. He says that what he learnt from Komorous in those early years set the tone for his way of thinking, both in terms of his approach to composition and teaching. "When you start studying composition, what your instructor has to say is pretty influential," says Butterfield. Komorous's knowledge of visual arts, the American avant-garde, and his Central European tendencies were an enormous influence. "There was no comparable teacher anywhere in the country. There wasn't anyone like him," recalls Butterfield.
Soprano and sound artist Cathy Fern Lewis studied with Komorous from 1977–78 and describes her time with him as a revelation. "His whole person and way of being and teaching was influential and inspiring," says Lewis. Komorous was "like a fountain or an oasis, not only in giving permission but in encouraging and inspiring me to pursue my own individual voice," she explains.
"Rudolf was endlessly supportive," adds Butterfield. "The more you used your imagination, the more interested he became in what you were doing."
"Stone House," composed by Komorous for Cathy and Christopher especially for this celebration, will be premiered on December 8. It is set to a poem of the same name by Fiona Sampson from her latest book The Catch, released February 2016. Whilst contacting Sampson for permission to use the poem, Sampson replied saying that "every poem in The Catch is a one-breath poem . . . . I will be fascinated to hear what you make of this!"
"Lurid Bride," also on the Dec. 8 program, was composed for the Vancouver New Music Ensemble and commissioned by Owen Underhill—another UVic alumnus, who will be conducting the concert—and Vancouver New Music for the 2000 Vancouver International New Music Festival in which Komorous was a featured composer. Each of the 11 individually titled movements is dedicated to former students of Komorous's and is based on research into actual historical incidents or situations. Underhill explains that each sharply distinct movement is a musical representation having its own distillation of emotional qualities.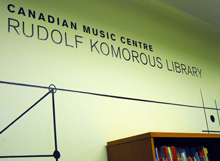 Other works to be performed include "Morning Glory" by Linda Catlin Smith (another of Komorous's former UVic pupils) and "Olympia" (1964). One of the first truly minimalist works of music, "Olympia" premiered in Warsaw for the exhibition opening of Komorous's friend, painter and Smidra Group member Jaroslav Vozniak. The piece was met with such unusual success that they had to repeat the performance right then and there.
As the primary organization for supporting, preserving and promoting the work of Canadian composers, the Canadian Music Centre has taken a special interest in Komorous's music. They hold an invaluable archive of not just Komorous's scores, but also sketches, letters and assorted papers. In addition, the new CMC Creative Hub in Victoria recently honoured the composer by naming their lending library after him at their opening in August. For Komorous's full biography, an audio stream of his music and to request scores, visit the CMC website.
—Kristy Farkas