After years of success on the Fringe Festival circuit and touring around the world, alumnus TJ Dawe brings his one of his earlier, and now published plays, back to the Phoenix stage as part of the Alumni Festival. The Slipknot runs 8pm daily to Saturday, Oct 22, with a 7pm pre-show lecture on Oct 21 and an additional 2pm matinee on Oct 22. Get tickets here.
The Slipknot has been described as hilarious, hypnotizing and hard. Dawe literally "slips" between three monologues — based on three horrible jobs he has done in his life — never skipping a beat, with a total of 14,000 words following a rapid fire rhythm. Stepping seamlessly from one story to the next, he chronicles his time as a stock boy in a drugstore, the inexperienced driver of a massive bin hauler, and a berated customer service person at Canada Post. Since The Slipknot was written in 2001, it has become Dawe's most performed (and purchased) play. "Ironically, The Slipknot has actually made me enough money to get out of the world of horrible jobs," he says.
Nothing is too personal for Dawe to share with the audience — from relationships and recreational Gravol use to Santa Claus and why you should never put meat in the mail — but although he brings his personal history to the stage (and lets us laugh at his mistakes), the life lessons are always greater than just his experience, and audiences walk away with insights about their own lives.
Many things have changed in Dawe's life since he wrote The Slipknot: he now has 14 solo, autobiographical shows which he tours around the world to great acclaim, earning himself such titles as "Fringe Veteran" and "King of the Monologue".
Yet Dawe is not only a performer and writer but also an in-demand director. For example, he directed all of Charles Ross' (BFA' 98) one-man shows (which were presented at the Phoenix just the last week); Ross and Dawe were close friends during their time at UVic, proving the amazing friendships you make at university can stay with you for life — and, in this case, develop into life-long artistic collaborators.
Over the years he has worked with many artists as a director, including a number of Phoenix grads. Most recently, he directed alumna Nicolle Natrass' (BFA '91) play Mamahood: Turn and Face the Strange at Vancouver's Firehall Theatre. He is also the director of playwright, author and Phoenix alum Mark Leiren-Young's (BFA'85) Never Shoot a Stampede Queen, based on the Leacock Award-winning novel;  that solo play also featured Phoenix grad Zach Stephenson (BFA'03). Recently he co-created PostSecret: The Show, a stage production based on the popular blog site PostSecret.com (which was also turned into a book and Smithsonian exhibitions), where people can anonymously share personal stories that they would never speak aloud. The presentation featured other Phoenix alumni Ming Hudson (BFA'07) and Sam S Mullins (BFA'08).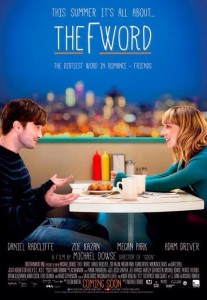 The play that has brought Dawe the most fame, however, is a two-hander called Toothpaste and Cigars, which was co-written with alumnus Mike Rinaldi (BFA' 96) and toured in 2003. At the time, the pair could never have dreamed that this quirky modern-day love story would become a Hollywood movie starring famous Harry Potter actor Daniel Radcliffe and Zoe Kazan ultimately titled The F Word (no, the "f" actually stands for "friend"). Read the full story on the movie here. Since it has garnered excellent reviews, fandom from 20-somethings around the world, and won the 2014 Canadian Screen Award for Adapted Screenplay.
Dawe is looking forward to interacting with the students when he's back on campus. When asked what lessons he would to pass on to current theatre students, Dawe offered some great advice to pass on:
A great deal of learning is done by osmosis. See lots of theatre: Fringe shows, Belfry shows, Inconnu shows, Langham shows. "It will hugely enrich your understanding of what to do, what not to do, what kind of theatre you like, etcetera," he says. "The more theatre you see, the better you'll be oriented to what kind of theatre you'd like to be a part of. "
Take advantage of the free art on campus. Free concerts in the music department, art shows in the visual arts building, readings in the writing department. "It'll feed your artistic soul," says Dawe.
The friendships you make at school can turn into artistic partnerships in the professional world. The friendships you make in the department, the creative jamming that happens with people you click with — that's part of your education too. A big one. TJ is still creating with friends he met at the Phoenix, which "grew very organically out of how much they enjoyed hanging out and jamming on ideas and making each other laugh."
Don't be discouraged. Rejection doesn't mean you don't have talent, it doesn't mean you don't have what it takes to make it. There are many projects that you create from the ground up. Put on a SATCo show. Organize a poetry slam or open mic or improv night or sketch show or cabaret. Make your own work.
"I've built a career out of original, self-created theatre, something I first did in the classrooms and rehearsal spaces in this building," he says. "Self-created theatre has gained much more of a foothold in the last 20 years. In my student days it barely existed. Now it's thriving . . . maybe some of the students are going through what I did as an undergrad. Maybe I'll light the fire for one or two of them. Maybe you'll be seeing them here in 20 years."
—Adrienne Holierhoek
Coming up next at the Alumni Festival:
• Shannan Calcutt's Burnt Tongue (October 25-29) see this Cirque du Soleil artist take a break from Las Vegas' Zumanity as she brings her alter-ego clown, Izzy, back to the Phoenix in this quirky solo show about a clown who's eager to find love — so eager she shows up to her first blind date wearing a wedding dress!
Box Office now open for all Alumni Festival tickets. Call 250-721-8000.