This fall, UVic's Department of Theatre will celebrate 50 years of creating great theatre—and great artists. Along they way, the Phoenix has also created some incredible moments on their stages. Generations of students (literally, they have several second-generation students from alumni families!) have become successes in the world of theatre, or wherever life has taken them.
This year, UVic Theatre is celebrating not only their history but also their alumni, knowing full well these students—past and present—are what truly make the Phoenix such a special place . . . a place where young people become artists, and friendships are formed that last a lifetime. Whether alumni or treasured audience members, we  look forward to celebrating with everyone who has been touched by the Phoenix over the past five decades.
To mark its 50th anniversary, the Phoenix Theatre has expanded its usual fall "Spotlight on Alumni" into a three-week 50th Anniversary Alumni Festival. Internationally acclaimed artists and alumni have been invited to present five different shows during the festival, running from October 11-29.
Self-proclaimed "professional geek" Charles Ross — best known for his One-Man Star Wars Trilogy — will present all of his one-man nerd trilogies: One-Man Star Wars Trilogy, One-Man Lord of the Rings, and his newest, Dark Knight: A Batman Parody. These pop-culture hits have taken this alumnus around the world, from New York to London and Dubai to Glastonbury, including stops in Singapore, New Zealand, and even Lucasfilm's Star Wars conventions!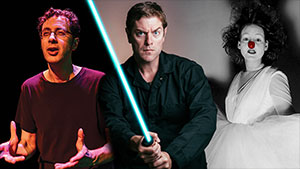 Prolific writer, performer, director, dramaturg and international Fringe icon, TJ Dawe will remount his play The Slipknot, which was performed as the very first "Spotlight" presentation in 2003. Dawe regularly performs his 14 autobiographical solo shows around the world. His play Toothpaste & Cigars (written with theatre alumnus Mike Rinaldi) inspired the Daniel Radcliffe movie The F Word. In The Slipknot, Dawe performs a spellbinding comic monologue about three equally lousy jobs—from stock boy, to driver, to post office customer service. In turns hysterical and heartbreaking, frantic and thoughtful, The Slipknot offers wise observations on relationships, Santa Claus, recreational Gravol, and why you should never put meat in the mail.
Cirque du Soleil clown and co-comedic director of Zumanity in Las Vegas, Shannan Calcutt returns for the festival with her hilarious solo show, Burnt Tongue. Calcutt, who is also a writer, actor and instructor, is best known as Izzy, the charming and radiant clown with a keen sense of timing and a razor sharp wit. In Burnt Tongue, Izzy has met a man on the internet and decides this is the guy for her! She arrives for their blind date wearing a wedding dress insisting she's just "totally prepared to be spontaneous."
This is all in addition to the Phoenix's 50th Anniversary Mainstage Season, featuring Department of Theatre students, which begins in November with Les Liaisons Dangereuses, the Christopher Hampton play that was adapted into the Oscar-winning film, here directed by professor Fran Gebhard. In February, MFA candidate Alix Reynolds will direct Gut Girls by Sarah Daniels. With sharp dialogue and dazzling humour, Gut Girls is set in the Victorian era against the backdrop of women's struggle for emancipation. The season closes with Nikolay Gogol's The Inspector. Directed and adapted by professor Linda Hardy, this 19th-century Russian satire about greed, hypocrisy and corruption is no less relevant in today's political landscape.
The Department of Theatre is also inviting all of its graduates to come back to campus for the 50th Anniversary Alumni Reunion, happening over the November 11-13 long weekend. The Phoenix will host three days of events for alumni to reminisce with old friends, and department faculty and staff.  "It will be an exciting weekend," says Department Chair Allana Lindgren. "There are already hundreds of alumni interesting in coming—and bringing their families with them. The Department is looking forward to reconnecting and hearing what everyone has been up to in their lives and their careers."
Phoenix alumni can learn more about these events on a special 50th Anniversary website the department has created. As well as the reunion weekend and Alumni Festival, the anniversary website also features a complete history of the Phoenix Theatre presented through a fun interactive timeline of the department's growth, the plays they have produced, their faculty and when they worked, as well as many successful alumni and when they graduated. Alumni can send in their own biographies to be posted or share stories and photos from the past.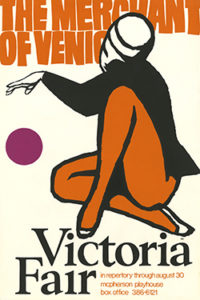 Generations of Phoenix alumni have become successful artists, working across the world and playing important roles in Canada's cultural institutions, including Michael Whitfield, Resident Lighting Designer for 35 years at the Stratford Festival; Denis Garnhum, most recently the Artist Director of Calgary Theatre and soon to be at The Grand Theatre in London ON; and Nathan Medd, the Managing Director of English Theatre at National Arts Centre. Many other alumni have created their own theatre companies that have become part of Canada's cultural landscape, including Britt Small and Jacob Richmond of Atomic Vaudeville and the Broadway-bound hit Ride the Cyclone; Peter Balkwill of Calgary's Old Trout Puppet Workshop; Ingrid Hansen and Kathleen Greenfield of the now Toronto-based SNAFU Dance Theatre; national three-time Canadian Comedy Award winners and CBC comedy writers Chris Wilson and Peter Carlone of Peter N' Chris; and Kate Braidwood of Portland's Wonderheads, to name but a few.
Here in Victoria, our faculty and alumni have been a driving part of the theatre community for the past 50 years, beginning in the early days with the Campus Players, Company One, and the adventurous city-wide fine arts festival, Victoria Fair (1969-71). Our alumni have founded enduring Victoria theatre companies like Theatre Inconnu (1978), Story Theatre (1981), the Victoria Fringe Festival and Intrepid Theatre (1986), the Greater Victoria Shakespeare Festival (1991), Theatre SKAM (1995), and, more recently, workingclasstheatre (2009) and Impulse Theatre (2011). The Department of Theatre is proud of the legacy these alumni have created for our community.
The Department of Theatre is also in the process of planning many other activities during the year, including an exhibition of Phoenix play posters at the UVic Archives, a human library event and historical displays. Stay tuned for more details!