Congratulations go out to Visual Arts professor Cedric Bomford, who was announced on July 12 as the visual arts winner of the $15,000 Victor Martyn Lynch-Staunton Award.
Presented annually by the Canada Council for the Arts, the Victor Martyn Lynch-Staunton Awards are awarded for outstanding artistic achievement by Canadian mid-career artists in the disciplines of dance, inter-arts, media arts, music, theatre, visual arts, and writing and publishing.
"I'm extremely pleased on behalf of the Visual Arts department to congratulate our colleague Cedric Bomford on having his research recognized with this national award," says Visual Arts chair Paul Walde. "Over the past year, Cedric has proven to be a tremendous asset to both the department and the UVic community and we are delighted to have him with us. He has a number of high profile research creation projects underway which will no doubt bring further accolades and recognition in the months and years to come."
Bomford, who joined the Visual Arts department in September 2015, has seen his installation and photographic work exhibited internationally and has participated in residencies in Europe, Asia, Australia and North America. His work often focuses on the power dynamics established by constructed spaces and takes the form of large-scale rambling ad hoc architectural installations.
The projects follow a methodology he calls "thinking through building" in which construction takes on an emergent quality rather than an illustrative one. Concurrent to this installation work is a rigorous photographic practice that operates at times in parallel with and at others tangentially to the installation works.
While the majority of his projects are solo efforts, Bomford often works collaboratively with a number of different partners including his brother Nathan, and father Jim. He has also worked with other artists, including Verena Kaminiarz, Mark Dudiak and Carl Boutard. Recent projects include Deadhead, a production of Other Sights for Artists' Projects in Vancouver and Substation Pavilion a public art commission in Vancouver, BC. Upcoming projects include a solo exhibition at the Esker Foundation in Calgary, Alberta and a public art commission in Seattle, Washington.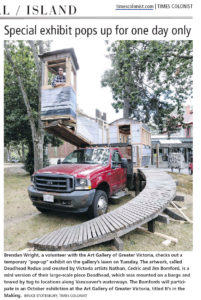 This fall, the work of the Bomfords will be featured in the Art Gallery of Greater Victoria group exhibit It's in the making, running from October 2016 to January 2017. The same exhibit will also present a site-specific work by Nicholas Galanin, the 2012 Audain Professor in Contemporary Arts of the Pacific Northwest with the Department of Visual Arts, along with three other artists.
Earlier this month, the the Bomford's intricate, interactive truck-mounted sculptural installation "Deadhead Redux" was featured as a one-day-only installation on the lawn of the Art Gallery of Greater Victoria.