For 38 years, Bill Gaston's award-winning prose has exemplified the relentless curiosity, deep human empathy, acute moral vision and commitment to exploring new creative frontiers that are at the heart of artistic excellence. Now, the veteran Department of Writing professor has been named the recipient of UVic's 2016 Craigdarroch Award for Excellence in Artistic Expression.
A pioneer in Canada, and beyond, in the genres of the short story and the literary novel, Gaston has also published poetry, essays, memoirs, plays and screenplays. His widely acclaimed works—including six novels—span a range of topics from historical events, religion, colonialism, philosophy, intense wit, and contemporary foibles. His most recent short story collection, Juliet Was a Surprise, was nominated for the 2014 Governor General's Award for literature. He is, quite simply, one of the most original voices in contemporary Canadian literature.
"By honouring Bill with the Craigdarroch Research Award, UVic recognizes the immense impact he has had on both Canadian literature and on our university's reputation as the centre for excellence in the literary arts," says current Writing chair David Leach. "As a creative writer, Bill is prolific, versatile and incredibly accomplished—a model of creative focus and originality for students and fellow faculty members. He publishes nearly a book a year, most of which earn award nominations and major accolades from across Canada."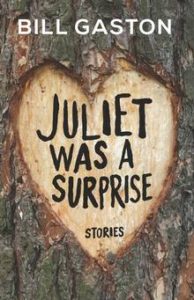 For his part, Gaston typically plays down the honour. "It's a gratifying surprise, at this stage of my writing career, to be recognized by my peers and nominated for such an award," he says. "I don't have a PhD, but I have a Craigdarroch."
The six winners of the Craigdarroch Research Awards recognize outstanding research and creative achievement at UVic. "These individuals exemplify why UVic is consistently ranked nationally and internationally as a top research-intensive university," says Vice-President Research David Castle. "They're all leaders in their field who are pushing the boundaries of discovery, creativity and innovation to make an impact on our lives and the world around us."
Gaston joins previous Fine Arts Craigdarroch Award recipients Marcus Milwright, Harald Krebs, Benjamin Butterfield, Lorna Crozier and the members of the Lafayette String Quartet.