It's been a busy spring for the Writing department, with a wide variety of faculty and alumni in the spotlight for award nominations and new book releases.
Poetry professor and Governor General's Award-winning poet Tim Lilburn has released The Names (Penguin/Random House), a new collection of poetry of great scope and ambition. Both personal and familial archaeology, The Names is an extemporal dig giving spectres back to their bodies. With its lines sped up and dazzlingly associative, Lilburn's cocktail of obsessions—confession, ontology, mystical theology, humour and extreme, fleet, apt weirdness—marches through on full display. We are immersed in a realism of remarkable proportions, as though incandescent memory comprised both texture and text, and combined formed the elemental fibres of a perilous present.
In March, Lilburn also re-released his 1999 essay collection Living in the World As If It Were Home (Cormorant). Written over a nine-year span, Living In The World is a careful, exquisite look at the human desire to share a home with long grass, rivers, and stones. Lilburn's collection of essays plots the work required to roughly re-establish the conditions of Paradise; it explores the world of prairies rivers, aspen-covered sandhills, deer country, big lakes taking on their first ice in late October, the moon rising over chokecherry thickets, and asks: How to be here? This is a remarkable collection—a "classic" as Dennis Lee says in the new foreword—by a writer with passion and insight, in hopeless love with the unsayable world, the place which "ignites awe" yet is completely vulnerable to human ingenuity.
Mysterious Fragrance of the Yellow Mountains, the debut novel by Journey Prize-winning alumna Yasuko Thanh, was released in April by Random House and has been garnering good reviews. "A very readable and equally savage look at colonial Vietnam," notes this Globe & Mail review. "Thanh's writing whips up a miasma of jasmine oil and incense and opium smoke, while remaining gauzy as tulle. Which is not to say the story is frivolous . . . . From the national to the personal, this is a story about catastrophic loss. But Thanh's ability to navigate such brutal territory with a steady hand makes this book a must-read." This is the follow-up book to Thanh's acclaimed debut story collection Floating Like the Dead (M&S), which won the Journey Prize for best short story in Canada in 2009 for the title story. Another story in the collection won the Arthur Ellis Award for Best Crime Short Story, and the book itself was shortlisted for BC's Ethel Wilson Fiction Prize,  the Danuta Gleed Award, was longlisted for the Frank O'Connor International Short Story Award and became a Quill and Quire Best Books of the Year selection.
Longtime Writing instructor and poet Patrick Friesen has been shortlisted for the Griffin Poetry Prize for his translation (with Per Brask) of Frayed Opus for Strings & Wind Instruments (Brick) by Ulrikka Gernes. There are only three Canadian nominations on the short list, putting Friesen in an enviable spot for this lauded international prize. Interestingly, Ulrikka Gernes was an Open Word visitor in the Writing department this year, sharing her experiences with our students, and this is the second translation of her work by the same team, with both Friesen and Brask having collaborated on her 2001 poetry collection, A Sudden Sky.
The Griffin Poetry Prize judges' citation notes, "This collaboration . . . is astonishingly successful, every line at home in its new language. The poems have not stopped being poems. In fact, now that they are speaking through three mouths (one female, two male) they seem to have gathered an extra layer of strangeness which suits their dream-like, mutable, almost anonymous voice: 'Since then I have been standing in the subway singing to passersby and nobody knows my name …' The world of the poems is twilit, borderless, melancholy, associative, seeping; and these qualities are carried over from the imagery into the fluid, blended structures of the verse. Full of arresting detail and quiet everyday language, this is the second Gernes book to be translated by these writers and it is masterful."
In other award-nomination news, the BC Book Prizes saw alumni Jude Isabella and Ali Blythe nominated for their recent books, Isabella for the Christie Harris Illustrated Children's Literature Prize for her book, The Red Bicycle: The Extraordinary Story of One Ordinary Bicycle (Kids Can Press), and Blythe for the Dorothy Livesay Poetry Prize for the poetry collection Twoism (Goose Lane). Also nominated for the Hubert Evans Non-Fiction Prize was Maria Tippett for her latest study, Made in British Columbia: Eight Ways of Making Culture, which was launched back in September 2015 by the Faculty of Fine Arts. And the annual CBC Short Story Prize saw alumna Katherin Edwards nominated for her story "The Sound of His Fall". Her work has previously been published in The Malahat Review.
On the student front, current Writing undergraduate Ellery Lamm was accepted into the prestigious Transom Story Workshop in Cape Cod, Massachusetts. This spring, the Canadian/American Lamm—already an award-winning writer, filmmaker and radio storyteller—will spend nine weeks in full-time training for beginning radio/podcast producers, working with the likes of Ira Glass of NPR's This American Life fame, and undergoing pitching/editorial sessions, voice coaching, technical gear orientation, and participating in the day-to-day operations of award-winning Cape and Islands public radio station WCAI.
During her time at Transom, Lamm will also producea vox-pop audio piece, a radio promo, a four-minute profile of a creative person (based on WCAI's Creative Life Series), and a six-minute documentary feature. Lamm's The Bear Story picked up the award for best student animation film at the 2015 Monteal Film Festival, won Best Overall Film at the inaugural Shoreline Film Festival student film festival at UVic and her RMS Titanic storytelling film The Dive is currently being screened at the Titanic museum in Belfast, Ireland. See some of her recent short films here.
Exciting news for award-winning alumna Ashley Little, who has been chosen as Wilfrid Laurier University's 2017 Edna Staebler Writer in Residence. An award-winning author of five novels, including the ReLit award finalist PRICK: Confessions of a Tattoo Artist, the Sheila A. Egoff Children's Literature Prize winning The New Normal, and Anatomy of a Girl Gang, which won the Ethel Wilson Fiction Prize, was a finalist for the City of Vancouver Book Award, was long-listed for the International IMPAC Dublin Literary Award and has been optioned for television. Her fourth novel, Niagara Motel, will be released in October 2016 and her fifth novel, Confessions of a Teenage Leper, is forthcoming. Little has previously served as writer-in-residence for the Vancouver Public Library and Calgary's Alexandra Writers Centre Society, and she is just the fifth writer to hold Laurier's WIR position, fulfilling her term from January to April 2017.
"Ashley's writing is sharp, witty and boundary pushing," said Jenny Kerber, assistant professor of English and chair of the Edna Staebler Writer in Residence committee. "She is one of Canada's most exciting younger writers and will make a wonderful addition to our campuses, as well as to the region. We are thrilled that she'll be joining us." During her residency at Laurier, Little will be working on a new novel: BIG ME, a story of a teenage giant.
Writing alumna Jenny Manzer has been getting a good deal of attention for her young adult novel, Save Me, Kurt Cobain (Delacourte Press/Random House), which has been described by New York Times bestselling author Jennifer Niven (All the Bright Places) as "utterly gorgeous, mesmerizing, hypnotic . . . I love this book." Manzer was interviewed about her book on Global Television, CBC Radio's All Points West, on CFAX Radio (skip to the 00:34 mark), and in this Times Colonist article.
And it'll be the battle of the book-writing spouses soon, as current Writing department chair David Leach—also Manzer's husband—releases his latest book in September 2016. Chasing Utopia:The Future of the Kibbutz in a Divided Israel (ECW) is described as "a fascinating, non-partisan exploration of an incendiary region." Say the word "Israel" today and it sparks images of walls and rockets and a bloody conflict without end. Yet for decades, the symbol of the Jewish State was the noble pioneer draining the swamps and making the deserts bloom: the legendary kibbutznik.
So whatever happened to the pioneers' dream of founding a socialist utopia in the land called Palestine? Chasing Utopia draws readers into the quest for answers to the defining political conflict of our era. Acclaimed author David Leach revisits his raucous memories of life as a kibbutz volunteer and returns to meet a new generation of Jewish and Arab citizens struggling to forge a better future together. Crisscrossing the nation, Leach chronicles the controversial decline of Israel's kibbutz movement and witnesses a renaissance of the original vision for a peaceable utopia in unexpected corners of the Promised Land, while offering an entertaining and enlightening portrait of a divided nation where hope persists against the odds.
Word recently dropped that Victoria's own Belfry Theatre will be presenting the world premiere of the latest play by Writing professor and alumna Joan MacLeod—hot on the heels of this spring's production of her play, The Valley. Gracie is set in Bountiful, the largest polygamous community in Canada, tucked away in a corner of BC. With her characteristic deep empathy and compassion, MacLeod will explore young Gracie's world, where events transpire that lead her to question her beliefs. Commissioned by the Belfry, Gracie will debut in January 2017 as a co-production directed by Alberta Theatre Project's Vanessa Porteous. The show will move to Calgary following the run in Victoria.
"How blessed we are to have playwright Joan MacLeod living in our midst," says Belfry Artistic Director Michael Shamata. "We commissioned Joan to write a play specifically for this theatre and this audience. Gracie is that play—and it is a beautiful study of a young girl as she gradually develops a sense of self and self-direction. Approaching Gracie's situation with the same unique absence of judgement that made The Valley so compelling, Joan has given us a moving portrait of a moral quandary."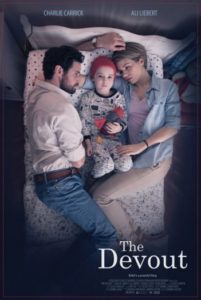 Finally, Writing MFA alumnus Connor Gaston's debut feature film The Devout has been nominated for a remarkable 14 Leo Awards, with Gaston himself earning nominations for Best Direction and Best Screenwriting. Sharing his nomination for Best Motion Picture are fellow producers and Fine Arts alumni Amanda Verhagen (Theatre) and Daniel Hogg (Writing). Other nominations include cinematography, editing, visual effects, score, production design, casting, supporting performances (male & female) and lead performances (male & female). The Devout has been wowing audiences at film festivals across Canada and in the US since its world premiere at the Vancouver International Film Festival in October 2015.
Neither Gaston nor producer and Fine Arts staff member Hogg are strangers to the Leo Awards, with nominations and wins going back over the past few years thanks to various independent film projects like Two 4 One, Gord's Brother, Floodplain, Godhead, Woodrow Without Evelyn, and the student projects 'Til Death and Freshman's Wharf. The Leo Awards, which annually honour BC filmmakers, will be handed out on May 28, and June 4-5 in Vancouver.