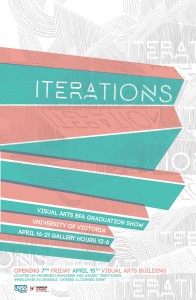 If you think organizing an art show is simply about hanging paintings on a wall, think again. As the annual Bachelor of Fine Arts graduating exhibit in the Department of Visual Arts reveals, there's as much innovation as inspiration behind a well-planned exhibition.
"This is where students learn that practicing artists are true entrepreneurs," says Visual Arts professor and faculty supervisor Megan Dickie. "They conceptualize a project, test it, and produce it. Then through the BFA exhibition they discover how to fundraise, keep financial records, create publications, promote and present their work in a professional gallery setting."
This year's exhibit—titled Iterations—will fill the Visual Arts building with work by more than 30 student artists between April 15 and 21. Featuring a wide variety of mediums—including painting, sculpture, photography, drawing, installation and extended media works—Iterations offers a fascinating look at the work being produced at one of Canada's lead contemporary art institutions.
"The work represents the self-directed nature of our program, where students learn to invest in their own research using a variety of artistic mediums to bring their projects to fruition," says Dickie.
Dickie notes that she and fellow professor Robert Youds function both as curators and advisors for the exhibit. "In the early stages, Rob and I give the students a basic outline of the different stages of the process— then, during the installation week, we curate the exhibition," she explains. "There is no adjudication process; students put forth their best work. We are also there to support the students by answering questions and by working with administration staff."
Given 30-plus artists and 10 rooms, expect to see an explosion of Iterations at the event, which opens with a gala reception beginning at 7pm Friday, April 15.
"It feels great to see the BFA show," says Dickie. "We are very proud of our students—they work incredibly hard during the school term and even harder to prepare for this exhibition. As a professor, there's nothing more rewarding then seeing your students achieve success."
The annual BFA exhibit is a highlight of any academic year in Fine Arts. Much like School of Music students with their final concerts and Theatre students with their mainstage performances, the BFA show is an important milestone in the training of Visual Arts students. You can read about an earlier BFA show here.
Iterations runs April 15-21 in the Visual Arts building. Open from noon-6pm daily, with a 7pm to late opening reception on Friday, April 15.