If you're the kind of person who cries at movies, take heart—you're not alone. Whether the tears are of joy, sadness, or cathartic relief, Carl Wilson says crying in response to culture is commonplace. This year's Harvey Stevenson Southam Lecturer in Journalism and Nonfiction for the Department of Writing, Wilson's March 3 public lecture "The Taste of Tears: When Pop Culture Makes People Cry" will examine these often public displays of emotion.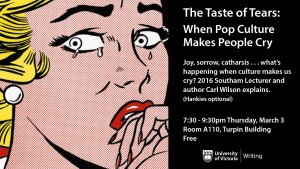 "I'm interested in exploring why everyone's comfortable with comedies making us laugh—but, when culture makes us cry, we often feel ashamed or manipulated," says Wilson, a prolific journalist whose latest book will focus on what's happening when entertainment makes us cry.
The author of the critically acclaimed essay collection, Let's Talk About Love: A Journey to the End of Taste, Wilson's "thought experiment" uses Céline Dion's music to encourage readers to consider what forms of culture they value and scorn, and why.
Music critic for Billboard magazine and Slate.com, Wilson is currently teaching the upper-level Writing course "Pop Life: Writing About Contemporary Pop Culture." At the lecture, he will read selections from his manuscript in process, as well as reflect his current research on cultural weeping and catharsis.
Listen to this CBC interview with Wilson ahead of his lecture, or read the story here.
As the 2016 Southam Lecturer, Wilson is offering students the benefit of his experience as a contributor to The New York Times, The Atlantic, Pitchfork, The Nation, Exclaim!, Spin and others—including nearly 15 years as a feature writer and editor at The Globe and Mail. "One of the reason I like to work in pop culture is that it's a more immediately accessible and relatable form," he says. "Whether or not you're deeply versed in the history of those forms, it's a medium you have direct access to that works as a conversation with other people through this common experience of popular culture."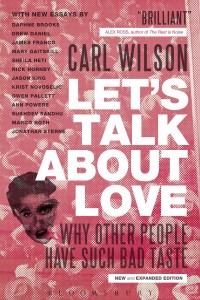 Reprinted in 2014 as a stand-alone edition subtitled "Why Other People Have Such Bad Taste," Let's Talk About Love now includes additional essays by the likes of novelists Nick Hornby and Sheila Heti, musicians Owen Pallett and Krist Novoselic (Nirvana), cultural critics Ann Powers and Sukhdev Sandhu, scholars Daphne A. Brooks and Jonathan Sterne, and many others. And while not quite as popular as Ms. Dion herself, Wilson's book has sparked debates about taste in the music-writing community as well as on blogs and podcasts, in cultural studies departments and across traditional media outlets ranging from The Village Voice to The Colbert Report. It even got a shout-out from actor James Franco on the red carpet at the 2009 Oscars.
"Different forms of culture are lenses through which we can look at our lives and society," says Wilson. "It's more about engaging in dialogue with the work than a knee-jerk thumbs-up/thumbs-down reaction. When you're writing about music or movies or books, you can write about anything; it potentially encompasses all experience."
Wilson is the ninth person to hold the prestigious Southam lectureship, following the likes of Jo-Ann Roberts (CBC's All Points West), acclaimed author Richard Wagamese, journalist Terry Glavin, sports writer Tom Hawthorn, satirist Mark Leiren-Young, Sandra Martin (Globe and Mail) and Charles Campbell (Georgia Straight).  It is made possible by a significant gift from one of the country's leading publishing families.