When it comes to writing about popular culture, Carl Wilson's heart will always go on. That's partially because, as a music critic for Slate and Billboard magazines, Wilson is deeply passionate about the impact music can have on everyone's lives; but it's also because his book about Céline Dion struck a chord that rivaled the power of love.
Originally published in 2007 as part of the acclaimed 33 1/3 music criticism series, Wilson's Let's Talk About Love: A Journey to the End of Taste deftly deconstructed Céline Dion's dichotomous popularity and vilification. Described as "a thought experiment," Let's Talk About Love prompted readers to second-guess what they like and dislike, and to really consider what they value or scorn.
"Different forms of culture are lenses through which we can look at our lives and society," says Wilson. "It's more about engaging in dialogue with the work than a knee-jerk thumbs-up/thumbs-down reaction. When you're writing about music or movies or books, you can write about anything; it potentially encompasses all experience."
As the 2016 Harvey Stevenson Southam Lecturer in Journalism and Nonfiction for the Department of Writing, Wilson will be offering students the benefit of his experience as a contributor to The New York Times, The Atlantic, Pitchfork, The Nation, Exclaim!, Spin and others—including nearly 15 years as a feature writer and editor at The Globe and Mail. "One of the reason I like to work in pop culture is that it's a more immediately accessible and relatable form," he says. "Whether or not you're deeply versed in the history of those forms, it's a medium you have direct access to that works as a conversation with other people through this common experience of popular culture."
With his class running in the winter semester and a public lecture planned for the end of February, Wilson intends his course to be "a collective workshop on approaches to critical writing about popular culture. It will be really hands-on—I want the students to read a lot of things that will give them ideas and then try to put those ideas into practice."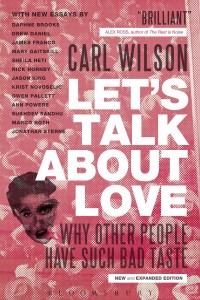 Reprinted in 2014 as a stand-alone edition subtitled "Why Other People Have Such Bad Taste," Let's Talk About Love now includes additional essays by the likes of novelists Nick Hornby and Sheila Heti, musicians Owen Pallett and Krist Novoselic (Nirvana), cultural critics Ann Powers and Sukhdev Sandhu, scholars Daphne A. Brooks and Jonathan Sterne, and many others. And while not quite as popular as Ms. Dion herself, Wilson's book has sparked debates about taste in the music-writing community as well as on blogs and podcasts, in cultural studies departments and across traditional media outlets ranging from The Village Voice to The Colbert Report. It even got a shout-out from actor James Franco on the red carpet at the 2009 Oscars.
As the ninth Southam Lecturer for the Writing department, Wilson follows in the footsteps of the likes of CBC Radio's Jo-Ann Roberts, author Richard Wagamaese, humour writer Mark Leiren-Young, and sports journalist Tom Hawthorn, among others.
He does admit to being "kind of excited and scared" about teaching. "I feel like academia was the shadow life I never had," he says, adding that he holds a BA from McGill. "I intended to stay in school, but that never happened. But a lot of the work I do is academically informed—I read a lot of cultural studies, because a lot of the questions that interest me are broad theoretical questions and to do that work you have to know what's been done before, and what you can add to that."
Of course, it helps that Let's Talk About Love has become academically popular. "One of the really surprising things is how much it's been adopted as an academic text," he says. "It's been taught in a lot of places and courses have been designed around it, which I never considered at all when I wrote it. But I've spent a lot of time in classrooms over the past few years because of that."
The big question, then, is whether or not he'll be using his own book in class. "I'm still deciding," he says with a laugh. "It's slightly hubristic to make your own text required reading—but, on the other hand, it does deal with the same questions we'll be dealing with in the course."