Fine Arts is proud to be hosting the launch of Made in British Columbia: Eight Ways of Making Culture (Harbour), the latest book by noted cultural historian Dr. Maria Tippett. "UVic has always impressed me as being sensitive to art in British Columbia, and is a superb place to launch the book," says the Governor General's Award-winning Tippett. "Several of our most notable cultural producers during the 20th century—from Jack Shadbolt and Bill Reid to writer Jack Hodgins—attended the earlier Victoria College or taught at UVic. And how many universities have so many paintings and prints in their libraries?"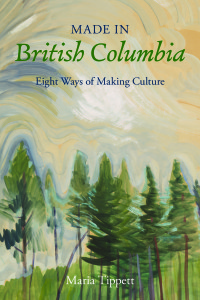 Indeed, as BC's only stand-alone fine arts faculty, we are ideally suited to kick off Tippett's exciting new study of some of the province's most notable artists, playwrights, composers, writers and architects. Please join us in the lobby of the Fine Arts building at 7:30pm Friday, September 25, for a reading and book signing hosted by Acting Dean of Fine Arts Susan Lewis. Books will be available for purchase on a cash-only basis for $28.
By examining the careers of eight ground-breaking cultural producers—painters Emily Carr and Bill Reid, architects Frances Rattenbury and Arthur Erickson, writers George Woodcock and Martin Grainger, composer Jean Couthard and playwright George Ryga—Tippett investigates not only how they made an enduring mark on Canadian culture during the 20th century, but also how their work is intimately interwoven with BC's identity.
"Culture is British Columbia was—and certainly continues to be—shaped by the province's dramatic landscape, by the rich culture of First Nations' People and by the ethnic diversity that newcomers bring to the region," says Tippett, who has an honourary doctorate from UVic (LLD) and lives on Pender Island. "But one might find this mix in other areas of Canada, as my research on Canadian culture has shown."
Indeed, many of Tippett's other books examine similar themes on a national level by focusing on the likes of Group of Seven artist FH Varley, photographer Yousuf Karsh and wide-ranging studies like Canada, Art and Propaganda during the Great War and By a Lady: Celebrating Three Centuries of Art by Canadian Women.
"But the people I chose to celebrate here brought out these three factors," she continues. "George Ryga came from a Ukrainian background—he didn't speak English until he was six years old; Carr came of course from an English-Canadian pioneering family that literally cut their way through the bush to establish their home; and Reid was of Haida and Scottish-German ancestry."
Why those eight artists? "Obviously, I could have chosen other artists and cultural motivators—Roderick Haig Brown, Robert Davidson, Jack Shadbolt—but I wanted to focus on people who died before 2000 and were representative of architecture, art, music, theatre and literature," Tippett explains.
"The people I chose all helped shape the culture of British Columbia. Some—like Grainger, who wrote Woodsmen of the West, and Woodcock—in less dramatic ways, while others—like Carr, Erickson and Reid—much more dramatically. Carr helped us see the rhythm inherent in the cedar, fir and spruce threes; Ryga made us more sensitive in the 1960s to First Nations' people; Woodcock made us respect what writers were producing at home when the tendency was to prefer foreign-born writers and Erickson made us look at new forms of architecture and to show how old forms like First Nations' community houses could be adapted to the new."
As "ground-breaking cultural producers," what role did these eight people have on future generations of BC—and Canadian—artists? "Artists, musicians, choreographers, dramatists and writers have all created work that has arisen out of Emily Carr's paintings of the BC landscape," notes Tippett. "Reid, Coulthard, Ryga, Rattenbury and Erickson fostered a generation of Native artists, musicians, dramatists or architects. Grainger has had an impact in a more subtle way: his book gives us a unique look at the logging industry in early 20th century BC."
While she had already written biographies of two of these figures—1979's Emily Carr: A Biography and 2004's Bill Reid: The Making of an Indian—Tippett was excited to discover some of BC's other notable creators.
"There were of course, surprises, in everyone that I wrote about," she says. "Revisiting Emily Carr after more than 30 years reinforced some of my original ideas and helped me to expand others; the same might be said about Bill Reid. Writing the chapter on George Ryga was the most exciting partially because I knew so little about him, even though I attended the first production of his play The
Ecstasy of Rita Joe in 1967. I found a humble, incredibly creative and committed artist for whom I have immense respect and admiration. And I must say even though I knew George Woodcock—and had met Erickson, Coulthard and Reid on a few occasions—focusing on their lives made me understand and appreciate them all the more."
If you can't join us at the launch, be sure to pick up a copy of Tippett's Made in British Columbia: Eight Ways of Making Culture. It is guaranteed to change the way you see British Columbia and its culture.